18 Gross Things Women Do - Females Reveal Weird Stuff They Do When Their Partners Aren't Around
When no one's around, that's when females do the weird and gross things women do and reveal their true selves. They shake off their masks, discard the pretense of civility, and all the gross things and strange habits that aren't for other human eyes are reveled and reviled in. These are gross things they do in complete secrecy.
Gross things that their boyfriends/partners/husbands are not aware of. Weird, secret and strange gross things.
Yep, it's a fact, when the curtains are pulled on the windows of society all sorts of gross things suddenly happen.
We all do it (admit it, you know who you are, you know you do), no matter how hygienic or un-gross you think you are. But it's not something that you can usually share with anyone, not without them looking at you weirdly.
That's why there's the internet and places like AskReddit, which allows anonymous strangers to reveal all the gross things women do when no one's around. And that's exactly what happened in the thread "Girls, what's something gross you do when your partner isn't around?" And, well, the answers vary on the gross scale.
So What Kind Of Gross Things Do Girls Do?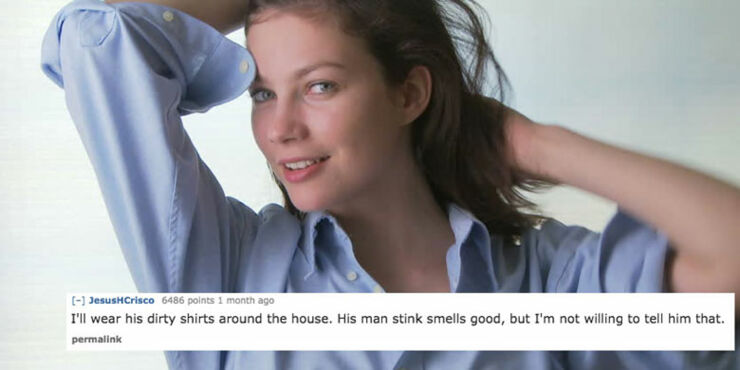 Some gross things women do when no one else is around are pretty tame, like some females admitting to the fact they're just really messy when their partner's not home. While other revelations are seriously weird, with gross things ranging from lots of sniffing of various things to watching poop videos. Which is just plain weird.
Why the hell would you want to do that?
Many of them seem to involve farting too, which isn't that bad in terms of gross things girls do, it's natural, but some of it involves farting on a hand and then smelling it. Which is a little weird. There's also the smelling of boob sweat (which is very weird). And one guy says he once caught his girlfriend holding a boob in each hand while pretending they were wings. Which is both hilarious and entirely relatable.
Whatever gross things these people get up to, it will either make you feel better about your own habits or at least make you feel like you have equals in terms of grossness in this world.
18 Gross Things Women Do When On Their Own