Israeli Female Soldiers Are A Supermodel Army: The 18-20 Year-Old Women Serving In The IDF
Israeli female soldiers have traditionally taken part in their country's military IDF (Israeli Defense Forces) since the founding of the state of Israel in 1948. And although it might seem normal for most Israelis to see pretty young women (you have to admit, these photos make the Israeli girls look like fashion models) walking around in the public domain in Israel with a lethal, fully automatic weapon casually slung over their shoulder like a fashion accessory. They are probably the closest thing to a supermodel army that you will ever likely see.
it definitely makes for a strange sight for the rest of us. Israeli female soldiers are something else.
Israel requires all its citizens to be drafted into the army when they reach the age of 18 and it's one of a handful of countries in the world (along with Norway and Eritrea) that have mandatory military service for women.
Which means that many of recruits in the Israel Defense Forces are young female soldiers, who make up around a third of all IDF soldiers and around half of its officers, inhabiting a variety of roles on the ground, sea, and air.
The Israeli Female Soldiers Serving In The IDF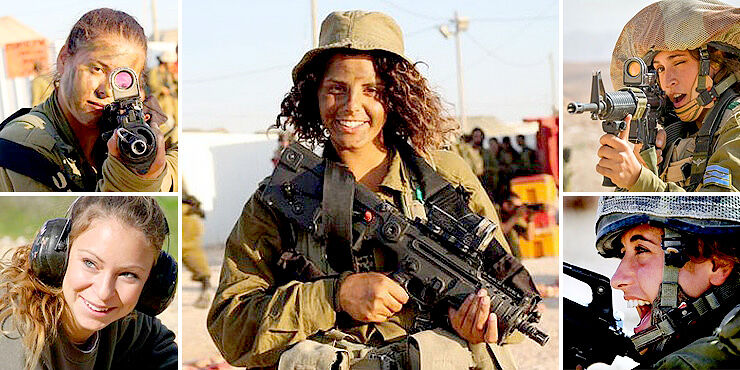 The IDF even has its own mixed gender infantry unit established in 2004 called the Caracal Battalion. Here both sexes train and serve together, training lasts seven months and three weeks and necessitates a seven day and 14 mile final march (which in the hot climate of Israel would be quite a challenge) before they become combat-ready Israeli female soldiers. It certainly puts a spin on the term 'hot women'.
These Israeli female soldiers even have their own Instagram fan page called hotisraeliarmygirls which features pictures of more than 2,000 different Israeli women soldiers. The images show the girls posing in their uniforms—often with some pretty heavy weaponry—alongside photos of them in bikinis.
If the photos haven't convinced you that this is for real then take a look at Israeli female soldiers in action below.
Israel Army Girls (IDF Girl Soldiers) Video