Kutiman's New Project Lets You Create Your Own Remix From a Selection of Video Clips
Israeli musician and king of the crowd-sourced YouTube mashup Kutiman has just revealed his latest project Mix the City. It gives you the chance to create a mix in a similar style to what Kutiman is famed for.
It's an interactive online piece co-commissioned by The Space and British Council. Users can create and share their own mix from footage of 12 different musicians playing various instruments filmed around Kutiman's home town of Tel Aviv. The instruments range from percussion to a keyboard, synth, drums, and more. The idea is to create a snapshot of the city and its musical culture.
"It's a project I've been doing for a few years, I go to different places around the world, to different cities, and I film local musicians in different locations in the city." Kutiman explains. "Basically, I tell them to play whatever they want. I film the city, and go sightseeing in the city. Then I edit all of the musicians together to create a musical piece, and integrate photos of the city. Through the musicians and the images, I aim to show the feel of the city, the vibe of the city."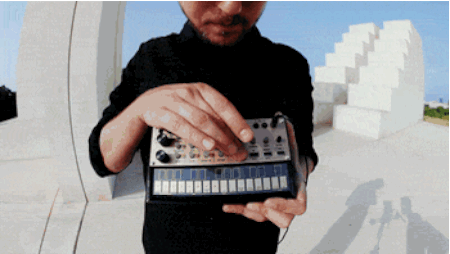 You can remix a guy playing the Moog
He previously created a mix of Tokyo, Thru Tokyo, which looked at the city's musical heritage along with the contemporary electronic scene, but this is the first time the project has been interactive.
"I try to create a musical piece in the genre most suited to the place. I'm searching for traditional instruments and vibes," Kutiman notes, "I'm not going to any city and just recording guitar players or drummers. I'm looking for traditional sounds—the sounds of that city. That way you get much more of the flavor of the place through the music."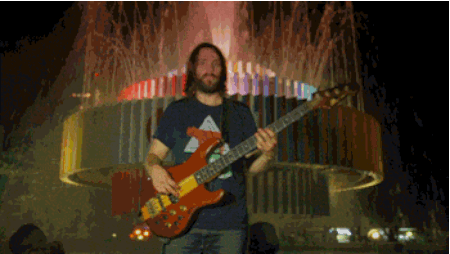 You can also remix a bass player along with plenty more instruments.
Kutiman's previous projects have included Thru You (2009) and Thru You Too which was released last year. Both projects used found footage of amateur and professional musicians on YouTube and expertly weaved together the sampled sounds while—at the time of the first one—exploring an innovative new way of remixing online content.
You can go check out Mix the City and get your mix on here. And you can listen to Kutiman's version using the same clips, below. Think you can do better?