Barney Does Biggie As The Purple Dinosaur Raps The Notorious B.I.G's 'Get Money'
It's not everyday you get to see Barney, the purple dinosaur from kids' TV, lay down some classic 90s hip hop. But today you can thanks to YouTube channel isthishowyougoviral (aka Mylo the Cat aka Adam Schleichkorn) who has spent many hours of his time syncing up clips from Barney & Friends with audio of Junior M.A.F.I.A. feat. Notorious B.I.G.'s track "Get Money."
"It takes an eternity." Schleichkorn told Smash over email regarding making the video. "I first have to find the clips, then I have to go through hours upon hours of footage, just to get started." As such Schleichkorn says he's become something of a "master of combing through footage at high speeds." But it matters, "I really go out of my way to find clips that work for each scene." he explains. He then segues them together in Final Cut Pro.
The attention to detail is worth it though, from Barney's mouth rapping the lyrics to the dino's super fresh dance moves, the video works. And there's nothing like the comedic incongruity of seeing a children's character rapping old school hip-hop. It's what the internet was made for.
But why Barney? "I chose Barney because I just thought it was a perfect fit." Schleichkorn notes. "That's another element that I pay close attention to, does the voice match the character?" If you're wondering how someone goes about matching what children's character should go with what 90s hip hop star, Schleichkorn says it just sort of comes to him, straight from the mashup muse.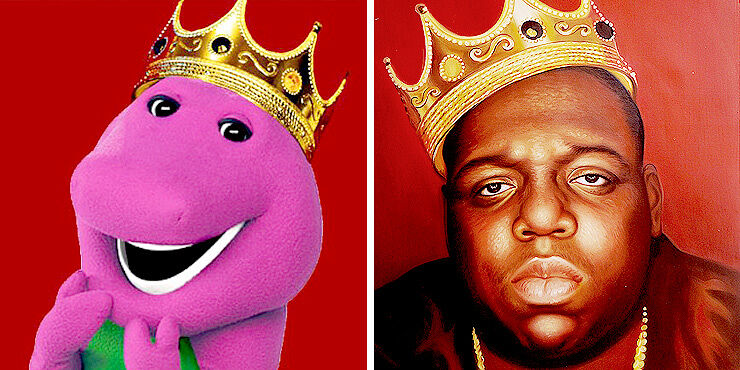 It might also help that Schleichkorn has been editing videos for the past 13 years and making mashups for a long while (like his series featuring Muppets rapping various hits)—and he doesn't intend to stop any time soon either. Which is great news for fans of 90s kids TV and 90s hip hop, especially if you like seeing the two together.
He recently completed another mashup, Doug Funnie rapping "Today Was a Good Day" by Ice Cube. Check that out below. And head to isthishowyougoviral YouTube channel for more.