The Remains Of The Loch Ness Monster Are Finally Discovered 590ft Deep By A Marine Robot
FINALLY! For many, many years people have been searching for the Loch Ness monster, the legendary beast that supposedly lurks in a lake in the Scottish Highlands. And now it's remains have been discovered at rest on the bottom of the lake! Well, a version of it anyway.
What was actually found was a film prop from 1970s flick The Private Life of Sherlock Holmes, directed by Billy Wilder and starring Christopher Lee. This 30-foot monster model was found by a sonar-imaging marine robot which, as part of The Loch Ness Project, searches the lake for relics of former human habitat.
The robot can look at trenches and areas of the 755ft deep loch that haven't been reached before, which is why this prop had never been found until now. According to Loch Ness expert Adrian Shine, who works for Kongsberg Maritime who head up the project, the shape, measurements and location of what was seen on the sonar pics make a good case for it being the lost prop. It was found on the bed of the lake at a depth of 590ft. The team also discovered a 27-foot long shipwreck which they're investigating further.
"We have found a monster, but not the one many people might have expected," Loch Ness expert Adrian Shine told BBC News Scotland. "The model was built with a neck and two humps and taken alongside a pier for filming of portions of the film in 1969. The director did not want the humps and asked that they be removed, despite warnings I suspect from the rest of the production that this would affect its buoyancy. And the inevitable happened. The model sank."
The model was built by FX artist Wally Veevers who also worked on 2001: A Space Odyssey and Superman. Weever had to be comforted by director Wilder after watching his monster sink to its final resting place.
RIP Loch Ness monster prop.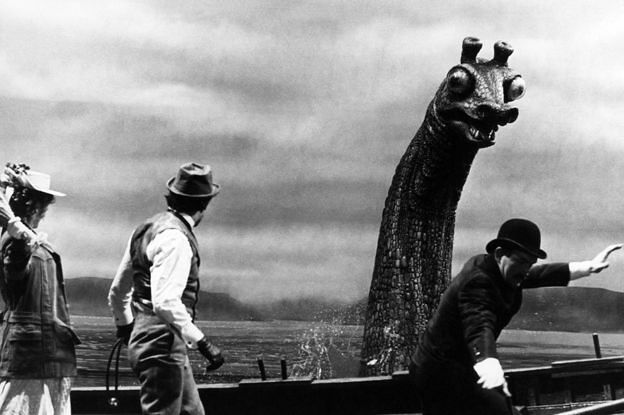 Film still of the prop in The Private Life of Sherlock Holmes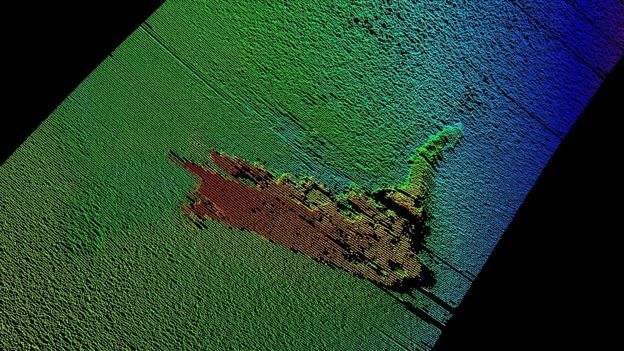 Sonar image of the prop in the lake