Nobumichi Asai's Mind-blowing Video Shows 'Electronic Makeup' Transforming A Model's Face
It's time to take a step into the future of makeup—and a whole lot else besides. The video above may only be a demonstration—and the tech behind it certainly isn't going to be commercially available any time soon.
But it gives a glimpse into the future of fashion, real-time VFX and live performance.
Using motion tracking and projection mapping (when a computer linked to a projector is used to accurately project visuals onto an object) the project was created by Nobumichi Asai and his team.
What that combination of technology does is allow them to project a whole range of visuals onto the model's face, visuals that accurately move when she does so it looks like she's wearing a mask.
Nobumichi says of the technique, "I always considered the face to be the most delicate yet powerful medium for art. It's not an exaggeration to say that face is one of the most intriguing features.' I totally agree with him, and got interested in the possibility of face mapping, its potential in expressing something extraordinary."
Sometimes that mask looks like actual makeup, other times it looks like a cyborg or turns the model's face into a reflective surface. It's truly mind-blowing innovation and amazing to watch the transformations in action.
The face painting industry will never be the same again.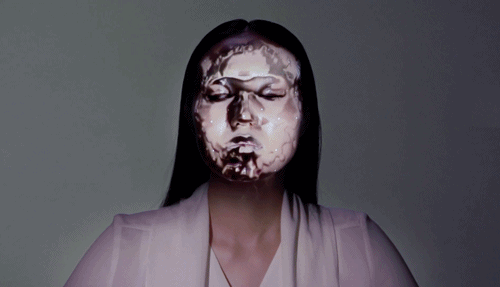 GIFs via
via Petapixel