Unison's New '15 Minute Care Makeover' Reality TV Show Exploits The Elderly And Most Vulnerable
Everyone loves TV makeover shows, but when it comes to caring for those in the community who need it most, turning that care into a 15 minute makeover challenge isn't exactly ideal. In fact it's outrageous and in bad taste to say the least. But that's what you're looking at in this video from Unison which sees a care worker arrive at their client's home—a vulnerable member of society who needs daily help with washing, dressing, and feeding.
And attempt to do all of that in just 15 minutes (that's 900 seconds) while racing against the clock.
While Nisha, the care worker starts her 15 Minute Care Makeover challenge and battles to get it all done, the pushy TV host is constantly reminding her that time is ticking away and she needs to hurry up. "Look, do not rush me. This is important." Nisha fires back, as she frantically tries to prepare her client's medicine.
As TV makeover shows go, it's certainly not in the best of tastes. In fact it's a total disgrace.
Who Would Make'15 Minute Care Makeover'?
Watch this clip from Claire Sweeney's new exploitative makeover show where a care worker has to get a vulnerable person... (UNISON)
Fortunately, the '15 Minute Care Makeover' challenge TV show is not real. Instead the video is a satirical piece starring British soap opera actress Claire Sweeney (who played Lindsey Corkhill in the soap opera Brookside).
The video was commissioned by UNISON, the public services union, and made by creative agency Don't Panic.
The video seeks to highlight the absurdity of only having 15 minutes to tend to someone, often elderly people who need help, with washing, feeding, and general care. According to figures from UNISON nearly two-thirds (65%) of councils in England and Wales commission 15-minute care visits.
So the video turns this idea into a spoof makeover show, the type seen when someone has a film crew come over and give them a new hairstyle. In this way it points out, and parodies, just how insufficient an amount of time 15 minutes is. At one point the elderly man is eating his cereal while on the toilet to meet the 15 minute deadline.
The Real '15 Minute Care Makeover' Injustice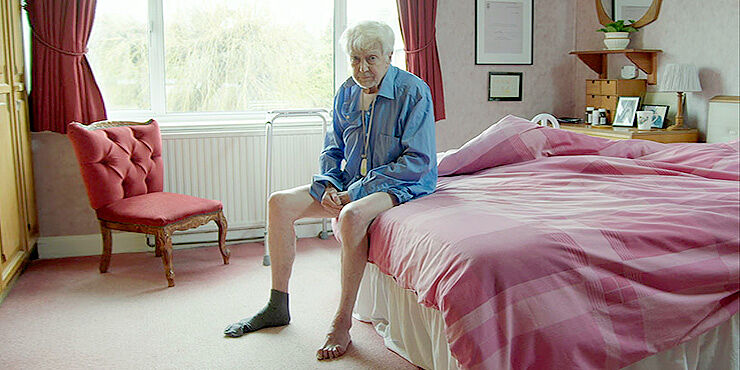 The '15 Minute Care Makeover' Reality TV show might be fake but the situation is real.
UNISON are asking people to speak out against these 15 minute visits and put an end to them by signing a petition. The petition asks the UK government for more funding, pointing out that home care in the UK is in crisis after years of underfunding, which has resulted in these woefully short care slot times.
"This film highlights the human indignity thousands of vulnerable and elderly people across Britain face." said UNISON general secretary Dave Prentis. "A care worker is often the only face people see. It sends a powerful message of the absurdity of giving care workers just fifteen minutes to support people. A fifteen minute visit is not enough time to get people showered, dressed and fed. However, government cuts to council care budgets mean this is the reality for many. Care workers just want to care but they're forced to rush visits. Ministers must act now and invest properly in social care."
Find out more about the scandal of 15-minute social care visits and sign the petition here.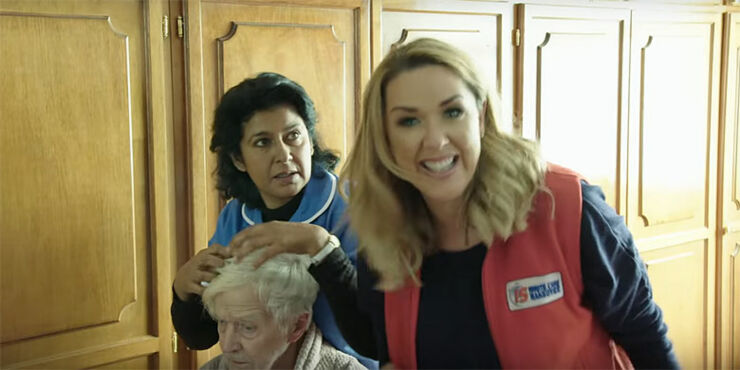 The parody makeover show with Claire Sweeney