The Official Trailer For Pacific Rim 2 Delivers Bigger Robots, More Evolved Monsters & John Boyega
The official trailer for Pacific Rim 2 has been released and it introduces a new character in the form of John Boyega. Along with that the sequel (titled Pacific Rim Uprising) to Guillermo Del Toro's 2013 sci-fi monster movie features plenty of giant robot action and plenty of Kaiju monsters too. And judging by the trailer it's awesome.
Pacific Rim 2 is set 10 years after the original movies, and follows Jake Pentecost (John Boyega) as the son of legendary Jaeger pilot Stacker (Idris Elba). Since the events of the first film the Pan Pacific Defense Corps has gone through a bit of a redesign and some overall improvements too.
For instance they have some insane-looking new weapons. This new bunch of robots is led by Gipsy Avenger who is the successor to Gipsy Danger from the 2013 movie. The latter stood 260ft tall and weighed 1,980 tons.
But it's not just the robots who have been modified in Pacific Rim 2, those pesky Kaiju beasts have developed too. And yet again it looks like the apocalypse is nigh thanks to their destructive ways.
Pacific Rim 2 Trailer, The Kaiju & John Boyega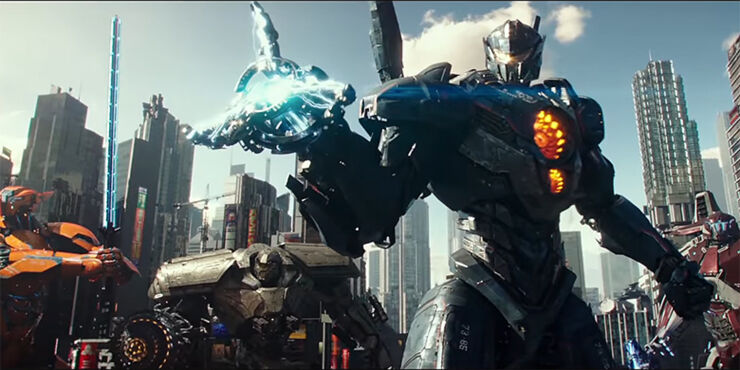 Screenshot via Pacific Rim 2 trailer. Image: YouTube / Legendary
Speaking about how the Kaiju have changed since the first movie the director of Pacific Rim 2, Steven S. DeKnight, told CinemaBlend, "They have evolved or they have been -- as we learned in the first movie, they are genetically designed as bioweapons, and the aliens on the other side have also been tinkering and upgrading. So when the next Kaiju attack happens, yes, they will be as advanced as the Jaegers are."
Along with Boyega the new generation of Jaeger pilots in Pacific Rim 2 will also include actors Scott Eastwood (who plays Boyeha's rival Lambert) and Cailee Spaeny (who plays a 15-year-old hacker called Amara). Actor Burn Gorman will be reprising his role as scientist Hermann Gottlieb and Rinko Kikuchi will be back as Mako Mori.
Legendary's 'Pacific Rim 2' Movie Official Synopsis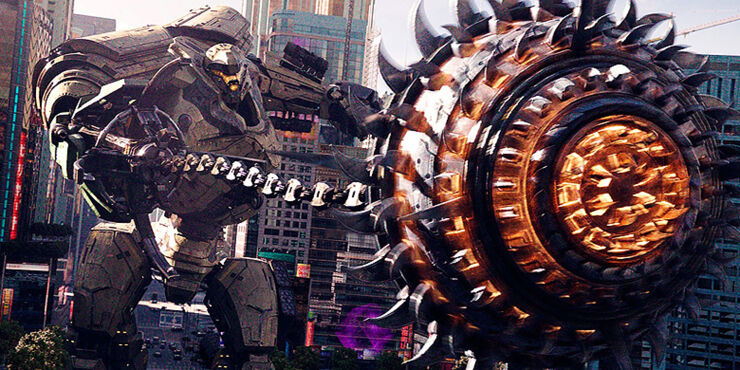 Pacific Rim Uprising will be released March 23, 2018. Check out the official synopsis below.
The globe-spanning conflict between otherworldly monsters of mass destruction and the human-piloted super-machines built to vanquish them was only a prelude to the all-out assault on humanity in Pacific Rim Uprising.

John Boyega (Star Wars: The Force Awakens) stars as the rebellious Jake Pentecost, a once-promising Jaeger pilot whose legendary father gave his life to secure humanity's victory against the monstrous "Kaiju." Jake has since abandoned his training only to become caught up in a criminal underworld. But when an even more unstoppable threat is unleashed to tear through our cities and bring the world to its knees, he is given one last chance to live up to his father's legacy by his estranged sister, Mako Mori (Rinko Kikuchi)—who is leading a brave new generation of pilots that have grown up in the shadow of war. As they seek justice for the fallen, their only hope is to unite together in a global uprising against the forces of extinction.

Jake is joined by gifted rival pilot Lambert (The Fate of the Furious' Scott Eastwood) and 15-year-old Jaeger hacker Amara (newcomer Cailee Spaeny), as the heroes of the PPDC become the only family he has left. Rising up to become the most powerful defense force to ever walk the earth, they will set course for a spectacular all-new adventure on a towering scale.

Pacific Rim Uprising is directed by Steven S. DeKnight (Netflix's Daredevil, STARZ's Spartacus) and also stars Jing Tian, Burn Gorman, Adria Arjona and Charlie Day.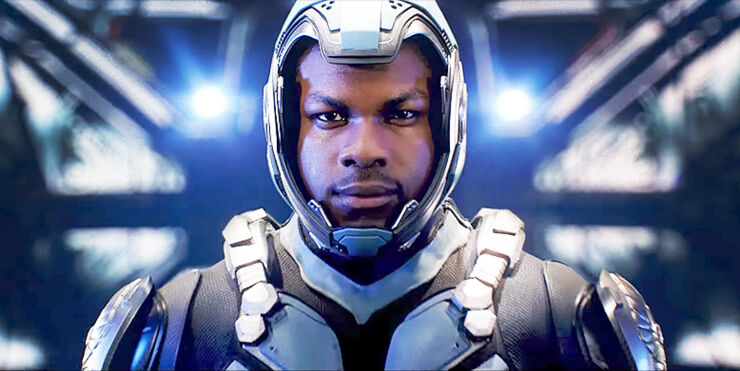 Screenshot of John Boyega via Pacific Rim 2 trailer. Image: YouTube / Legendary