Stephen King's IT Remake Official Trailer Dropped & It's Ready To F*ck Up A Whole New Generation
The first official Stephen King IT remake trailer for Andrés Muschietti's new Netflix film has hit the internet and it ups the terror factor and the hype factor too. As horror movies go, this is surely one of the most anticipated in recent years. And it could be huge if it goes down well with audiences. Pennywise is set to return in a new Stephen King IT remake to scare the crap out of a new generation of kids and make them terrified of clowns for life. The remake of Stephen King's classic horror will star Bill Skarsgard as the demonic Pennywise the clown.
Have a watch of the trailer (above) and try not to scream too loud.
Andrés Muschietti is now the director on this new Netflix adaptation, taking over from True Detective season one's Cary Fukunaga who initially was up for the job but left after a troubled pre-production. The screenplay is adapted by Chase Palmer, Cary Fukunaga and Gary Dauberman. Producers are Dan Lin, Roy Lee, Seth Grahame-Smith, David Katzenberg and Barbara Muschietti, while Marty P. Ewing, Doug Davison and Jon Silk will be executive producers.
You can watch the first full official IT trailer above revealing both Bill Skarsgard's creepy clown and the Loser's Club, the group of misfits who get terrorised by IT and unite to destroy the demon.
Official New Stephen King IT Trailer July 2017
After the IT teaser trailer dropped earlier in the year (see above) and left people terrified, the first full official trailer for Andrés Muschietti's IT has finally hit the internet. And these trailers are certainly helping it. This latest ones gives a better look at Bill Skarsgard's Pennywise, we even hear him talk, and more of The Loser's Club. It also reveals a couple of frightening scenes, including one featuring a room full of clown dolls. The eagle-eyed will be able to spot an easter egg, a clown doll replica of Tim Curry's Pennywise from the original TV series.
Muschietti has got a lot to live up to with this new revamp of the IT remake because the original TV It movie with Tim Curry as Pennywise The Dancing Clown was beloved. Or, at least, remembered perhaps more terrifyingly than fondly, but it was a seminal performance nonetheless.
Also involved in the IT remake movie is director of photography Chung-Hoon Chung (Me and Earl and the Dying Girl), production designer Claude Paré (Rise of the Planet of the Apes), editor Jason Ballantine (The Great Gatsby), and costume designer Janie Bryant (Mad Men).
IT 2017 Trailer Teases First Look at Pennywise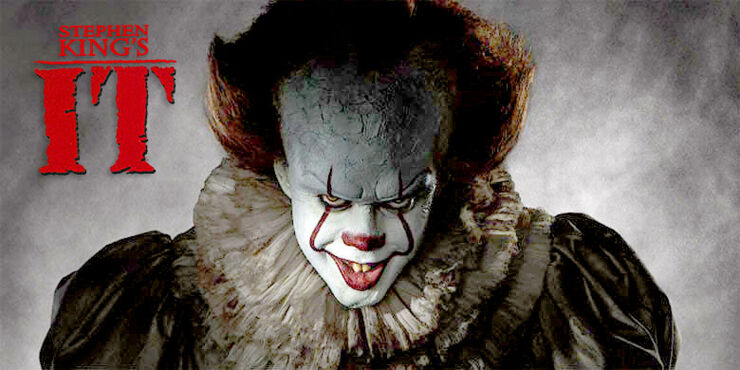 In the teaser we see Bill Skarsgård's Pennywise carrying that signature red balloon, as he starts to scare the bejesus out of the outsiders and misfits that are the Losers Club. Popping up like a horrible mind-fear come to life to eat children. The kids, faced with a being of such utter evilness, have to up their game. Although in the teaser they look just as frightened as you will be.
"It happens in the book, this coming of age and kids facing their own mortality, which is something that in real life happens in a more progressive way and slowed down," director Muschietti told USA Today. "There's a passage (in Stephen King's It) that reads, 'Being a kid is learning how to live and being an adult is learning how to die.' There's a bit of a metaphor of that and it just happens in a very brutal way, of course."
Yikes.
Stephen King's IT Remake Rating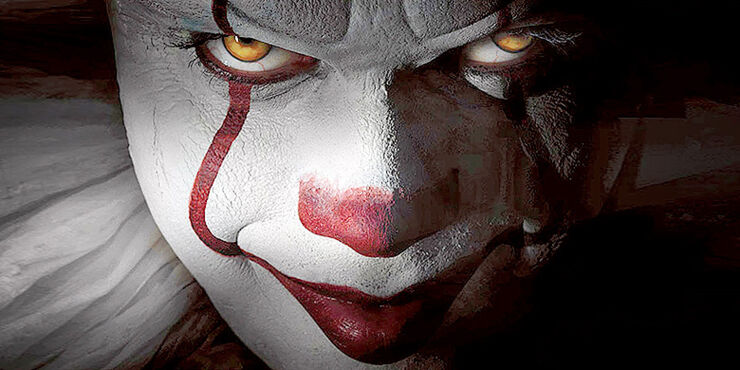 The new Stephen King It movie remake will definitely be R rated, which producer Dan Lin confirmed to Collider.
So no need to worry that they'll shy away on the horror side.
"It is a rated-R movie." Lin said. "If you're going to make a 'Rated-R movie', you have to fully embrace what it is, and you have to embrace the source material. It is a scary clown that's trying to kill kids. So of course that's going to be a rated-R movie. The kids are amazing. You very much get a Stand by Me vibe as far as their camaraderie and the way they joke with each other and that they really care for each other. They do have a scary crown that's taken over the town of Derry, so it's going to be rated R."
IT Remake Release Date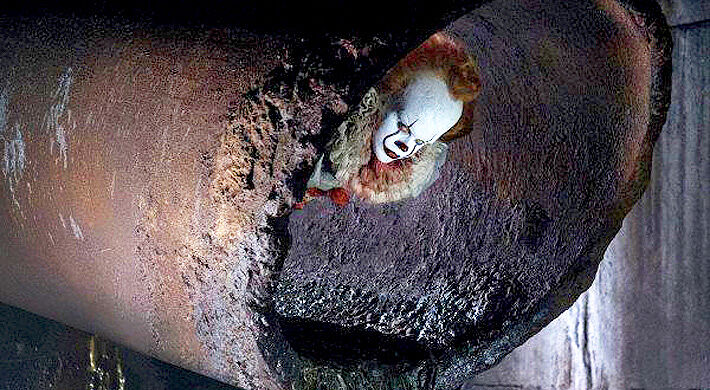 The new It movie will be released on 8 September 2017 and will be the first part of a planned two part movie release. Producer Dan Lin told Collider this is the idea if the first is successful, anyway.
The first part of the IT remake 2017 will tell the story of the Losers Club when they were all kids. Then, the second part will be about the Losers club when they're all adults and have their last showdown with Pennywise.
New IT Movie Synopsis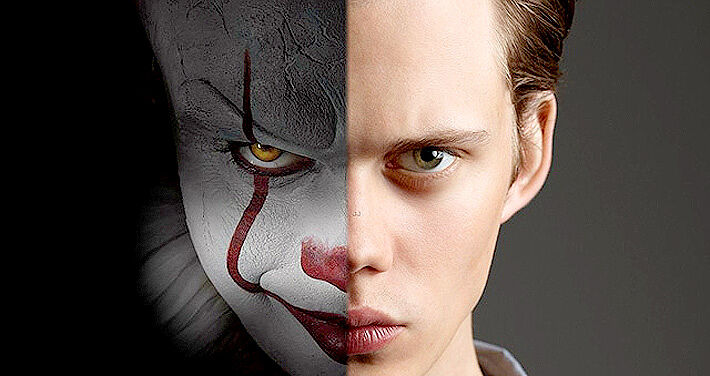 The project has been in ongoing development since 2009. To date, the proposed film adaptation has gone through two major phases of planning: initially with Cary Fukunaga from 2009 to 2015, with the early contributions of screenwriter David Kajganich, and currently with Andrés Muschietti, with Fukunaga remaining in some capacity due to prior screenplay contributions.
Horror movie fan site addictedtohorrormovies.com provides a pretty detailed synopsis of the new IT movie below:
In the Town of Derry, the local kids are disappearing one by one, leaving behind torn body parts/remains. Soon afterwards, in a place known as 'The Barrens', a group of seven kids are united by their horrifying and strange encounters with a clown called Pennywise, which they all share, but one kid, Bill Denborough, has a more personal vendetta with the clown. 27 years after their last encounter together with Pennywise, the 'Losers Club' has regrouped from their successful lives and businesses by Mike Hanlon,the only member of the Losers Club that stayed in Derry, because IT has returned, and kids are disappearing again. The only problem is that they have all forgotten what occurred that summer. But through a blood oath, they return. It's up to The Lucky Seven to regain their memories, to think of the key to killing Pennywise, and to stay alive long enough to end his tyranny but to also realise what brought them together in the first place.
Meanwhile here's the official synopsis from Warner Bros. is:
When children begin to disappear in the town of Derry, Maine, a group of young kids is faced with their biggest fears when they square off against an evil clown named Pennywise, whose history of murder and violence dates back for centuries.
Stephen King's IT Remake Film Cast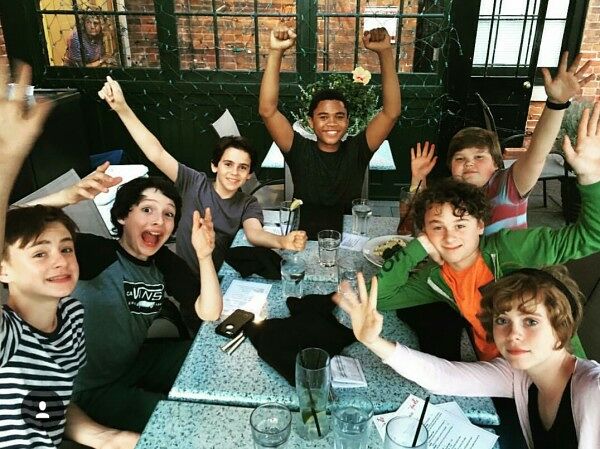 Stephen King's IT Remake children cast.
Bill Skarsgård (Allegiant, TV's Hemlock Grove) will star as the big bad Pennywise in the It movie 2017. He takes over from The Revenant actor Will Poulter who was originally going to play the role when Cary Fukunaga was directing this Stephen King IT remake.
As anyone who's seen the TV movie will know, Pennywise is as evil and nightmare fuelled as they come. A demonic entity that can disguise itself, it takes the form of a clown so it can appeal to children, which it eats and coerces into doing things for it. It's centuries old, coming around every 30 years to unleash hell on the town of Derry, Maine.
This first movie will center on the Losers Club, a group of seven children who are misfits and outsiders. An ensemble of young actors will play these characters including Jaeden Lieberher (Midnight Special), Jeremy Ray Taylor (Alvin and the Chipmunks: The Road Chip), Sophia Lillis (37), Finn Wolfhard (Stranger Things), Wyatt Oleff (Guardians of the Galaxy), Chosen Jacobs (upcoming Cops and Robbers), Jack Dylan Grazer (Tales of Halloween) and Nicholas Hamilton (Captain Fantastic).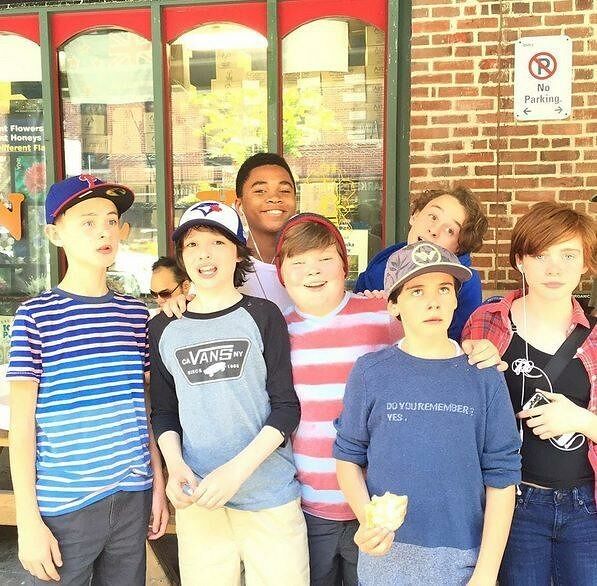 Stephen King's IT Remake children cast.
@finnwolfhardofficial #richietozier #itthemovie
Finn Wolfhard from Stranger Things in the Stephen King IT remake as character Richie Tozier
IT Remake Movie 'Pennywise' Character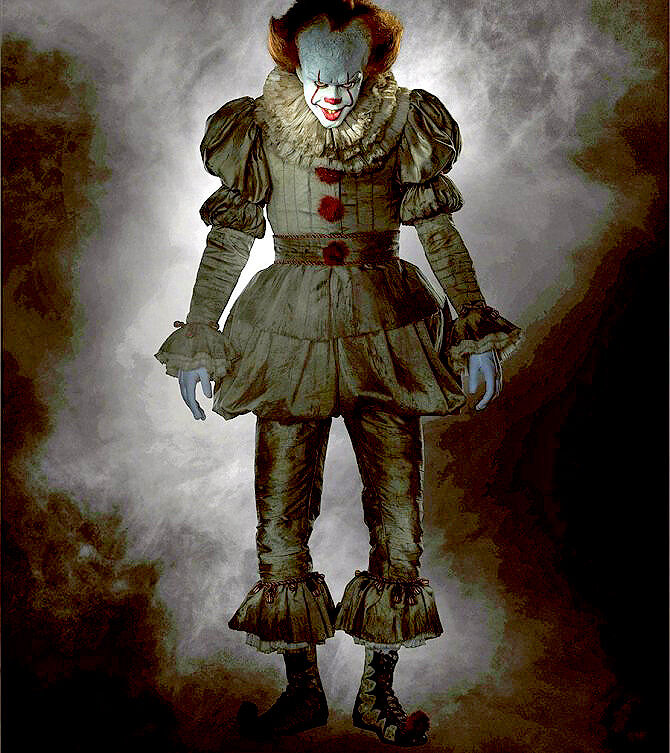 IT Remake 'Pennywise' Character.
Costume designer Janie Bryant told Entertainment Weekly the following about the new look Pennywise. "The costume definitely incorporates all these otherworldly past lives, if you will. He is definitely a clown from a different time."
She also explained that he has mixes of elements and fashions from different time periods—Victorian, Elizabethan—like his "Fortuny pleating, which gives it almost a crepe-like effect. It's a different technique than what the Elizabethans would do. It's more organic, it's more sheer. It has a whimsical, floppy quality to it. It's not a direct translation of a ruff or a whisk, which were two of the collars popular during the Elizabethan period. There is almost a doll-like quality to the costume. The pants being short, the high waistline of the jacket, and the fit of the costume is a very important element. It gives the character a child-like quality."
Speaking at SXSW 2017 director Muschietti had this to say about the new Pennywise in the Stephen King IT remake, "What I can tell you is that he is terrifying, and there was a lot of work involved in bringing a new version of that character to life. The work I did with Bill Skarsgård was great, and he was amazing and a very impressive, talented, sweet young man."
He also said that the young cast were pretty spooked by Skarsgård when he was in his full Pennywise getup. "We tried to keep Bill away from the kids as much as possible, and there's of course that first moment of confrontation, but I tried to delay that as much as possible. He was with them for the read-through, but then that was it, and all the kids were like, 'It's okay, he's not going to scare us,' but that first day he got onto the stage, they fucking freaked out. I can't even describe how scary he looked in person."
Stephen King's IT Remake Reactions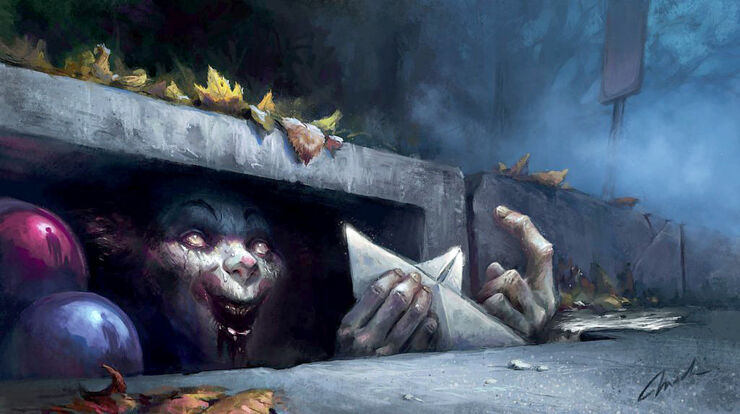 Early IT Remake teaser poster.
The 90 second teaser trailer for the It movie 2017 was shown at SXSW and Bloody Disgusting were in the audience. One of their writers, Trace Thurman, wrote up his thoughts and it sounds like it hit the right notes in terms of being terrifying.
Here's what he wrote:
The trailer opens with footage of Bill Denbrough making a paper boat for his little brother Georgie. We then move outside, where Georgie is chasing his boat in a rainstorm as it floats next to the curb. Suddenly, Georgie runs right into a street barrier, which knocks him down on the ground. He then watches as his boat sails into a gutter. He runs to the gutter and tries to see if he can see his boat. As he looks deep into the sewers, Pennywise abruptly appears before the screen cuts to black.

Then we are shown the members of the Loser's Club meeting each other and realizing that they've all been seeing the same entity, before one of them finally says "The Clown." Once that happens, the teaser then moves into its centerpiece, which shows the members of the Loser's Club looking at pictures on a carousel slide projector that suddenly acquires a life of its own and begins moving through the slides at an increasingly alarming speed. The pictures are of Georgie and his parents, and each slide zooms in on Georgie's face before cutting to his mother, whose hair is covering her face. As the projector moves from slide to slide, the hair moves out of his mother's face, and her face is revealed to be that of Pennywise himself.

The trailer then blows through a flurry of shots, as most trailers are known to do. The most striking image from this succession of shots is the unforgettable moment when blood flows out of Beverly's sink, only in Muschietti's film it spews out like a geyser and blasts her in the face. There is also a sublime image of Pennywise approaching two of the children (he has them cornered against a wall), but the shot is framed in a way so that only his long, bony fingers fill the screen. The children are in the background, out of focus but clearly terrified.

The teaser ends with Bill walking down into his flooded basement, where Georgie's ghost taunts him by repeatedly screaming "We all float down here!" before Pennywise rises from the water and rushes at him, in a moment that had the entire audience screaming. It is at this moment that the screen cuts to black and the word "IT" appears on screen.
Along with that, the Stephen King IT remake has approval from none other than the man himself. King has seen a cut of the movie and he seems to like it a lot. He tweeted the following:
Andy Muschietti's remake of IT (actually it's Part 1--The Losers' Club) succeeds beyond my expectations. Relax. Wait. And enjoy.
The New IT Remake Film Poster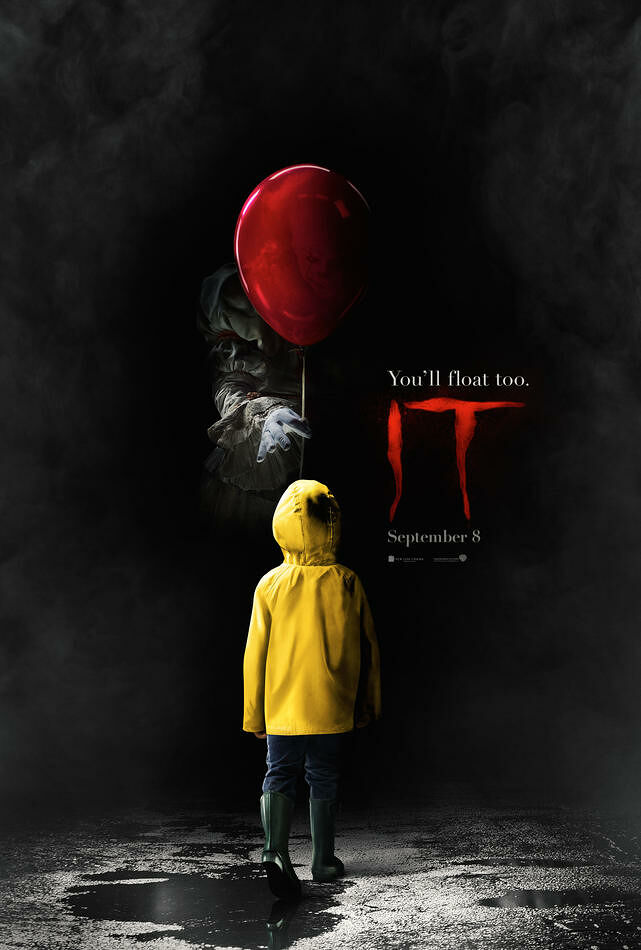 The New Stephen King It Remake Poster.