Downsizing: Matt Damon Gets Miniaturized In The Trailer For His New Oscar-Tipped Sci-Fi Movie
The first trailer for Matt Damon's new movie 'Downsizing' has arrived, the sci-fi film by director Alexander Payne also stars Kristen Wiig, Christoph Waltz, Jason Sudeikis, Hong Chau, Neil Patrick Harris and Laura Dern. Damon and his wife (Kristen Wiig) play a couple who after attending a no-strings-attached seminar at a place called Leisureland become intrigued by the benefits of a new procedure that shrinks people to 5 inches tall.
Set in the near future, Downsizing centers on a group of people who, because of the affordability of the shrinking technology, have formed miniaturized societies across the US in an attempt to save money—and, somewhat disingenuously, the environment too. Damon, who plays a hard-working physiotherapist struggling to save a deposit for a new home for his partner and himself can see the appeal of miniaturization and also a solution to all of his financial problems in one small stroke by 'downsizing'.
Payne has previously won Oscars for his screenplays for films Sideways and The Descendants, but Downsizing (who Payne also co-wrote the film script with Jim Taylor) is a different direction. As the premise shows, it delves into Pixar-esque science fiction territory along with having aspects of comedy too. It's also being Oscar-tipped and early reviews from the 2017 Venice Film Festival 2017 have been positive.
Why Matt Damon Movie Downsizing Is Oscar-worthy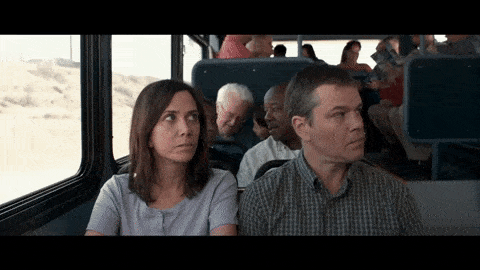 Downsizing. GIF via YouTube / Paramount.
The Guardian gave Downsizing five stars and said, "Sometimes it's true that the best things come in small packages. Particularly when the package is as cram-packed with nourishment as Downsizing, Alexander Payne's gorgeous, giddy parable of a modern-day Lilliput." concluding with, "He [Payne] never puts a foot wrong, rustling up a picture that is as bright as a button and as sharp as a tack. Downsizing contains multitudes."
The trailer itself presents a film that looks like it has plenty of fun with miniature people and oversized objects, a la 'Honey, I Shrunk the Kids,' but also looks like its going to be blackly comic, dystopian, and surreal too.
The film follows married couple Paul (Matt Damon) and Audrey (Kristen Wiig) who want a change of life after the stresses of their jobs and money worries is taking its toll. So they discover the shrinking tech, developed by Norwegian scientists, but the catch is that once you're shrunk it's permanent, you can't then be brought back to normal size. It was developed with the idea that it would provide a more ecological way to live, but it also makes you richer as everything is cheaper, meaning they can live a life of luxury.
No doubt things don't go entirely according to plan though. The film also stars Christoph Waltz, Neil Patrick Harris, Hong Chau, and Laura Dern and will be in cinemas on 22 December.
Downsizing Official Trailer #2 - Paramount Pictures
Matt Damon & Kristen Wiig / Venice Film Festival