Paul Rudd Nearly Takes Down Homophobic Bully At Dallas Airport
If you want to see what a total a-hole looks like, then just check out the guy picking on the man in the pink shirt in this video. After confronting him at Dallas-Fort Worth International Airport for no reason, he starts to bully and then assault the poor guy, kicking him and attacking him.
Fortunately it doesn't take long for people standing by to step in and bring down this violent assailant. Well done to all those brave people. Interestingly, after watching the video it looks like one of the people who help bring the guy to the ground is none other than Hollywood nice guy Paul Rudd.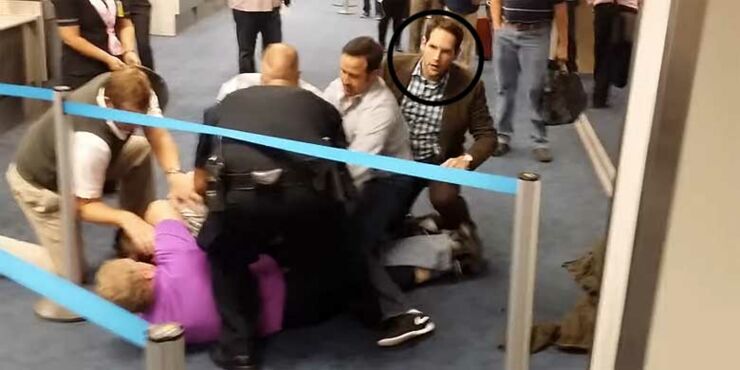 It's the guy in the video at about 1:20 in the checked shirt and brown jacket. Could this really be Paul Rudd? Was he a hero? Does he take donw violent homophobes in his spare time? The internet wanted it to be so, the hashtag #PaulRuddSavesLives was started, which comedian Sara Benincasa helped to popularise along with the theory that it definitely was the real Paul Rudd tackling that homophobic douchebag.
Another Twitter user even claimed to have evidence it was Rudd.
Everyone wanted to believe it was true so badly, so all that was needed was for Rudd to come along and claim his glory and walk off into the sunset a king amongst men. But he didn't. Instead the truth was outed, as the real guy in the video made himself known. Plus Paul Rudd's publicist denied he was ever at the airport on that day.
not Paul Rudd but that's me. Happy to stand in for him if he ever needs it. #PaulRuddSavesLives #doppelganger
So, Paul Rudd is not a hero, but he could've been and that's the lesson we should all take away from this. As for Benincasa, did she have any regrets on leading the internet on a wild, but fun, goose chase?
I think this tweet from Darth sums up all our feelings about the whole scenario perfectly.