Pop Culture Goes Post Apocalyptic In The Name Of Art By Digital Artist Filip Hodas
Ever wondered what the world's pop culture icons would look like in a post apocalyptic world? You probably haven't, but 24-year-old artist Filip Hoda has, and that's why we have art so people like him can make it so. The Prague-based 24-year-old artist Filip Hodas (aka @Hoodass) has thought about it so much he has produced a whole collection of his work around this post apocalyptic pop culture idea.
The freelance digital artist has created an ongoing series called 'Pop Culture Dystopia' which takes figures like Pac-Man, Bender from Futurama, the power-up mushroom from Mario, Hello Kitty, a coke can, and more, and places them in a post apocalyptic landscape. And the end result is nothing short of amazing.
The well known pop culture icons are decaying and covered in moss and growth, nature has come to reclaim them, remnants from another age. An age that was swept aside by some unknown cataclysmic event. And here these obliterated icons sit in littered landscapes of these post apocalyptic lands, pointing to a former time.
Filip Hodas And His Post Apocalyptic Pop Culture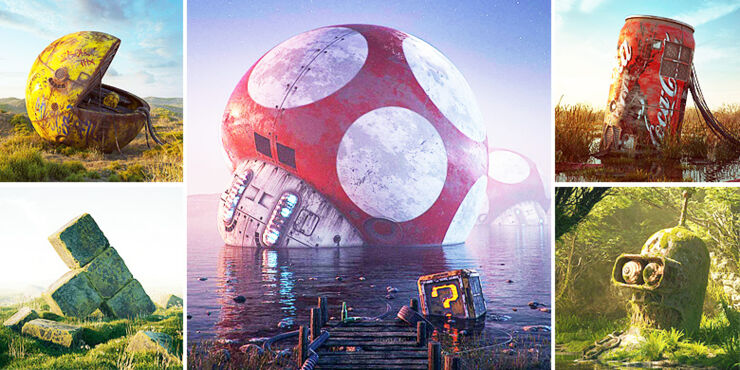 Along with just looking great, Hoda's images also hint at our obessession with this imagery. With the pop culture icons so big it's almost like they were giant statues akin to the gods of Greece or Rome or other ancient cultures. As though they were once worshipped. Other images feature Lego blocks and Tetris pieces as stone artefacts, a giant Gameboy is a vast old building, or PlayStations lie dusty on a Martian-like planet surface.
Seeing these pop culture icons recontextualized like this in post apocalyptic scenes, makes them appear both surreal and highly intriguing.
And it's not just these images that use these surreal juxtapositions, many of Hodas' 3D graphics pics contain landscapes being interrupted by some strange object or form. Like, for instance, pink smoke bellowing from a volcano. "Usually I try to combine realistic looking things or environments with something surreal, bizarre or even just slightly different." Hoas said about his style in an interview with Adobe Creative Cloud.
You can see more of Filip Hodas' work on his Behance and Instagram.
The Modern Ruins Of Digital Artist Filip Hodas