Red Hydrogen One Holographic Smartphone Will Focus On Creating A 'Multi Dimensional Media'
The Red Hydrogen One holographic smartphone is the future you've been looking for. Maybe. Red is a company usually associated with cutting edge high end cameras, but are now branching into smartphone territory.
And they're not tentatively dipping their toes into the market either. The smartphone, called the Hydrogen One, is coming with something they're calling a 'holographic display.' According to the press release the holographic smartphone will operate on Android OS and will have 'look around depth' on its 5.7 inch display. Without too much explanation they say it will use "nanotechnology that seamlessly switches between traditional 2D content, holographic multi-view content, 3D content, and interactive games."
No glasses will be required either. Along with this it will also use a proprietary "H3O algorithm" which will convert stereo sound into "expansive multi-dimensional audio." That will be so good, they say, it will be enough for you to want to get the phone. It's all starting to sound a bit like a pimped-up R2D2 droid unit to me.
Red Hydrogen One Holographic Smartphone Spec.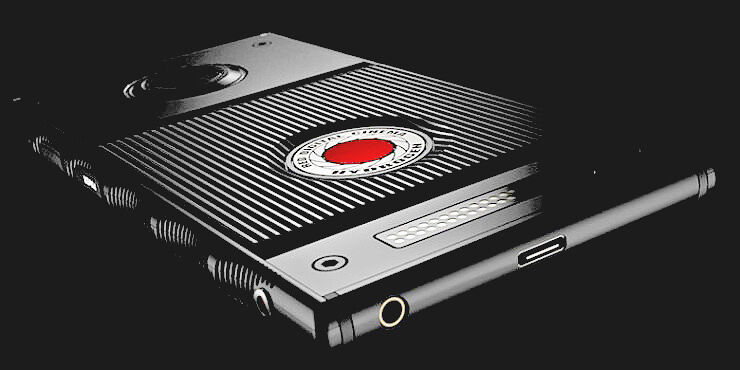 Render of the Red Hydrogen One.
The idea is that the Red Hydrogen One holographic smartphone (or as they call it the 'Holographic Media Machine') will be the control center for their 'Hydrogen One' system. A system that through a high speed data bus will allow for modular attachments, including Red's digital cameras, so you can shoot "high quality motion and still images as well as Hydrogen format holographic images."
It all sounds slightly insane but the company say it will be shipping in early 2018. And you can preorder the smartphone on the company's website. The aluminum version will be going for $1,195 and for $1,595 you can get the titanium one.
Check out some (slighty bats) patent pics of the modular concept of the Red Hydrogen One holographic smartphone, below.