Revisiting The Best Of Robin Williams' Awesome Reddit AMA
Back in September 2013 Robin Williams did a Reddit AMA and, as you'd expect from such a comedic God, it was awesome. In light of his recent departure to a higher realm it feels like the perfect time to revisit the thread, picking out some choice moments. You can read the entire thing here.
Below is a screenshot of how Williams introduced himself and you can't help but read it in his comedically manic voice (one of them anyway). It starts: "Robin Williams. It's time for a convoluted stream of consciousness. Ask Me Anything!"

And he also posted this fun pic to twitter, as his proof.
The whole AMA is brilliant with Williams detailing his love of anime and video games and Tom Waits and Radiohead. You can feel the love for him and his work in the questions posed and Williams' answers—which expertly veer from serious to jokey punchline in an instant—are peppered with wit, humor, warmth, compassion and insight into his life and likes. They range from speaking about where he gets inspiration for his standup routines:

To his favorite books.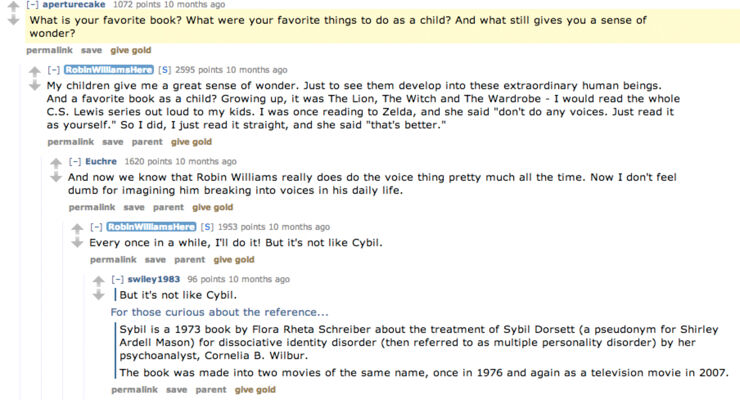 To talking about his craft (and also revealing an alternate, and better-sounding, ending for What Dreams May Come).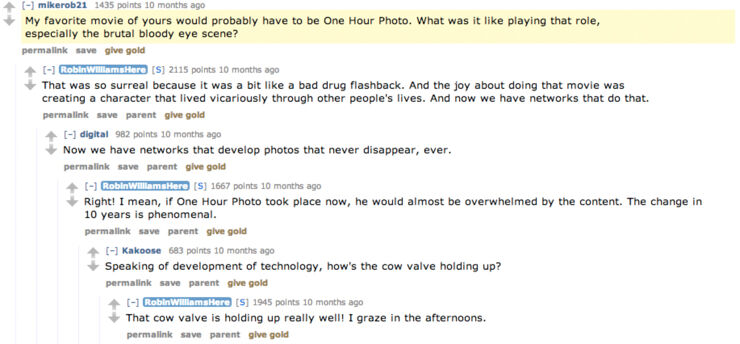 The AMA also provides insight into Williams' marriage and struggles with alcohol.


Along with providing some great stories about Jack Nicholson and other celebrities.



Oh yeah, and Aladdin was mentioned too.


And, of course, a Robin Williams Reddit AMA wouldn't be complete without a Mrs Doubtfire story about buying a double-headed dildo.