This Fanmade Star Wars Graflex Lightsaber Looks Just Like A Movie Prop
Any lifelong Star Wars fan will drool over this fanmade Graflex lightsaber built by designer and 3D artist Martin Beyer. Not only does it look the part, but what's even more impressive is that it makes all the right sounds and you can actually use it to fight with too.
Just like Luke Skywalker's original lightsaber from the 1977 Star Wars movie (and possibly making a return in Star Wars The Last Jedi), Beyer used a modified Graflex flashgun for the hilt. The Graflex flashgun held flashbulbs for old 1940s cameras.
"I used an original Graflex flashgun for the body. The other design elements for the body came from several saber shops. You get blueprints as template for the design." Beyer explained to Smash over email.
Inside the Graflex lightsaber shaft is an aqua aura quartz crystal to give it a beautiful blue glow when the electric module is taken off. Blue LEDs light the blade when it's attached, and motion sensors and a soundboard with SD card ensure it makes Ben Burtt's requisite whirring sound when you wave it around. Sounds can also be changed and modified to include whatever you want.
How the Graflex Lightsaber Was Built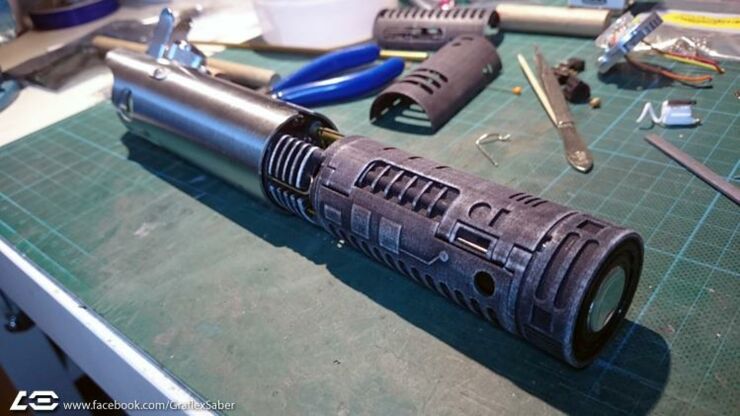 Graflex Lightsaber
"The chassis and all parts inside the saber are designed by me. There was no template." said Beyer. "I got the electric parts like cells, speaker, soundboard, high power LED and LED driver and constructed the chassis around these parts. The chassis is first designed in virtual 3D. After that some parts were laser cut. Most parts are handcrafted and installed by myself."
Beyer decided to make the saber because, well, he just loves lightsabers and says the research, design, and construction took him around 300 hours in total.
No doubt any Star Wars fan is now thinking, GIMME ONE! Well, Beyer says he'll be selling them in the future on his Facebook page. But because of the craftsmanship and time it takes to build (around three to four weeks), it'll probably be around one or two a month. No news yet on price, but it's unlikely the Graflex lightsaber is going to come cheap.
"These are not toys." Beyer notes. "They are solid and swordfights are possible. But first of all they are for displaying." Still, if you did own one it would be a sin to not try out a few Jedi moves in the privacy of your own home. Right?
You can learn more about Beyer's movie-worthy Graflex lightsaber in the collage he sent us below. Head to his website and Facebook page for more.
Details On Martin Beyer's Graflex Lightsaber