Tina Fey And Amy Poehler Ridicule Bill Cosby In Their 2015 Golden Globes Monologue
The great and the good and the not-so-good of Celeb Land gathered last night at the 2015 Golden Globes. If you're interested in the winners, you check out them out on the Golden Globes site—but more entertaining than that is Tina Fey and Amy Poehler's opening monologue from the awards.
It's their second year hosting and let's hope that their reign of hilarity will continue for many more years. Because they are very funny. The whole thing is ten minutes long but it's well worth your time, because right at the end they deliver their Bill Cosby zingers.
They start off fairly tamely with a joke referencing Into the Woods, "Sleeping Beauty just thought she was getting coffee with Bill Cosby." But then comes the real takedown as Fey and Poehler go head-to-head with their Cosby impressions, imitating him explaining how to roofie someone's drink. You'll cringe and laugh at the same time.
Along with Fey and Poehler's hosting, another big winner at the awards was Chrissy Teigen's face. As Teigen's husband John Legend took to the stage to accept his award with rapper Common for their song "Glory" from film Selma, the camera cut to Teigen's weird crying face.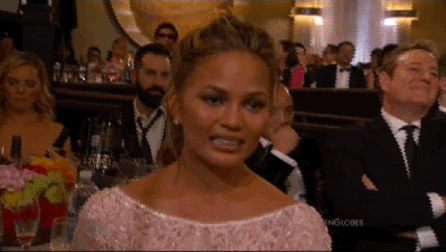 And lo, a meme was born. And supermodel Teigen was all too aware of it.
But that's all Twitter needed for it to do what it does best—make with the funnies.