Disco Dog: Turn Your Pooch into a Party Animal With This Smartphone Controlled LED Disco Vest
If you're a dog owner who's always thought that the one thing missing from you and your dog's life is a flashing canine party coat, then your prays have been answered with Disco Dog, a smartphone-controlled LED dog vest. "FINALLY!" I hear your scream.
The wearables-for-dogs project is by PARTY New York who have recently launched a Kickstarter campaign to raise funding. The vest features 256 controllable LEDs which you can customise to say whatever scrolling text you like. Or show an animation. You can even get a matching LED t-shirt for yourself!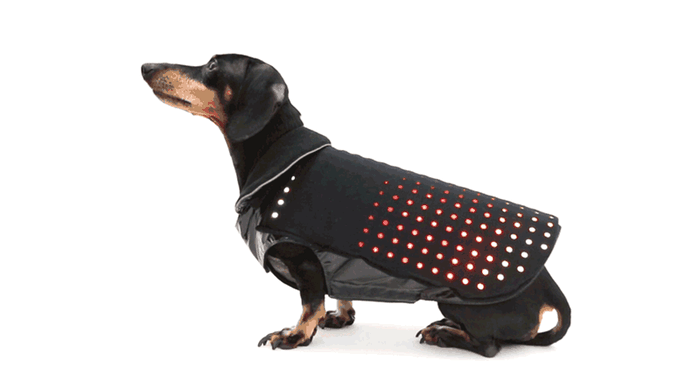 GIF via
And if you think it's just an extravagance for pet owners with too much money (prices range from $300 to $2,500 for a custom made one), it keeps your dog visible at night too, helping if she gets lost because you're out of your mind on tequila. "If your dog runs too far away and the connection is lost, the vest will show an automatic 'LOST DOG' message, asking bystanders to help the lost pup find her way back." says the Kickstarter.
But yeah, the main reason for buying one is so you can walk down the street with your pet wearing a vest that flashes DISCO DOG BITCHES! in LED lights.