Turns Out Selfies Have Killed More People Than Sharks This Year—So Be Careful Out There
A Japanese tourist has become the 12th person to die by taking a selfie in 2015. The man's death happened when he fell down some stairs at the Taj Mahal in India while trying to take a selfie at the Royal Gate. There's certainly moments when taking a selfie is inappropriate or when it results in dropping and damaging your phone—but dying while trying to take one? Man, that sucks.
It seems like their is a definite growing trend to take selfies to the next level, especially with the introduction this year of the dreaded selfie stick that pushes the envelope of total narcissism.
Most of the deaths happened from falling or being hit. Concentration, or lack of, seems to be the key cause as people are looking at their phones instead of what's going on around them. According to the Guardian:
Previous incidents this year include a man who was gored to death taking a picture during a bull run in a Spanish town, and two men who accidentally blew themselves up in the Russian Ural mountains when posing with a live grenade. The picture was discovered saved to the camera roll on one of the men's phones.

Other selfie related deaths this year in Russia alone include a 21-year-old woman in Moscow who shot herself in the head while pointing a 9mm pistol at her temple, another who reportedly fell from a bridge and a teenager in Ryazan who died when coming into contact with live wires while snapping a portrait near to railway tracks.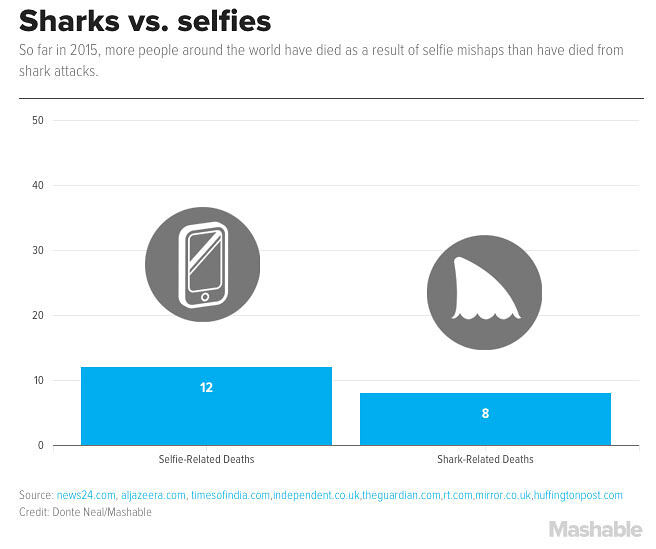 Mashable compiled a graph that shows more people have died from selfie related deaths (12) than have from sharks (8). And things have got so bad in Russia that the interior ministry launched a safe selfie guide.
"Unfortunately we have noted recently that the number of accidents caused by lovers of self-photography is constantly increasing," said aide to the interior minister Yelena Alexeyeva. "Since the beginning of the year we are talking about some hundred cases of injuries for sure. The problem really exists and leads to very unfortunate consequences. Before taking a selfie, everyone should think about the fact that racing after a high number of 'likes' could lead him on a journey to death and his last extreme photo could turn out to be posthumous."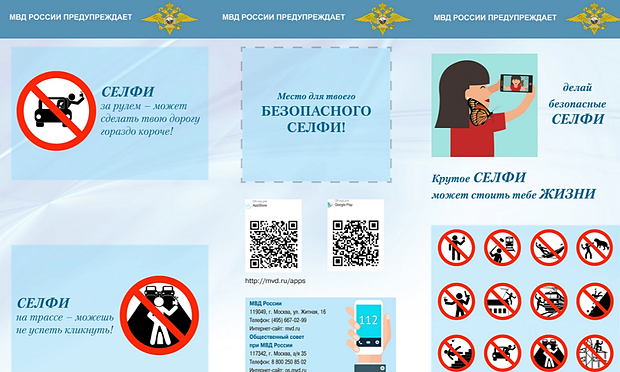 The Russian selfie leaflet which says things like "A cool selfie could cost you your life" and "a selfie with a weapon kills."
It's a beyond tragic state of affairs.
Most dangerous selfie ever. That happened.