Listen To 1,000 Proud High School Students Sing The US National Anthem Over 18 Floors Of A Hotel
You might find yourself singing or hearing the US national anthem this 4th July, but your rendition of The Star Spangled Banner is unlikely to beat this incredible effort by 1,000 high school students. What makes it even more impactful and impressive is that the students sing the US national anthem over 18 floors of a hotel.
The students were in Louisville, Kentucky for the All State Choir conference and this singing on the balconies of the 18 story Hyatt hotel is a yearly ritual. Gathered on the balconies and showing that the acoustics of the hotel aren't too bad, they belt out the US national anthem. It's enough to make most people feel a little patriotic. So why not place your hand on your heart, stare emotionally into the distance recalling all those times you've watched Top Gun, and belt out the US national anthem along with these students.
Or at least, you know, sing the opening few words of the national anthem and then hum the rest. Altogether now, "Oh, say can you see by the dawn's early light, hmm-hmm-hmm, hmm-hmm-hmm..."
High School Students Sing The US National Anthem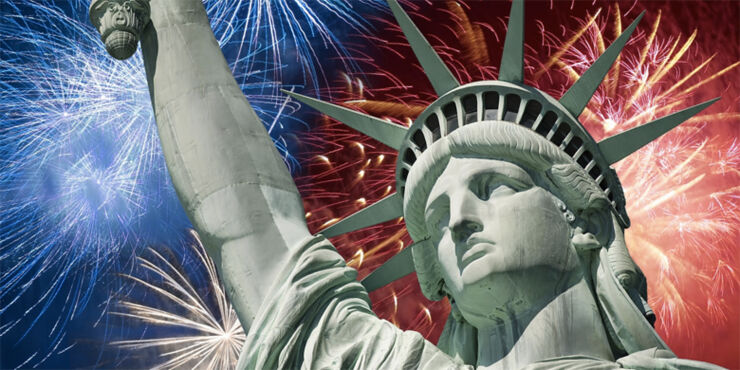 The clip, from 2014, was recorded by YouTube user wootom who writes on the YouTube video, "So, I'm in Kentucky for work and today when we got back, 1000 high school students had checked into our hotel. They had been making quite the ruckus tonight, but then did this to celebrate the start of the Olympics. Not the best video, (cause my fear kept me pretty far from the edge) but that's 18 levels of them singing! Amazing!"
Hearing the US national anthem sung like this would go some way to compensate for any late night partying they did that might have kept you awake. The The Star Spangled Banner has never sounded so beautiful and proud.
Oh, and the next time you're at an Ice Hockey game full of Canadian hockey fans and a technical glitch knocks out the microphone of the singer as she sings the US national anthem. Don't panic, those very nice Canadians have got your back. Because even though it's not theirs country's, they have no trouble picking up the baton and running with the rest of the lyrics for the US national anthem.
The US home team then went on to beat them 9-2, as well. Which seems a little unfair, but alls fair in love, war, and sports. The Star Spangled Banner knows no boundaries.
Canadians Sing The Star Spangled Banner