US Space Corps Could Combat Threats In Outer Space And Become 6th Branch Of Armed Forces
A US Space Corps, a sixth branch of the armed forces, took a step closer to happening when the House Armed Services Committee recently voted to create it. It will focus on outer space combat and extra-terrestrial exercises and will include space activities currently carried out by the US Air Force. Legislation was drafted that would mean the new US Space Corps branch would have to be set up by January 2019.
Currently the US military comprises the Army, Navy, Marine Corps, Coast Guard, and Air Force—the new US Space Corps branch would serve within the US Air Force, be part-independent and report to the civilian, Secretary of the Air Force. It would be not unlike the relationship of the Marines to the Navy.
If it goes ahead it will be the first new US military service since 1947. (After WWII as part of the National Security Act of 1947 the United States Air Force was created from the United States Army Air Forces).
There's no guarantee that the US Space Corps will happen though, as there's opposition to it in both the senate and White House. The main thrust seems to be it would create more bureaucracy and unnecessary complexity. Defense Secretary Jim Mattis has spoken out against it saying in a letter, according to CNN, "At a time when we are trying to integrate the Department's joint warfighting functions, I do not wish to add a separate service that would likely present a narrower and even parochial approach to space operations."
Who's Behind The Idea Of A US Space Corps Branch?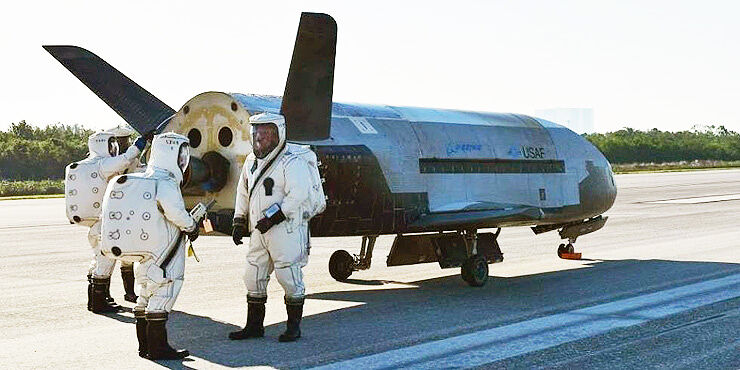 The US Space Corps would serve under the Department of the Air Force.
The idea for a US Space Corps was first proposed by Alabama Republican Mike Rogers, the U.S. representative for Alabama's 3rd congressional district, who, along with Tennessee Democrat Jim Cooper, the U.S. Representative for Tennessee's 5th congressional district, is championing the cause for US Space Corps.
"There is bipartisan acknowledgement that the strategic advantages we derive from our national security space systems are eroding," the pair said in a statement according to Space News. "We are convinced that the Department of Defense is unable to take the measures necessary to address these challenges effectively and decisively, or even recognize the nature and scale of its problems."
"Thus, Congress has to step in," they continue. "We must act now to fix national security space and put in place a foundation for defending space as a critical element of national security. Therefore, our Mark will require the creation, under the Secretary of the Air Force, of a new US Space Corps branch, as a separate military service responsible for national security space programs for which the Air Force is today responsible. We view this as a first, but critical step, to fixing the National Security Space enterprise."
What Would The US Space Corps Protect Us From?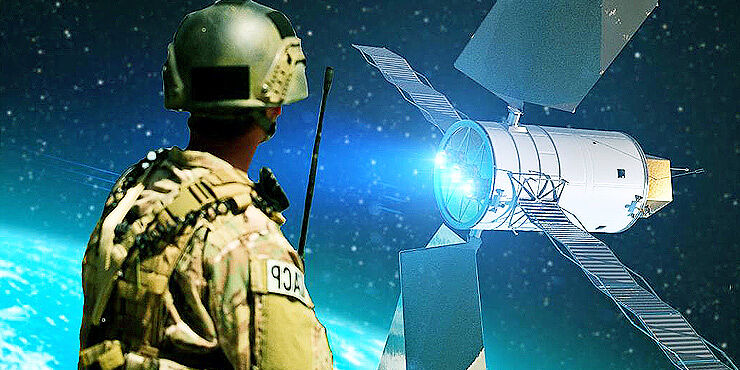 The US 'Space Corps' Could Soon Protect Us from Planetary Conflict - Img source VICE.

Speaking with the Atlantic recently Cooper and Rogers said that the possibilities and capabilities of China and Russia are one of the reasons behind why the idea of a US Space Corps branch is gathering support. Especially the idea that they might take out US satellites to even up the playing field. "If they take our eyes and ears out, they actually have a chance to have a fair fight with the United States. We don't ever want to get into a war where we have a fair fight." Rogers said, continuing. "We don't want them to be able to neutralize one of our satellites, even for 10 or 15 minutes, blinding them while they launch or while they set up to launch."

With Cooper adding, "If our satellites were attacked, we would be blinded, deaf, and impotent before we even knew what hit us. Everything from ATM machines to Zumwalt destroyers would be paralyzed."

And lastly, lets not forget the threat from outer space and going to war with a race of giant alien insects.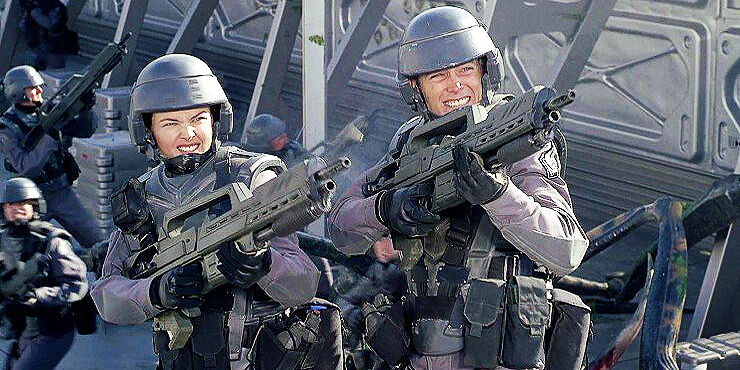 Starship Troopers. © 1997 TriStar Pictures, Inc.