Skrillex's New Frenzied 'Red Lips' Remix Has A Bizarre But Stunning Music Video
Prepare for your eyes to be visually stunned while your ears are given a frenzied workout. Because Skrillex has dropped the music video (see below) for his frantic remix of GTA's "Red Lips."
The video features actress Anya Taylor Joy battling against a bunch of double-jointed yogic freaks, in a video that was co-directed by Skrillex and director Grant Singer.
The somewhat creepy dancers and slick but haunting visuals were inspired by films like The Neverending Story, The Cell, and old sci-fi films, according to an interview with Skrillex by Pitchfork.
In the interview he also talks about the concept behind the video, saying:
The first thing that went through my head when I heard the song is that it starts out kind of pretty, but still dark. It feels almost schizophrenic. The way Sam Bruno, the vocalist, delivers the song, it feels like she's afraid of something. The idea was, what if this girl was sitting here by herself, and when the key changes in the song, the sky just went black and these creatures come out from behind and it's this nightmare she's running from? It's this girl in your head, and this is what she's seeing.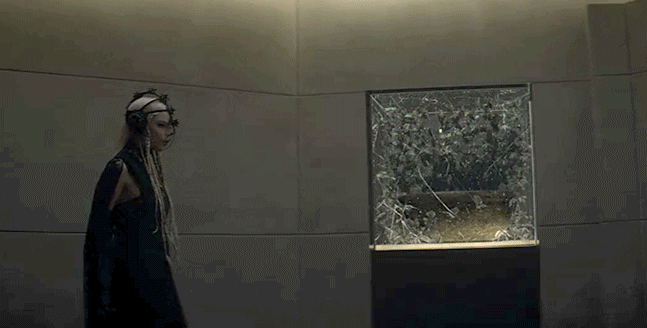 GIF via
It's certainly a surreal fantasy trip that's hard to forget. And it seems like this is just the beginning for Skrillex's move into the moving image. ""I do want to do features at some point, or make lengthier films and do stuff from the ground up at some point in my life," the EDM musician told Billboard.
"I think music will always be the most direct and personal art of communication but you can tie so much more to movies. You can really create visuals and things that stick in people's heads for a long time. At least that's what film has always done for me."
Check out the video for the "Red Lips" remix below.