Wendy's Has Been Having Great Fun Destroying Trolls On Twitter, But Then It Went A Step Too Far
Social media has meant that people can interact with companies and brands in a way they've never been able to before. And it's meant they've been able to troll them too. But, just because these are big corporations don't expect they won't clap back.
Which is exactly what has been happening over on Wendy's very active Twitter account. Their social media manager, it seems, isn't taking no sh*t. It all started when a guy trolled Wendy's by questioning the freshness of their beef.
Firstly, Wendy's tweeted about how fresh their burgers are.
Then someone came back with a diss. Wendy's though were having none of it and hit back so hard the guy deleted his twitter account.
if you're having a bad day today, just remember that you didn't get dragged by a fast food company on twitter
After this exchange further snark came Wendy's way and, full of confidence after everyone championed their response to the fresh burger troll, they shot down all who took aim at them. No one was safe, not even Nickelback, and certainly not their rivals like McDonald's.
Along with that they also just turned up the humor, replying to people with all kinds of jokes, even writing people's Twitter bios for them. What a time to be alive. Check it out.
Be careful , last time a fast food restaurant burned a customer that bad McDonald's had that million dollar coffee lawsuit.
But their heroics and japes went a step too far, because while everyone was applauding their on-fire Twitter game, they then went ahead and ruined it by tweeting a racist meme dressed up as Wendy's famous icon, Wendy Thomas. That meme was Pepe the Frog.
But, it turns out they didn't really know the meme's new meaning. And quickly deleted it.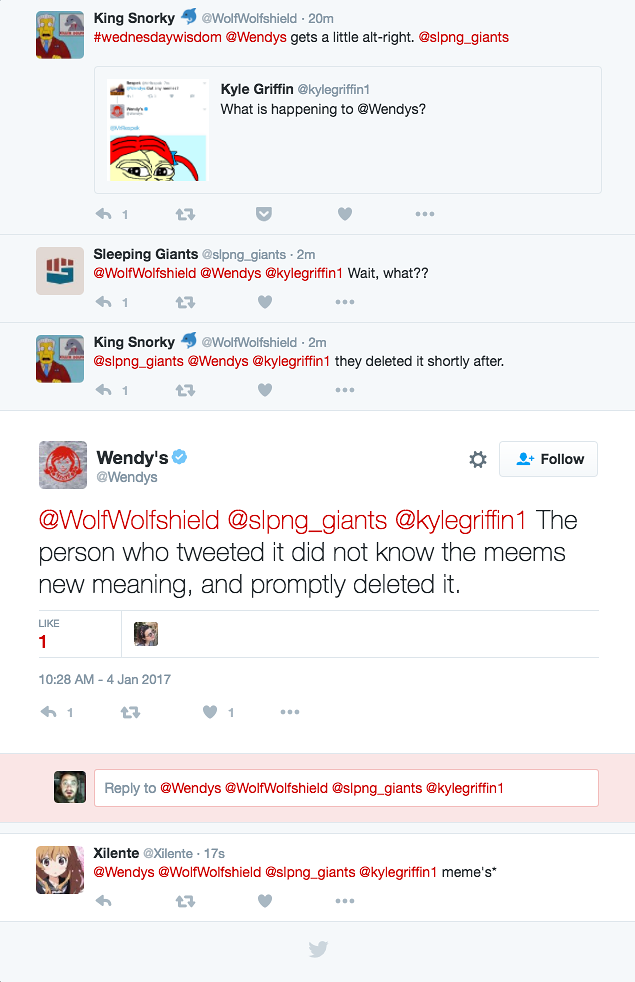 It just goes to show, social media-ing can fun, but it can also be tricky. Stay safe out there.