New Deadpool 2 Photos Of Zazie Beetz Gives Us A First Look At Her Marvel Character Domino
New photos give a first look at Zazie Beetz as Domino in the upcoming Marvel Deadpool 2 movie. Ryan Reynolds kicked things off by tweeting a photo that was a nod to the original Deadpool movie marketing. But instead of Reynolds laid out dressed as Deadpool by a roaring fire on a bear skin rug, instead it was Zazie Beetz decked out as Marvel character Domino laid out on a Deadpool skin rug. It was a hilarious introduction to Domino.
Photos of 25-year-old Zazie Beetz and Ryan Reynolds on set in Vancouver have also emerged, showing them smiling and both dressed in their superhero costumes. Domino, who also goes by the name Neena Thurman is, like Wade Wilson, a mutant mercenary.
In the comics Domino was the product of top secret US government initiative called Project: Armageddon which aimed to genetically engineer the perfect weapon. Her powers include incredible marksmanship, and hand-to-hand combat, and she's tychokinetic, meaning she has mutant ability of probability manipulation.
She was also a member of X-Force and X-men and had a relationship with Marvel character Cable, another mutant who's in Deadpool 2 and is being played by Josh Brolin who packed on pounds of muscle to play the role.
In real-life the American actress is best known for her role as Vanessa on the 2016 comedy series Atlanta. Also in 2016, she appeared in the Netflix-original comedy anthology series Easy.
There's Criticism Over Zazie Beetz's Afro Hair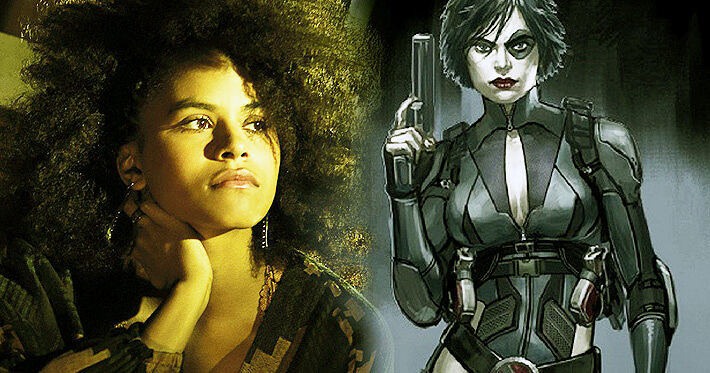 The only negative has been some fans' reactions, who have said how impractical an afro hairstyle is for a character who's supposed to be an assassin. Mostly people have just ignored the haters though, because as you can see from the photos below, Zazie Beetz looks badass in a leather jumpsuit.
Even the Deadpool creator himself, writer/artist Rob Liefeld (who also co-created Domino with writer Fabian Nicieza), has spoke about what a great casting decision it was having Zazie Beetz play the character. Speaking with Comicbook.com back in March he said:
Domino is all about, as an actress and as the character that is going to be on the screen you already allude to it, it's all about the sass. You gotta understand, your gonna go up against Wade Wilson, who is, in this movie is Ryan Reynolds and trust ... I'm telling you, having been around Ryan multiple times that mouth cannot be stopped. He ... it's point ... I don't think he can say the jokes as fast as they are backed up in his head. So, you need ... some of these people be like "oh hey, this girl should have been Domino, and pick out actress a through z" and I'd be like "I'm not sure that they can keep up with him" and oh my gosh, I'm not sure that Ryan's gonna keep up with her. I think Ryan Reynolds is gonna have to work hard to keep up with Zazie. I mean, wow. You just go "That chemistry is going to be spectacular". And that's what it comes down to is the chemistry with these characters.
Deadpool 2 is set for a release date of 1st June 2018 and it's directed by John Wick 2 director David Leitch.
Check out some photos of Zazie Beetz as Domino below and some Marvel concept art.
Twitter Responds To Zazie Beetz as Domino
Arriving in Style! #ZazieBeetz AKA #Domino lands on set of #2 via a parachute! Check out the pics: ?
Concept Art Of Marvel Character Domino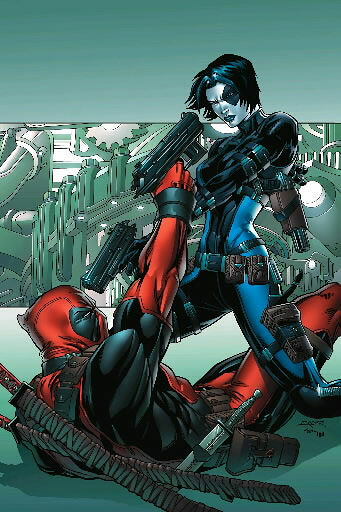 Deadpool and Domino in the comics. Image via Marvel Universe Wiki.