Deadpool Stars In His Own Honest Trailer, Because Of Course He Does
Screen Junkies have just released their Honest Trailer for the hugely successful Ryan Reynolds Deadpool movie—and naturally it stars Ryan Reynolds in a meta move that, as the Merc with a Mouth states in the video, is kind of his thing. And it's all the better for it.
How did such a thing happen?
Well creator and writer on Honest Trailers Andy Signore tweeted Deadpool writer and executive producer Rhett Reese asking if he'd help get Ryan Reynolds to do the voiceover for their Honest Trailer of the film.
Signore then hit up the Screen Junkies followers and asked them to help talk Reese and Reynolds into making it happen.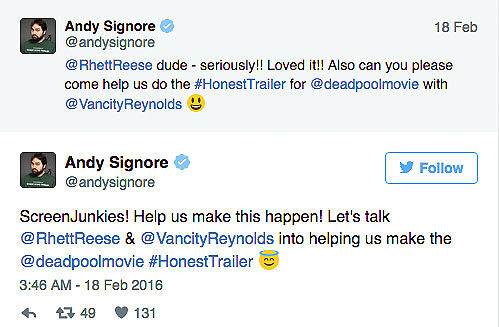 The Screen Junkies fanbase then did the necessary and Reynolds eventually responded sending Signore a DM. "He said, 'Hey it's Ryan, I'm a huge fan of Honest Trailers, I loved your Green Lantern one," Signore told Mashable, who premiered the Honest Trailer. "I gave him my email and he emailed me. He was so nice and accommodating and made time."
Reynolds recorded the voiceover while in Europe filming Deadpool 2. "He's been really involved with the process and gave us a couple of suggestions and pointers," Signore explained. "He's been super cool about it. Him loving the brand and wanting to help us has just been a dream."
Check out the video above.
The Deadpool DVD is out and you can watch the fun trailer for that, starring Deadpool of course, below.