Ryan Reynolds Is Turning Vancouver Into A Movie Set For Deadpool 2 Sequel
In case you weren't aware Ryan Reynolds is in Vancouver filming Deadpool 2 movie sequel which recently began production. Filming will be taking place over the next few months, with production due to wrap on Deadpool 2 around 6 October 2017. No release date has been announced yet for the Deadpool 2 movie but a trailer (well, more of a teaser clip) was first shown in cinemas before another Fox/Marvel superhero movie, Logan.
You might have already seen Ryan Reynolds put posts up on his social media about production beginning, but if you happen live in Vancouver, you don't really need to see these. Because you'll know it's begun because it seems nearly the entire city has become a Deadpool 2 movie set.
Filming has been happening around the Gastown neighbourhood recently, as the crew prep and shoot various scenes like a big car chase. In doing so alleyways are being altered and they're even playing God, as the movies like to, by making it rain.
Ryan Reynolds & Deadpool 2 Take Over Vancouver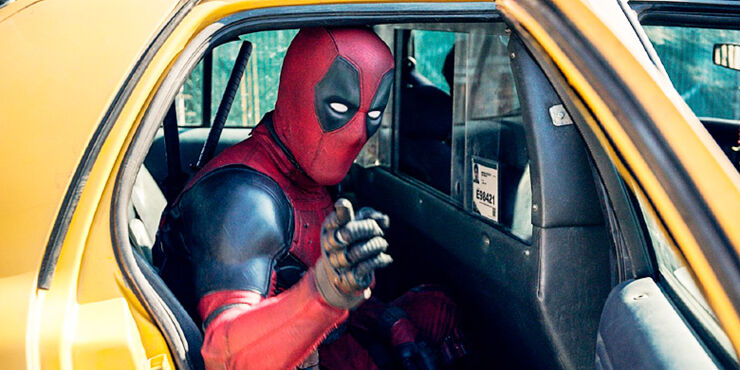 Deadpool's yellow taxi, the one driven by his comedic cab driver Dopinder (Karan Soni), has also been spotted around the city's Cambie Street. The rain scene seems like it involved Ryan Reynolds in his disfigured Wade Wilson makeup, shooting some kind of showdown or confrontation—the rain adding to the drama.
Ryan Reynolds' wife, Blake Lively, is also on the West Coast with him while he shoots the Deadpool 2 sequel. The pair recently used a local instructor for a private CPR course for kids and babies, with both taking to social media after to encourage other parents to take CPR courses too.
Many people in Vancouver have been taking to social media as well, posting about all the sightings of the filming and clips of Ryan Reynolds himself, in and out of his red Deadpool costume. What a time to live in Vancouver.
Check them out below.
Ryan Reynolds Spotted On The Marvel Movie Set
Prepping for car crash on the #Deadpool2 set but I have to prep for bed and beauty sleep! Night, night #Deadpool fans #Vancouver
This Vancouver alley is being transformed for a Deadpool 2 shoot later this week. No sign of Ryan Reynolds yet!
Looks like Deadpool is setting up to film on the edge of Gastown. The famed taxi is parked on Cambie, across from where I'm having dinner.
They are either making rain or washing the streets. #Deadpool2? #Vancouver Half expecting to sneak up behind me. #Deadpool