A 500lb Beautician Opens A Babydoll Beauty Couture Salon For Plus Size Women In Las Vegas
The world's first babydoll beauty couture salon that caters to plus size women has been opened in Las Vegas by 31-year-old Jamie Lopez. Lopez is a 500lb beautician who had a demeaning experience when she went to a hairdressers, sat on a chair, and it broke under her weight. Lopez's plus size salon, called Babydoll Beauty Couture, will have no such embarrassments because the beauty couture salon styling chairs hold up to 800lbs.
"I set up this beauty couture establishment because I was humiliated in a regular salon." Lopez says in the above Barcroft video. "I went there to get my hair done and I went to sit down and greet my stylist and the chair loudly broke. All eyes were on me. It was a really horrible experience. I knew I wasn't the only one that ever had to suffer something like that, so I saved all my money. I had this dream and I was like, 'I'm going to make a salon that caters to plus size women because I know I'm not the only one who goes through this.'"
The Nevada Babydoll Beauty Couture salon is the second plus size salon of it's kind that Lopez has opened, she previously opened one five years ago in Los Angeles. Both salons are suitable for all figures, with not only the styling chairs but also beauty benches that can support up to 600 pounds.
Jamie Lopez On Her Babydoll Beauty Couture Salon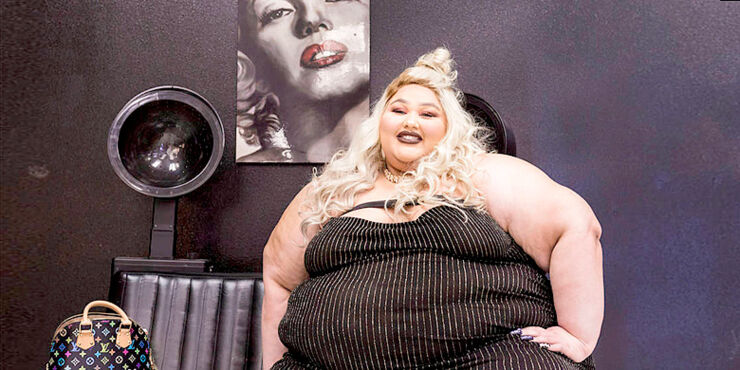 Jamie Lopez in her babydoll beauty couture salon / Image: Plus-Size-Modeling.com.
"Big girls want to get waxed too. Everything in the beauty couture salon is custom-made and reinforced, so there won't be any humiliation, or anything broken." notes Lopez, continuing, ""And everything is glamorous, so you won't feel like you're getting a 'special chair' - it's not a special chair, every chair here is the same."
The clientele features strippers, dancers, models, along with women who haven't been to a salon for years. And it's staffed by mostly plus size hair stylists, make-up artists, nail technicians, and beauticians.
"I want them [the plus size women] to feel like they're getting the royal treatment, because they might be going through something on the inside, and might not feel beautiful." notes Lopez. "It's really important to me to make them feel even more beautiful when they leave than they do when they come in. As women, we should be able to get beautiful anywhere."
See more Barcroft videos on YouTube and check out the Babydoll Beauty Couture Salon on Instagram.
Jamie Lopez with her staff in the babydoll beauty couture salon / Image: Instagram.