These Barely Clothed Bikini Baristas Are Proving A Huge Success In American Coffee Shops
It's probably not much of a surprise that these bikini baristas are proving popular with customers at the chain of Bikini Beans Espresso bars. As the name of the place suggests, people are served their coffee by female bikini barista dressed in a bikini. Or sometimes they're even topless with just stickers covering their modesty.
The first shop featuring these baristas opened up as a drive-thru in Spokane, Washington State. Following its success they've since opened two new branches in the state of Arizona, one in Phoenix and one in Tempe.
Ben and Regina Lyles are the entrepreneurs behind this chain of bikini barista coffee shops that replaces tattooed hipsters with barley-clad barista beauties. And while some may think of it as exploitative (see below) the couple see it more as empowering the women. It puts a whole new slant on a skinny flat white or a long black.
"As the first bikini baristas shop in Arizona, we want to empower women to be, and feel good about, themselves." says the Bikini Beans Espresso company's website. "Women everywhere have the right to vote, to be gay, to be successful community leaders and business owners, or even to run for president! We have the right to work with grace, confidence, and dignity, regardless if it's in a business suit, scrubs, or a bikini."
It's probably no surprise to learn that a lot of the people coming to buy coffee are men, but these bikini baristas also pride themselves on making great coffee too. And that's not a euphemism for anything.
When Bikini Beans Espresso Came To Tempe, AZ
However, not all men are keen on getting served their coffee by scantily clad bikini baristas. When it opened back in 2015, Tempe City Councilman Kolby Granville wrote about his own distaste for it in a Facebook post.
This place is opening in Tempe.

On the one hand, I believe that the market is the best picker of winners and losers and the more government gets involved, the more inefficiencies they tend to create. There are exceptions; natural monopolies, health/safety, cost externalities not born by the producer, but this has none of those. So, on the one hand, I support the free market.

On the other hand, I HATE THIS. HATE IT. I hate that I'm currently teaching my students about Seneca Falls, about the fight for voting, and about a million other battles won by brave women to be treated as more than objects, and yet this is where America still stands. I hate that I have spent the last 3 years coaching Jr. High Girl's Cross Country telling young girls they can be fierce competitive humans and yet they are going to see your shop and be told their greatest value is as an object of desire.

I respect your right to open this business, but I will not buy from you, and I hope you go out of business because enough other people agree with me. I hope you are not a good fit for the values of Tempe buyers and you close down from a lack of business. And I will happily help you pack up and leave Tempe when you go out of business. You fill me with actual hate for what you are doing.

I know this post is a bit out of character for me and this page, but this really makes me mad.
So, as you can probably gather, Kolby Granville's not really a big fan. It's a good job he doesn't live in Europe as he'd have to contend with a new range of coffee shops with an offer of oral sex with his morning fappichino. And lets not even mention to him the non bikini baristas who work in the topless coffee shop drive-thrus in Washington state. i'd say that Kolby's got off pretty lightly in Tempe, Arizona.
Still, if you wanted to get an idea of what these bikini barista coffee shops are like, you can check out some of the Bikini Beans Espresso barista employee Instagram posts below.
Meet The Bikini Baristas
Happy Saturday Phoenix! Our milkshakes are bringing everyone to our yard today ???? See you here!!!!!!! #BikiniBeansEspresso #BikiniBeansTempeAz #HappySaturday #Weekend #Happy #Healthy #Humble #WomenEmpowerment #GirlGang #BeanGang
Worrying does not take away tomorrow's troubles, it takes away today's peace! ?#BeanGang #az #coffeetime #march #bikini #black #love #tan #brunette #phx #phoenix #tempe #coffeelovers #latte #bikinibeans #bikinibarista #asu #sunday #weekend #sundayfunday #drivethru#lennyandlarryscookies
Happy Monday Phoenix! ? Teresa & Lexi here to brighten your day! Stop by and grab a delicious C Cup Nude! ☕️?? We can't wait to see you! ???? #BikiniBeansEspresso #BikiniBarista #BaristaBabes #Coffee #Espresso #Redbull #Nude #WhiteNinja #Tuxedo #ToastedCoconut
A smile is the most beautiful curve on a women's body ??? Lexi, Val and Rae here in Phoenix ready to serve you up some protein shakes ! We have the Bikini Buzz, PB&J, Vanilla or Chocolate ! So many delicious options ?? Come see for yourself ! Don't forget our protein cookies to go with it ! Our favorite is the double chocolate chip ❤️? #BeanGang #Protein #Cookies #GirlPower #Cookies #Bikinis #BikiniBeans #DoubleChocolateChip #BikiniBuzz #Pb&j
"Be who you are not who the world wants you to be" ?? Happy WCW ladies! Don't forget you get 15% off your order today and every Wednesday!?? come grab our signature Nude Latte ? see ya soon! #WCW #friends #happy #womenempowerwomen #coffeelovers #espresso #frappe #iced #hot #yum #az #phx #coffeeshop
Nothing is ever wrong. We learn from every step we take. Whatever you did today was the way it was meant to be. Be proud of you! #BeanGang #oneyear #az #coffeetime #march #bikini #black #love #tan #brunette #phx #phoenix #tempe #coffeelovers #latte #bikinibeans #bikinibarista #asu #wcw #womencrushwednesday #drivethru#lennyandlarryscookies
DD, Kayla and Hannah here in Phoenix feeling energized after sipping on some energy drinks! ⚡️⚡️⚡️Our favorites are the Peachykini?, Tropakini? and Berrykini?! Come try one, or all three? #phoenix #bikinibeans #downtownphoenix #energydrinks #peachykini #tropakini #berrykini #baristas #bikini #summer
A great attitude is like a perfect cup of coffee ✨☕️ You can NOT start the day off without it. ? I hope to see you soon! ☀️? ? #barista #bikini #uniform #BikiniBeans #positive #goodattitude #fun #coffeetime #phoenix #espresso
If it doesn't challenge you, it doesn't change you! Morning Phoenix! Come in today and get yourself a drink made by yours truly! ?✨#asu#barista#coffee#bikinibeans#springbreak
Hey hey hey ? Come see me at Bikini Beans Today ☕️! Love that Carmel & White Chocolate ??! We got that perfect Nude! ?? #bikinibeansespresso #icedcoffee #Nude #perfection #delicious #nahil #yafavoritegirl ?
Happy Tuesday Phoenix!! Hope everyone is having an awesome day so far! Stop by to get something yummy to brighten up your day??☕️ #beans #bikini #Tuesday #Happy #fun #yummy #coffeetime #coffee
Good morning?Running late? Come to our drive through in Phoenix and we can make you something strong, and quick ?How about a triple shot Lola? That will wake you up! #empower #inspire #wakeupnow
Phoenixxxxxx ?? what's popppin??! Come in to bikini beans and try a tropakini ? sweet pineapple and coconut with a tropical redbull ✨? see you soon ? #redbull #barista #redbull #DD #sunny #ASU
Hi friends! ?✨ Taylor here in Phoenix today! ? I'm drinking an Iced White Chocolate Macadamia Nut! ?☕️? Need an extra boost this Monday morning? Get it with an EXTRA SHOT! ? XOXO #bikinibeanstempe #bikinibeansespresso #bikinibeans #tempe #az #coffee #latte #protein #cookies #love #yummy #kisses #delicious #beangang #barista #bikinibeansbarista #happy #smiles
Difficult roads often lead to beautiful destinations ? Stop by the bean today to see Carley and Elle ? #Phoenix #AZ #love #friends #beangang #coffee #espresso #positive #motivation #beautiful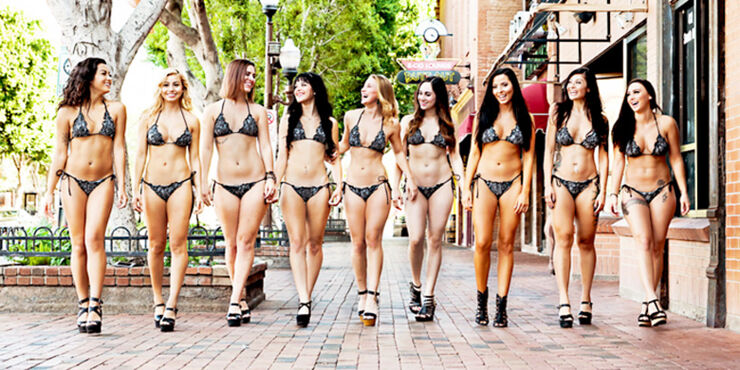 The bikini baristas out and about in Tempe, AZ.