Sesame Street Characters Recreate The Beastie Boys Sabotage Video In Hilarious Mashup
Get ready boys and girls for the 'Sesame Street meets the Beastie Boys' mashup video. Back in 1994 The Beastie Boys Sabotage track came out, not only was it a killer song with some crazy bass guitar riffs, it also had a now iconic video. Directed by Spike Jonze it featured the band—Ad-Rock, MCA, and Mike D—dressed up like characters from a 1970s cop show. It was a brilliant spoof set to a killer soundtrack 'Sabotage'.
With bad wigs and terribly fake moustaches, The Beastie Boys Sabotage video showed them running around, kicking down doors, leaping across rooftops, and chasing down bad guys. All shot on a shaky camera that gave the whole thing this wonderfully chaotic and humorous vibe that just seemed perfect for the song. It quite rightfully won them a MTV Video Music Award for best video back when it came out.
And now, 23 years later The Beastie Boys Sabotage video has been recreated using characters from Sesame Street. It comes courtesy of Mylo the Cat (aka Adam Schleichkorn) the mashup artist who has previously had Barney the Dinosaur rapping Notorious B.I.G. 'Get Money,' Doug Funnie rapping Ice Cube, and many more.
Sesame Street Recreates Beastie Boys Sabotage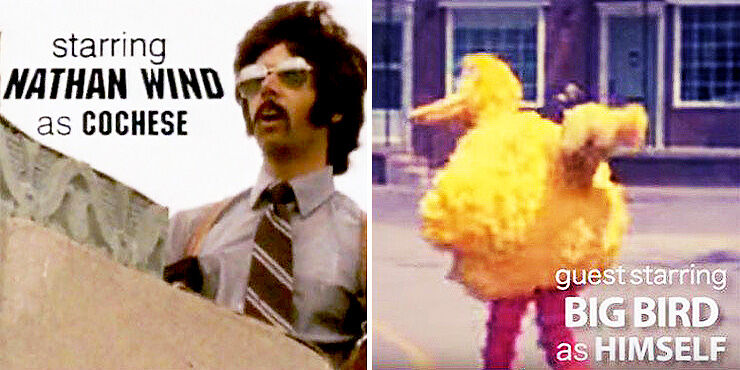 And he's done a fine job on this latest one. Just like The Beastie Boys Sabotage music video which starts with a car chase, Schleichkorn has also started with a car chase. But this time it's Muppets in the driving seat, and it's Big Bird who's being chased.
And although these two pieces of pop culture are rather different, like all of Schleichkorn's remixes, it just seems to work. Here's what he says about the The Beastie Boys Sabotage vid, which he's dedicated to Adam 'MCA' Yauch who sadly died from cancer in 2012.
"Mashup of the cast of Sesame Street reenacting 'Sabotage' by the Beastie Boys. Featuring appearances by Big Bird, Cookie Monster, Oscar the Grouch, Super Grover, Bert and Ernie, Telly, Ms. Finch, and more. About 3 years ago, I spent a Sunday editing a video of the Muppets rapping 'So What'Cha Want', which ended up being a total game-changer for me. The original 'Sabotage' music video is without a doubt, one of the greatest of all time, so I knew I couldn't do a regular old lip sync video, I had to bring it! RIP MCA."
Check out the Sesame Street 'Sabotage' mashup video above and the original Beastie Boys video below.
The Original Beastie Boys Sabotage Video