Photographer Creates Disturbing Pictures With Uncanny Distortions To Corny American Photos
These disturbing pictures by Polish photographer Weronika Gęsicka certainly fit into the category labelled 'uncanny'. Meaning something that relates to a situation or scene that is familiar but has somehow become inexplicably strange and disturbing. The effect causes you to re-evaluate exactly what it is you are looking at.
Gęsicka's works use image editing software to manipulate corny all-American vintage photos into something far more surreal and alarming. Ordinary scenes from the everyday lives of Americans are twisted into disturbing pictures that cause you to look twice. Suddenly it feels like something out of a creepy horror film.
Be it something simple like a child merging with a piece of flora, or a woman's face becoming a mask on a stick. Gęsicka seems to focus on a period in American history that is looked back on with feelings of a golden era filled with innocence where we feel safe. Changing them into disturbing pictures creates an interesting paradox.
Weronika Gęsicka Talks His About Creepy Pictures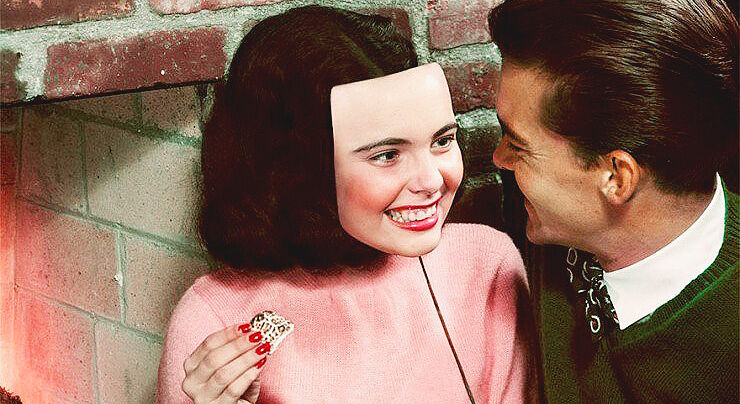 "The project is based on vintage photographs purchased from an image bank," Gęsicka told The Guardian. "Most of these photos came from American archives from the 1950s and 1960s. Family scenes, vacation souvenirs, everyday life, suspended anywhere between truth and fiction. It is hard to figure out whether they are spontaneous or entirely staged."
Gęsicka them gives them a nightmare-like new context with a few strange tweaks, turning these idyllic yet staid images into disturbing pictures that have a creeping sense of something amiss.
"I try to erase, as much as I can, the difference between an original image and my own alteration, creating a completely new history at the same time." Gęsicka explains. "These disturbing pictures, modified in various ways, are wrapped in new contexts: our recollections of people and situations are transformed and gradually blur."
The strange thing is that when you start looking at 'normal' pictures again they just don't seem 'right'. Weird.
Take a look at some of Weronika's disturbing pictures below and check out his website for more.
Weronika Gęsicka's Most Disturbing Pictures