Watch The High Octane Trailer For Edgar Wright's 'Baby Driver', An Action-Romance Heist Movie
Film director Edgar Wright, of Shaun of the Dead and Scott Pilgrim vs. the World fame, is back with new movie Baby Driver due out 11 August 2017. The Baby Driver trailer has recently been released online and the first reviews of the movie are out too after it was shown at SXSW 2017.
Fans of Edgar Wright's work are going to immediately recognize some of the stylistic flourishes in the trailer. Most notably the fast cutting film editing technique present in a lot of Edgar Wright's visual comedy. Also present, and a central premise of the film, is music.
In the Baby Driver movie music is central to the plot, which features a getaway driver called Baby (played by Ansel Elgort) who, due to an event that happened in his childhood that gave him tinnitus, listens to music through his earphones while performing his driving duties.
So the music that soundtracks his getaways soundtracks the movie too, choreographing the action sequences. Music is often used to great effect in Wright's work, notably in action scenes, including the sitcom he made with Simon Pegg, Spaced. So it'll be intriguing to see how he uses it to heighten the tension in a heist movie.
Edgar Wright On Baby Driver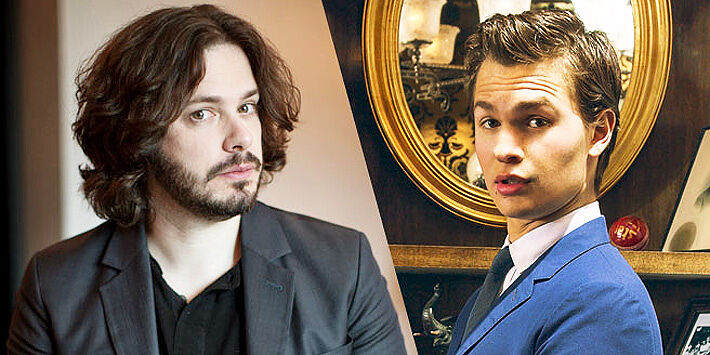 Edgar Wright On 'Baby Driver' Ansel Elgort.
"I always wanted to do an action movie that was powered by music," Wright told Entertainment Weekly last year. "It's something that's very much a part of my previous films and I thought of this idea of how to take that a stage further by having a character who listens to music the entire time. So, you have this young getaway driver who has to soundtrack his entire existence, particularly the bank robberies and fast getaways that come afterwards."
In the movie Elgort's character wants to leave the getaway driver life behind after meeting a waitress and the girl of his dreams played by Lily James. But he gets involved with a crime boss and leaving the criminal life proves harder than he thought.
While it looks like there are moments of comedy in the film—notably in the trailer where there's some confusion over Mike Myers bank robbery masks—unlike Edgar Wright's previous work, his Baby Driver film is not a comedy at all.
"It's an action crime film," Wright has said. "It's funny in places but it's not a comedy. It gets genuinely tense and threatening. That was actually a fun thing for me — to do dramatic or thriller scenes which just up the ante."
Baby Driver Cast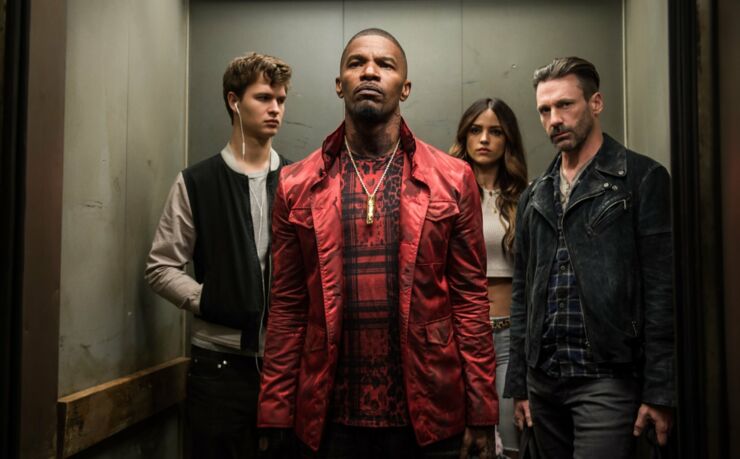 Jamie Foxx, Jon Hamm, Eiza González, and Ansel Elgort in Baby Driver
Along with starring Ansel Elgort as the titular character and Lily James as Deborah, the film features an A list cast. Featuring Jon Hamm, Jamie Foxx, Eiza González, Flea from Red Hot Chili Peppers, Sky Ferreira, and Kevin Spacey who looks like he's on top form as the crime boss.
Along with a great ensemble cast Wright is teaming up with Bill Pope again who will be cinematographer. Pope worked with the director on both Scott Pilgrim and The World's End. Pope also worked on the Matrix trilogy and recently The Jungle Book remake. So Baby Driver looks all set to be a thrilling marriage of sound and visuals.
Baby Driver Reviews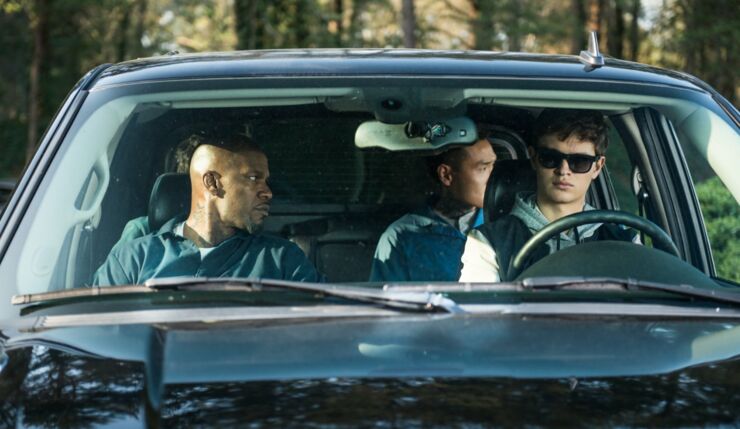 Jamie Foxx, Lanny Joon, and Ansel Elgort in Baby Driver
The Baby Driver movie was shown at SXSW in Austin, TX and a few early reviews have already been posted online by Variety and The Daily Telegraph. And it seems the early buzz is overall positive. It's Edgar Wright's first film that's he's written on his own, previously he's co-written with Simon Pegg or others, so it's unique for the director in that regard.
The Telegraph, which notes that Wright described the movie as a homage to the "holy trinity" of 90s heist movies—Heat, Point Break and Reservoir Dogs—says, "Music is not merely central to Baby Driver, Edgar Wright's new comedy-action-romance, but the skeleton upon which it is constructed. The British writer-director would not sit down to create a scene until he had found the perfect track for it, then building the action and dialogue to fit perfectly with the tempo and timings. The result is a fresh, funny spin on the classic heist flick, a crime caper that feels like a musical, but is mercifully free of the earnestness that has made La La Land such a lightening rod."
Comedian Kumail Nanjiani from Silicon Valley liked it too:
Variety wasn't quite so kind though calling it "a blast featuring wall-to-wall music and a surfeit of inspired ideas" but also claiming it was "something of a mess" as it went from car chases to love story.
Still, from the Baby Driver trailer it looks great, and likely another solid addition to Edgar Wright's filmography.
Here's the official synopsis:
Talented getaway driver Baby (Ansel Elgort) relies on the beat of his personal soundtrack to be the best in the game. After meeting the woman (Lily James) of his dreams, he sees a chance to ditch his criminal lifestyle and make a clean break. Coerced into working for a mob boss (Kevin Spacey), Baby must face the music as a doomed heist threatens his life, love and freedom.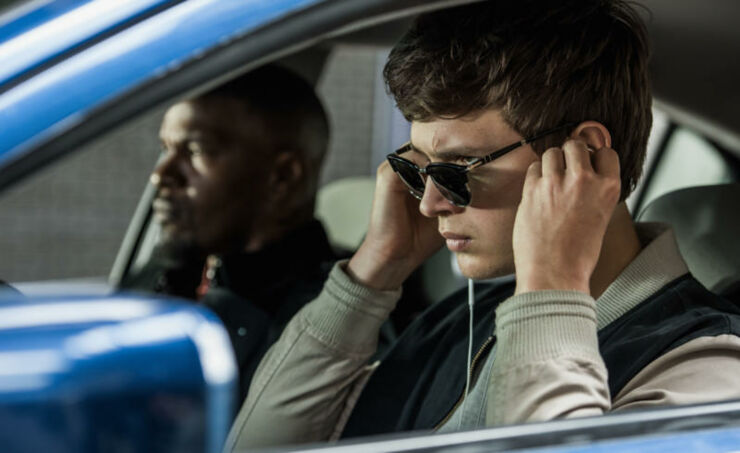 Jamie Foxx and Ansel Elgort in Baby Driver. Photo by Wilson Webb - © 2016 - TriStar Pictures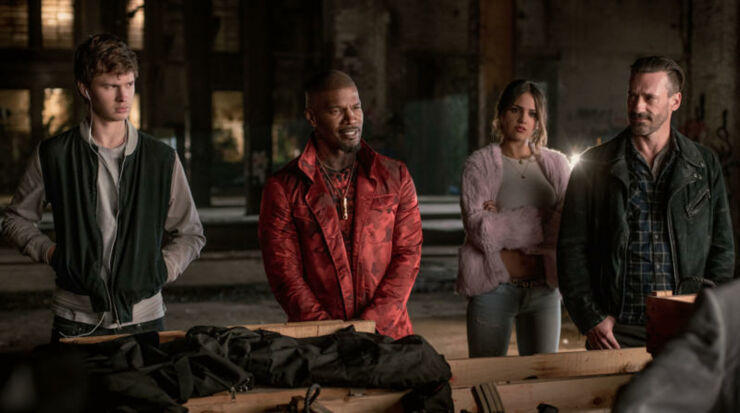 Jamie Foxx, Jon Hamm, Eiza González, and Ansel Elgort in Baby Driver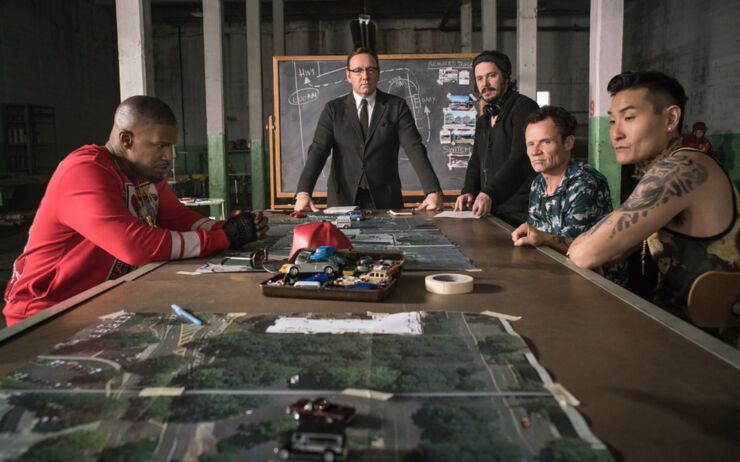 Kevin Spacey, Jamie Foxx, Edgar Wright, Flea, and Lanny Joon shooting Baby Driver
You can check out the poster below.