Is This Extreme Cougar Hunting? What Happens When A 31-year-old Guy Has A 91-year-old Girlfriend
Don't judge. OK, well judge. As open-minded or accepting of relations that aren't the norm (and aren't illegal) as you think you might be, your societal conditioning isn't going to let you watch this video and hear this guy, Kyle Jones, talking about how everyone is wired their own way without passing judgement. And then condemning him. Pervert!
It also doesn't help his cause that he styles himself as a "cougar hunter" making him appear like some creepy predator—but cougar hunter doesn't really define what he does. Which is date pensioners. Cougars are generally women who aren't at pensioner age, 40 to 50 years old sure. Hell, maybe even 60, 65.
But when you start getting into anything older than that it starts to get a bit weirder. As much as I'm trying not to think of the guy as a freak, that's just instinct kicking in.
And dude, you're effectively dating your grandma! It's beyond Oedipal. In fact, I don't even think the ancient Greeks have a myth that covers young guys dating women knocking on heaven's door—and they were messed up.
The love of his life (at the moment) is 91yr old Marjorie McCool and although their five-year relationship isn't exclusive and there are downsides to dating older women they both seem happy with the arrangement.
According to the Huffington Post: In 2009 he met great grandma Marge in the bookstore where she was working and asked for her number. Marge, who had been single for 37 years since splitting with the father of her six children, agreed to go on a date.
She said previously: "In the beginning I got jealous of his other women but he keeps coming back to me and tells me I'm the best. The physical side of our relationship is wonderful. I amaze myself, he amazes me. There's nothing better. I wear sexy outfits to bed. I try to keep my bra on though because I don't have much left."
It's a strange arrangement, but hey, if it works then who are we to argue. However, the last time Kyle went back to Florida, three women he'd been dating had passed away.
Also, just be warned before watching this, there's explicit (or explicit enough) tongue action between cougar-boy and his beloved—and it's only 20 seconds in. *shudder*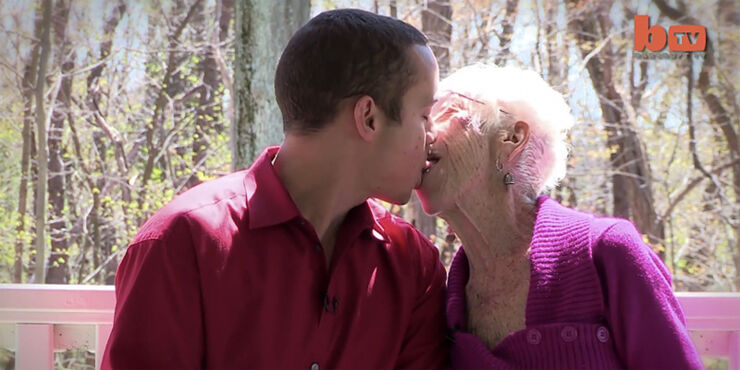 H/T - Huffington Post