Diesel The Hero Dog Who Died In Paris Terrorist Raid Is Honored With Award For Valor
Diesel the dog was honored on social media after he died in terrorist raids in Paris following the attacks that horrified the city and the world in November 2015.
Seven-year-old Diesel was killed by multiple gunshots after he was sent in to the apartment the terrorists were in to see if it was secure. "He did a tour of the first room, then he went into the second room and dashed forward. I think he'd found someone. Then I lost sight of him and the gunfire started again." his handler said.
After being honored on social media Diesel's bravery is now being honored in real life with the Dickin Medal. The Dickin Medal was originally conceived of in 1943 to award the many brave animals that helped in World War II.
The award, which is the animal equivalent of the Victoria Cross (the highest military decoration given for valour), is awarded by British veterinary charity PDSA (People's Dispensary for Sick Animals).
It is awarded for "conspicuous gallantry or devotion to duty while serving in military conflict" and is being given to Diesel after he was nominated by the Sun newspaper and recommended for the award by many members of the public. It's a fitting tribute to his courageousness.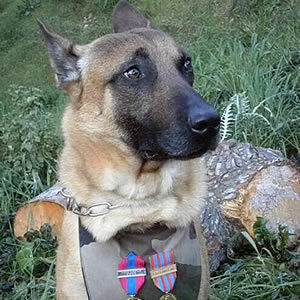 "The PDSA Dickin Medal recognises conspicuous devotion to duty in the theatre of conflict and Diesel is a truly deserving recipient." said PDSA director general Jan McLoughlin. "His gallant actions helped to protect human life in the face of imminent danger and we are very proud to honour him in this way."
Diesel will be the 66th recipient of the award and the formal presentation will take place in 2016. In its 72 year history the award has been given to 30 dogs, 32 World War II messenger pigeons, three horses, and a cat.