'Ambassadog' Wanted—Scotland's Tourism Board Has A Job Opening For A Dog (Unpaid)
The search is on, Scottish tourism board Visit Scotland has a job vacancy for a dog and the position is being advertised at Denholm Associates, a recruitment agency based in Edinburgh, Scotland.
"VisitScotland is looking for an outgoing, Scotland-loving and well-trained dog to fulfil the important role of Ambassadog – a canine ambassador to represent the spirit of Scotland around the world." runs the listing.
If you think you have a dog, it comes from the Scottish regions, and is up for the challenge then you can apply, but be warned it's unpaid. The dog must also have "a 'nose' for the best food & drink, events and walks across the country" and be willing to travel.
It will also have the pressure of being a global ambassador for tourism in Scotland and should have some experience with posting images to social media to promote the great land of the Scots.
Owners need to submit 500 words on why their pet is a worthy candidate for the role, along with a pic or video.
"We are very excited to begin our search for an Ambassadog for VisitScotland. We are looking for an outgoing, sociable pooch who is able to capture the spirit of Scotland through their adventures and share them to inspire the world to visit." said Helen Campbell, head of marketing communications at VisitScotland. "Scotland is the perfect destination for going on holiday, whether with a dog or not. You can explore ancient forests and shaded glens, take a walk along an award-winning beach and discover fascinating history in castles. We can't wait to meet our new furry advocate and we hope lots of fabulous dogs and their owners apply."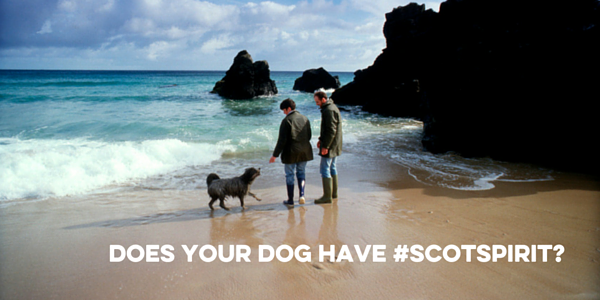 Although unpaid the winning candidate and their owner will get a free dog friendly vacation in Scotland. Plus the chance to meet some "famous faces." Beats working for a living.
Here's the listing.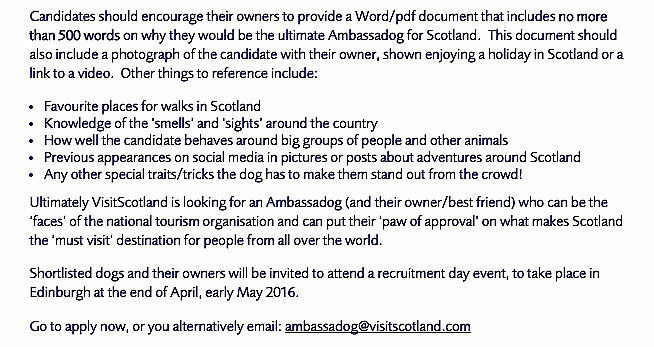 The closing date for applicants is 6 April 2016.