Los Angeles Artist Matt Gondek's Exploding Graffiti Art Deconstructs Pop Culture Icons
The graffiti art of Matt Gondek has immediately recognizable characters from pop culture, like Rick and Morty, the Simpsons, Family Guy, Disney, and many more. But they're presented in an unfamiliar way. A way that makes them look like they're exploding or melting from some unseen cause.
"In almost all of my work, it begins with a character or scenario that most people are already familiar with. I then put my own spin on the piece." Los Angeles pop artist Matt Gondek told DWALL Magazine. "It's a way for people to see something that they're already familiar with in a new light. Almost like a cover song."
Gondek, who's from Pittsburgh, calls himself a 'deconstructive pop artist' and a lot of his colorful and bold graffiti art murals appear in Los Angeles where he's based. The illustrator and painter's work also sells in art galleries too. "I like to work with characters everybody knows, but I kind of like to break them apart and basically destroy them." he's said. And it's striking imagery, especially if you came across it as a piece of graffiti art, with some of his murals standing around 20ft tall.
Pop Artist Matt Gondek Talks About His Work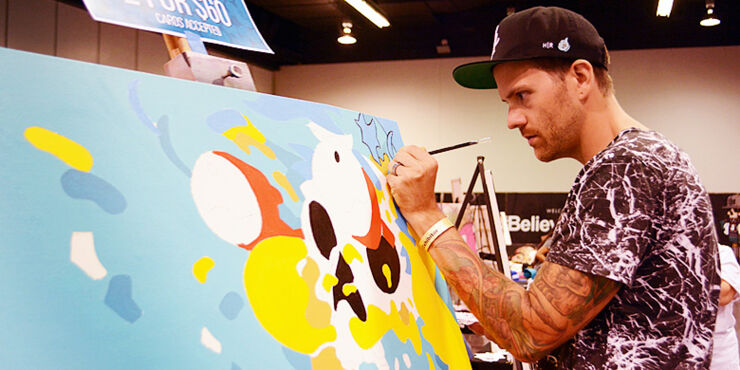 Sometimes the pop culture characters are seen fighting one another, punching one another in the face. A lot of the time their skin is disintegrating, being pulled away from their bodies and heads to reveal their skulls and skeletons beneath. It sounds gruesome, but it's not actually as grisly as it could be. Although the black eye sockets do have a certain haunting quality.
Still, it's all done in a very comic book style, which makes Matt Gondek's graffiti art all the more appealing. "Each outdoor mural is different." notes Gondel in the same DWALL Magazine interview. "Each wall presents it's own challenges and opportunities. Where to get the materials. How you'll reach each corner of the wall. Who you'll meet while painting. When you've finished and step away, the artwork stays and livens up the area in which it's been painted. Not only is it a billboard for the artist's work, but it's a lasting gift to the community and art lovers who come to see the mural, photograph it, use it as backdrops in their own projects, etc."
You can check out some of Matt Gondek's graffiti art, paintings, and illustrations below. Head to his website or Instagram for more.
Examples Of Matt Gondek's Exploding Graffiti Art