Superbad Sex Scene - Michael Cera And Martha MacIsaac's Hilarious Cast Table Read-Through
It's almost a rights-of-passage for any teenager that they watch the 'Superbad sex scene' from the classic 2007 (was it really that long ago) coming-of-age teen movie about High-school seniors Seth (Jonah Hill) and Evan (Michael Cera) who have high hopes for a graduation party before they go off to college.
There are so many funny moments from the film to recall but everyone remembers the Superbad sex scene with Michael Cera and Martha MacIsaac (how could you forget), it showcases the limits of personal embarrassment that any self-conscious teen would rather not reach (ever) when alcohol, hormones and sex are involved, and Michael and Martha's brilliantly hilarious performance makes it as funny as hell.
Even if it's just seeing again a very nervous Michael Cera unwittingly getting a drunken Martha MacIsaac hot.
But here it is in a very different context as Michael Cera, Martha MacIsaac, Jonah Hill, Emma Stone, and Christopher Mintz-Plasse all take part in a pre-shoot table-read of the NSFW Superbad sex scene.
And it's marvelous on so many levels mainly because of just how innocent it all looks.
Superbad Sex Scene & Parents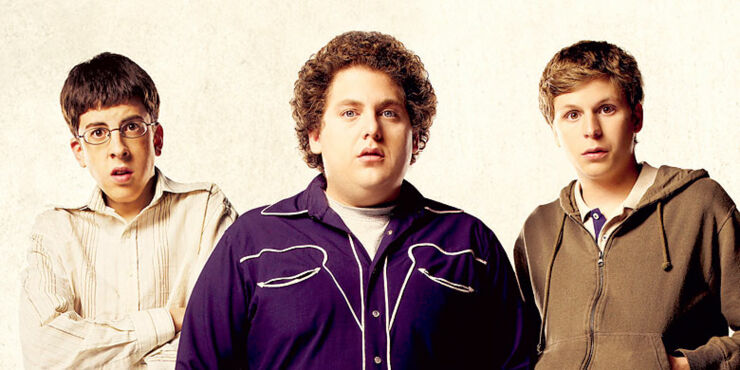 Superbad image via Twitter
The fact that some of the actor's parents were there during the read-through and the filming of the sex scenes because both Michael and Christopher were under 18 (that is a teenage nightmare scenario in itself) - to the reactions of Emma Stone as she is utterly overwhelmed and covers her face with both hands in an attempt to deal with her embarrassment as Martha MacIsaac reads through some of her more risque lines.
The six-minute-long clip offers fans a chance to see a rarely-seen part of the making of the film and just how embarrassing and hilarious it must have been as an actor to read through something like this. Still epic though.
How It Ended Up In the Superbad Film
Just in case you have forgotten (how could you?) or it's been a while since you watched the movie here's Cera and MacIsaac's classic Superbad sex scene again (below) for your viewing pleasure.
They should really have this as mandatory viewing in high school to achieve 100% teen sex abstinence.
McLovin's Superbad Sex Scene
And how could we leave out the classic McLovin Superbad sex scene, he's a total legend.