Michelle Rodriguez And Lukas Haas Star In Man Vs. Machine Sci-Fi Short '2031'
It's no secret that Hollywood loves sequels, prequels, reboots, and remakes. These, quite often, genre movies are a safe bet for executives who don't want to risk original ideas for the sake of some tidy profits.
Which means there are far more Terminator Genisys and RoboCop remakes then there would be of films such as the recent sci-fi Arrival. Of course that's not because there's a drought of ideas, more that there's a drought of risk-taking. Which is bad news for audiences seeking new concepts.
Which makes it encouraging when filmmakers strive to create something fresh. And this is exactly what was on the mind of actor and director Catero Colbert when he made this short film. As an exercise in micro budget filmmaking and just getting it done and out there, he produced a teaser for a sci-fi film called 2031.
It was made for $3000.00 with funds raised through Kickstarter and Colbert says the majority of that was on insurance and feeding the crew. Which meant a lot of people volunteering their time and artistry.
Colbert also managed to get Hollywood actors Michelle Rodriguez and Lukas Haas to star in it, and it centers on a perhaps not entirely original concept of a robot uprising in a not-too-distant future.
We fired off some questions to Colbert to learn a bit more about how he produced it on such a low budget.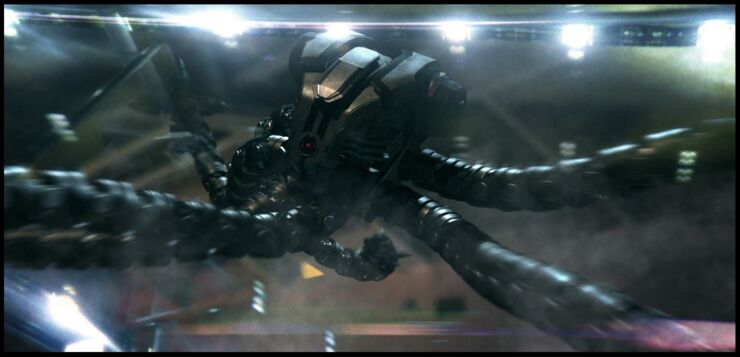 Smash: Where did the idea for the story come from?
Catero Colbert: There are an estimated quarter of a million robots working in North America factories right now so we are already fighting this fight in a way. The US military is planning to have ten robots for every one solider by the year 2032. Right now there are over 2,000 robots deployed in Afghanistan, that's one for every 50 US soldiers. The idea stemmed from our ever closer creeping towards this actually happening. Like Ray Kurzweil predicts it's not about if this is going to happen, but when.
What made you want to make it?
I am a sci-fi till I die guy, I still have my Transformers toys from when I was a kid (and maybe a few new ones). Whenever a new science fiction movie hits, my cheeks are in the seats. That being said, there will be 47 remakes sequels or reboots in 2017. While I love great old school properties as much as the next moviegoer, when I see something original like District 9, Ex Machina or Arrival I get really excited. Like a lot of fatigued film fans I want more new/original narratives in film. That's what inspired me to make this film because I want to see this story in the big screen.
How did you manage to shoot it so professionally and do the FX in such a limited budget? Great question!
Hollywood is a small community, you meet a lot of great artists (crew wise). I reached out to a lot of folks I met over the years and many of them volunteered their time because they believe in the project and I am very grateful to them all.
Funny story over on the FX side. I meet a guy with a small FX company who said he would take care of everything for a cut of the final product when a feature deal was made. After almost a year of him doing nothing I gave him his walking papers, took to the internet and began meeting artists from all over the world. It was like "Stone soup" really, one person would do one thing then another and another until it was complete. I learned along the way and filled in the gaps here and there where I could.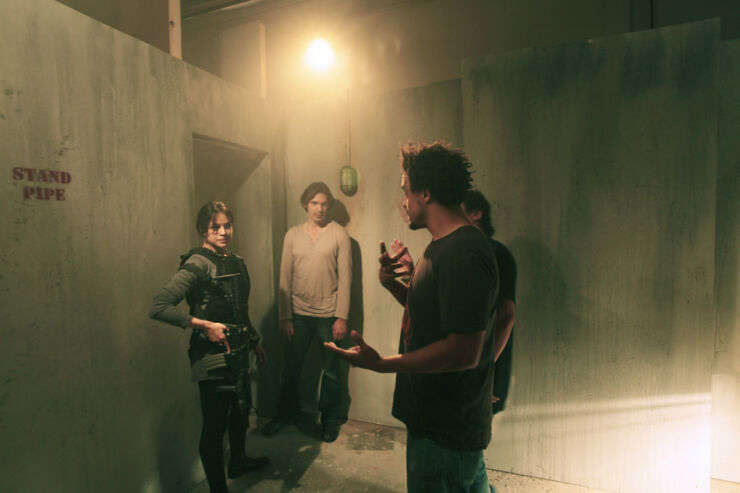 How did you get both Michelle Rodriguez and Lukas Haas to feature in it?
When initially thinking about doing the short I made a previsualization of it. I showed it to a friend who knows Michelle and she said, "Michelle should be in it". I was like, "yeah right". Low and behold after hearing the pitch and seeing the previz Michelle agreed to be in it. Lukas is an old friend, I asked him and he graciously joined the project as well.
Any tips for aspiring filmmakers on how to make sci-fi on a low budget?
Just do it. But if you have limited resources plan and shoot accordingly. There are plenty of programs like Blender, After effects, Nuke, and Maya familiarize your self with them or something like them ASAP. You should know what the tone, style and pacing you want are going in, it will save you time on set. Lastly a shot list and or story boards is crucial, they are the map that will guide you through the journey. You can always make changes but to have them really helps.
And what's the next steps for the short?
The next step is to get 2031 in front of as many eyes as possible. The more people that are aware of the project and want to see more the quicker it will get to your local multiplex.