See Brad Pitt's Rock Star US General In The New Trailer For The Netflix War Machine Movie
The new upcoming all-star Netflix War Machine movie trailer recently dropped. The film, starring Brad Pitt and Tilda Swinton, from the producers of The Big Short, is a satirical take on the war in Afghanistan.
It's inspired by the book The Operators: The Wild & Terrifying Inside Story of America's War in Afghanistan by the late journalist Michael Hastings. The book was a non-fiction work about the no-nonsense General Stanley McChrystal who Hastings followed on his travels, along with the general's team, back in 2010.
Former Defense Secretary Robert Gates said of McChrystal he was "perhaps the finest warrior and leader of men in combat I ever met." But McChrystal had to resign after mocking remarks he made about former Vice President Joe Biden and other government officials came out in a Rolling Stone article by Hastings that preceded the book. The film has been described as 'An absurdist war story for our times.'
Brad Pitt Stars As Gen. Glen McMahon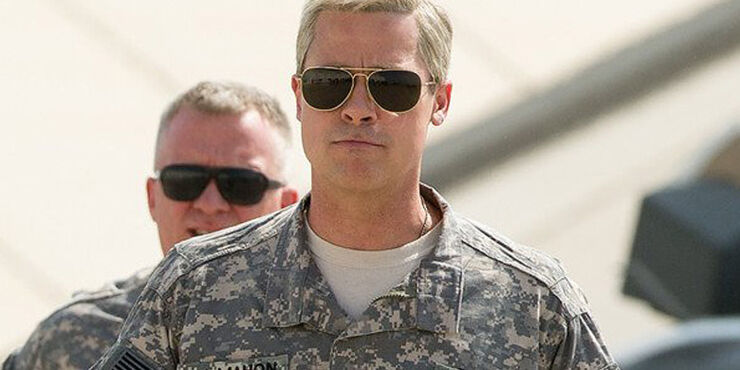 Brad Pitt will play the fictional character Gen. Glen McMahon in War Machine.
In the Netflix War Machine movie Brad Pitt plays an anti-establishment four star US military general called Gen. Glen McMahon, obviously inspired by the real-life General Stanley McChrystal. In the film Pitt is in charge of commanding the US war in Afghanistan. And it looks to be a much-welcome absurdist take on war and military leadership in the vein of Dr. Strangelove. In the trailer Pitt displays some of his deadpan, dry humor we've seen in films like Burn After Reading.
The movie will be produced by Pitt's production company Plan B and when Netflix got the film it was their biggest feature film acquisition to date. It cost them an estimated $30 million according to Deadline. The film is directed by David Michôd who also wrote the adapted screenplay.
"War Machine is a rip-roaring, behind-the-facade tale of modern war decision-makers, from the corridors of power to the distant regions of Americas ambitions," said Netflix Chief Content Officer Ted Sarandos. "Brad and David are a perfect team to make this timely, compelling and entertaining film."
Michôd also said: "I'm humbled to be making a big, bold movie about the whole sprawling, complex, cumbersome and crazy machinery of modern war and the many lives it touches."
Netflix War Machine Cast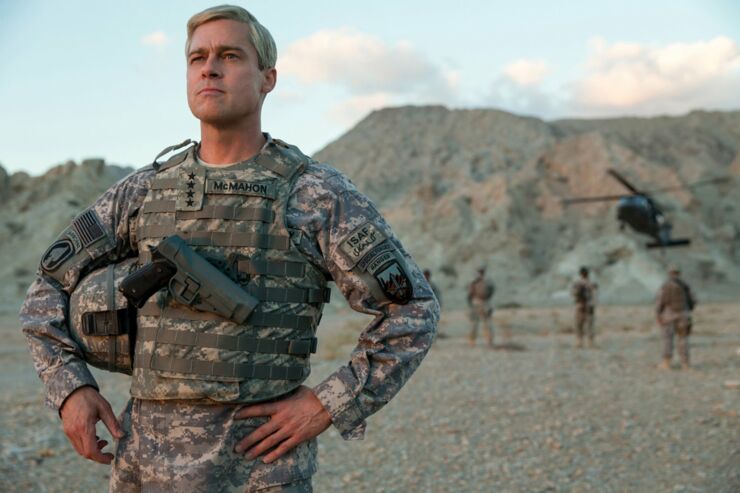 Brad Pitt plays a four star US military general in War Machine.
Along with Brad Pitt, who will be playing Gen. Stanley A. McChrystal, they'll be plenty of other stellar actors on board too.
He'll be joined by Tilda Swinton, Sir Ben Kingsley, Anthony Michael Hall, Topher Grace, Will Poulter, Lakeith Stanfield, Emory Cohen, John Magaro, RJ Cyler, Alan Ruck, Scoot McNairy and Meg Tilly.
War Machine Film Plot & Release date.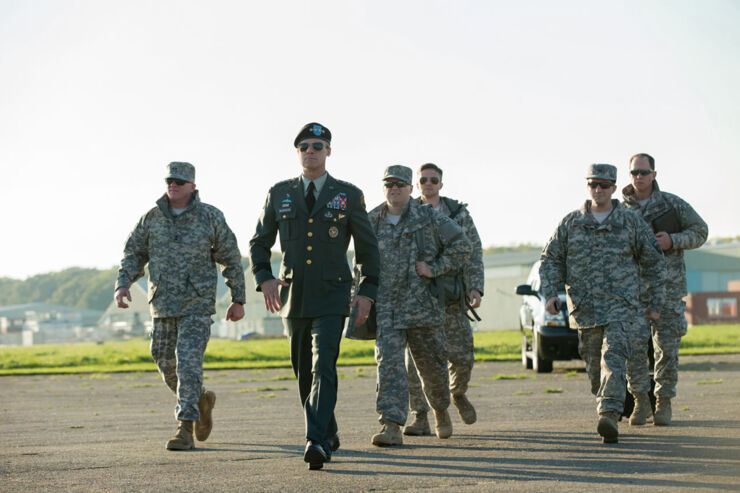 Netflix War Machine plot & release date.
Brad Pitt plays a character based on Gen. Stanley McChrystal who led the U.S. war effort in Afghanistan before resigning in 2010. Biography.com quotes, "Once in charge, McChrystal was openly vocal about the necessity for more troops; his doubts that the U.S. would achieve a major victory in Afghanistan; and his lack of faith in the new counterterrorism strategy. McChrystal's comments got him called onto the carpet several times in his first year, and was admonished by President Obama for his brash, divisive statements. But his biggest gaffe came in June 2010, when Rolling Stone magazine published an article featuring controversial quotes about the White House leadership made by McChrystal and his aides."
The plot is described by Netflix as:
In a film for our times, writer-director David Michôd (Animal Kingdom) recreates a U.S. General's roller-coaster rise and fall as part reality, part savage parody – raising the specter of just where the line between them lies today. His is an anti-establishment, pro-soldier exploration in the form of an absurdist war story of a born leader's ultra-confident march right into the dark heart of folly. At the story's core is Brad Pitt's sly take on a successful, charismatic four-star general who leapt in like a rock star to command NATO forces in Afghanistan, only to be taken down by his own hubris and a journalist's no-holds-barred expose. War Machine addresses the debt we owe to soldiers to question the purposes to which they are being directed.
The War Machine Netflix movie will be available to stream from 26 May 2017.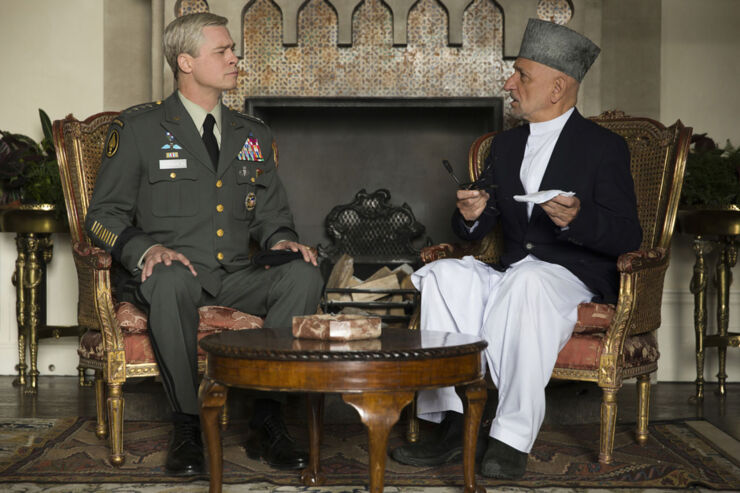 Netflix War Machine - Streaming on Netflix 26 May 2017.