Netflix's Live-Action Death Note Movie Teaser Drops - Teases Horror, Death, And Willem Dafoe
The live action Netflix Death Note movie has got its first teaser trailer. The much-anticipated horror film is directed by Adam Wingard (The Guest, Blair Witch, You're Next) and is the American adaptation of the popular Japanese manga series created by Tsugumi Ohba and Takeshi Obata.
Principal photography on the Death Note movie began in June 2016 and it's produced by Roy Lee (The Ring, The Departed), Dan Lin (The Lego Movie, Sherlock Holmes), Jason Hoffs (Edge of Tomorrow), and Masi Oka (Heroes Reborn, Hawaii-Five-0). Miri Yoon (Behaving Badly), Jonathan Eirich (Hammerspace), John Powers Middleton (Neighbors 2: Sorority Rising, The Lego Movie), and Brendan Ferguson (Big Eyes, Reasonable Doubt) are executive producers.
"I am honored to be working with this great cast and I look forward to bringing Tsugumi and Takeshi's unique story to a global audience," director Adam Wingard said last year.
What To Expect In Netflix's Death Note Movie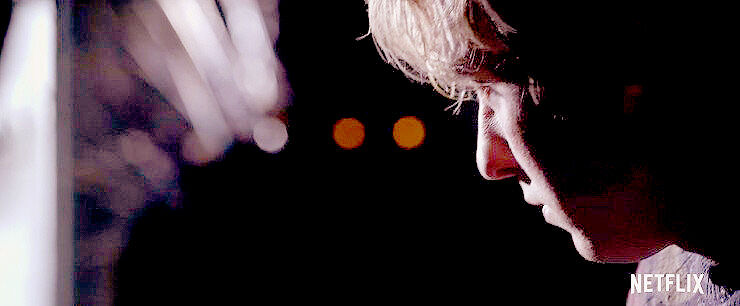 Netflix's Live-action Death Note movie – Those red dots are most likely Ryuk's (Willem Dafoe) glowing eyes.
Producers Roy Lee and Dan Lin added: "Our vision for Death Note has always been to bring this captivating story to the screen for its longtime manga fans and to introduce the world to this dark and mysterious masterpiece. The talent and diversity represented in our cast, writing, and producing teams reflect our belief in staying true to the story's concept of moral relevance—a universal theme that knows no racial boundaries."
Here's Netflix's official synopsis for the movie:
What if you had the power to decide who lives and who dies?

We suggest you obey the rules. Based on the famous Japanese manga written by Tsugumi Ohba and Takeshi Obata, Death Note follows a high school student who comes across a supernatural notebook, realizing it holds within it a great power; if the owner inscribes someone's name into it while picturing their face, he or she will die. Intoxicated with his new godlike abilities, the young man begins to kill those he deems unworthy of life.
Death Note Live-Action Movie Cast & Release Date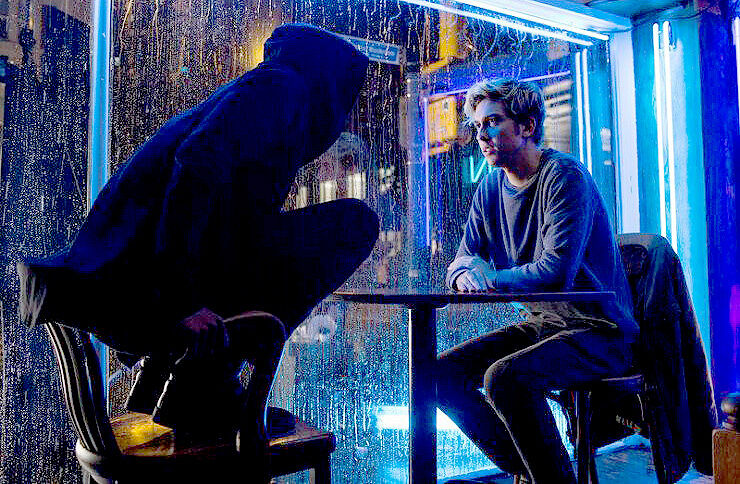 L and Light Turner have a conversation in Death Note. Photo: James Dittiger/Netflix
The Netflix original film will star Nat Wolff (Paper Towns, The Fault in Our Stars) as Light Turner, Margaret Qualley (The Nice Guys, The Leftovers) as Mia Sutton, Keith Stanfield (Straight Outta Compton, Dope, Short Term 12) as "L." Along with Paul Nakauchi (Alpha and Omega) as Watari and Shea Whigham (Agent Carter, Boardwalk Empire) as James Turner.
The film will also star Willem Dafoe (Spider-Man) as Ryuk, known as a Shinigami (a death spirit). He kicks off the events in the movie when a high school student, played by Nat Wolff, gets his hands on Ryuk's supernatural death notebook.
Death Note will premiere on Netflix on 25 August 2017.
Netflix's Death Note Movie Vs The Original Manga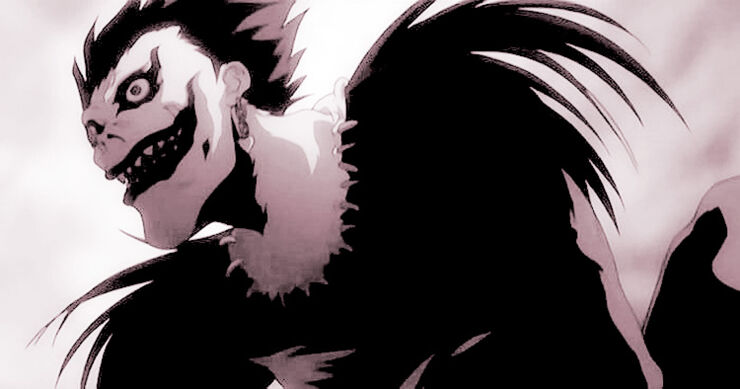 Ryuk in the original Death Note Manga movie.
The manga comic that the Death Note movie is based on came out in 2003. It has already had an animation and a live-action movie. Netflix and Wingard's effort is the latest adaptation.
The manga story follows high school student Light Yagami who discovers Ryuk's supernatural notebook and learns that its user is able to kill anyone by placing their name in it while recalling them in their mind's eye. As you'll see from the trailer this is the same in this version, although Japanese student Light Yagami is now American Light Turner.
Yagami's new power in the manga see him try to rid the world of who he thinks is evil, which in turn means he becomes a megalomaniac and starts to think he's a god. The police become aware of the killings and send a genius detective known as "L" to track him down, leading to a game of cat and mouse as the two duke it out.
The Netflix movie will follow a similar story, but the setting has been moved to Seattle.
The New Death Note Movie Stirs Racial Controversy
Light Turner picks up the supernatural notebook dropped by Ryuk in Netflix's Death Note movie.
Ever since the recent teaser trailer for this new adaptation has been released there has been lots of talk from fans and critics of yet more whitewashing of Asian characters by Netflix.
The producers had already noted however that this was an Americanized version of the series, but people still weren't happy that the film cast a white actor in the lead. Instead they feel it should have an Asian American. Others have defended it saying it's an adaptation so having American white actors makes sense.
People have also compared it to the whitewashing of Asian characters seen in the new Ghost in the Shell movie, which stars Scarlett Johansson as the cyborg-enhanced Major.
One thing everyone did seem to agree on the new Death Note movie was that casting Willem Dafoe as Ryuk (you don't actually see him in the trailer, but you do hear him say "Shall we begin?") is a very good thing indeed.
Have a look below at some of the tweets that sum up both sides of the story.
Fans React To The Death Note Movie Trailer
Ghost in the Shell Live Action: we will be sure to destroy anything that made the original so well renowned Death Note: hold my beer
Americans don't go see Japanese horror films in huge numbers. We just don't. So producers remake them. Sometimes really well too.
A remake is not a replacement, nor do the filmmakers believe it should be. Not good filmmakers, anyway.