Stranger Things Season 2: New Trailer, Cast, Netflix Release Date & Everything You Need To Know
The final Stranger Things Season 2 trailer is here. Get ready for the world to turn Upside Down on October 27 as the hit Netflix TV series will be returning and premiering on our screens with a brand new series.
Back in February 2017 everyone got a taste of Netflix Stranger Things season 2 when an official teaser trailer aired during Superbowl 51. Although not a great deal was revealed, it did definitively answer the question of 'Will there be a season 2 of Stranger Things?' But after that was confirmed then a whole host of other questions were obviously being pondered by fans. Like, is Eleven going to be in Stranger Things season 2? What's going to happen to Will? Is the Upside Down still there? What 80s movies will they be referencing?
What is assured is that, like the original, Stranger Things season 2 will continue with its nods to 80s horror and the creepy goings on in a small town involving a group of young school friends.
The Duffer Brothers first season was set in Indiana in a small town called Hawkins in the year 1983 and combined pastiches of Steven Spielberg, Stephen King, and John Carpenter. It was a nostalgic trip that took in missing kids, telekinesis, and a terrifying monster called the Demogorgon. So what can we expect from Netflix's Stranger Things season 2. Co-creator Matt Duffer has said it will be "a little bit different... a little bit darker."
Take a look below at the new Comic-Con 2017 Stranger Things trailer and for everything else revealed so far.
New Comic Con Stranger Things Season 2 Trailer
The show had a panel at the San Diego Comic-Con 2017 and during it Netflix revealed the first full trailer for Stranger Things season 2. The trailer is set to Michael Jackson's 'Thriller' and has Vincent Price's iconic monologue intercut throughout.
We also see that Will Byers' (Noah Schnapp) time spent in the Upside Down has really messed him up. He's having terrifying visions while out with the gang. There's also plenty of nods to Ghostbusters, the reappearance of Eleven, and we hear a concerned Police Chief Jim Hopper stating, 'Whatever is happening, it's spreading from this place.'
Here's the official synopsis:
It's 1984 and the citizens of Hawkins, Indiana are still reeling from the horrors of the demogorgon and the secrets of Hawkins Lab. Will Byers has been rescued from the Upside Down but a bigger, sinister entity still threatens those who survived.
Stranger Things Season 2 Release Date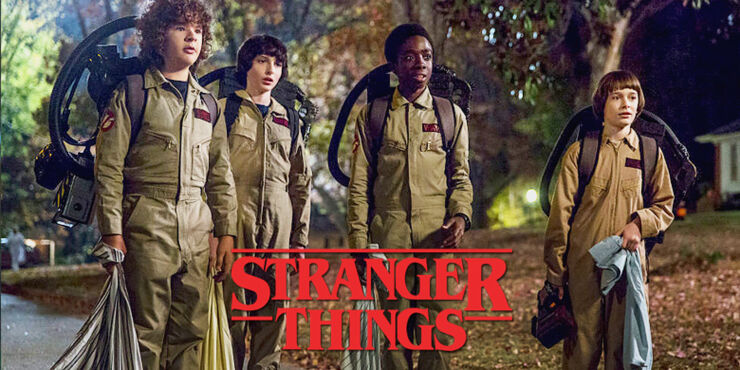 We can gather from the Stranger Things trailer that it will hit Netflix on Halloween, so that gives us a Stranger Things season 2 date of Tuesday 31st October 2017.
UPDATE: Netflix have now given an actual release date for Stranger Things season 2 and that is 27th October 2017. So prepare for that date. You can also check out a new teaser below.
Stranger Things Season 2 Premiere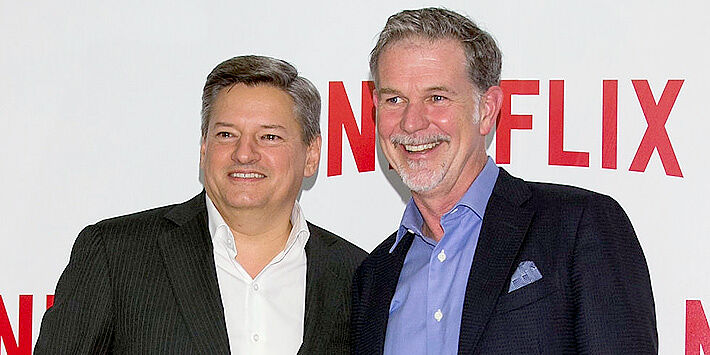 While the masses have to wait until Halloween 2017 to see the new Stranger Things premiere, the bosses at Netflix have already seen it. Netflix co-founder Reed Hastings and Chief Content Officer Ted Sarandos have both screened season 2 episode 1 and spoke to the NME about it.
"I have just seen the first episode of season two." Sarandos told NME. "It's fantastic—it delivers on everything that every fan wants." While Hastings added: "We have a sense that it's going to be really big. The reaction and momentum in Netflix internally is building."
Stranger Things Cast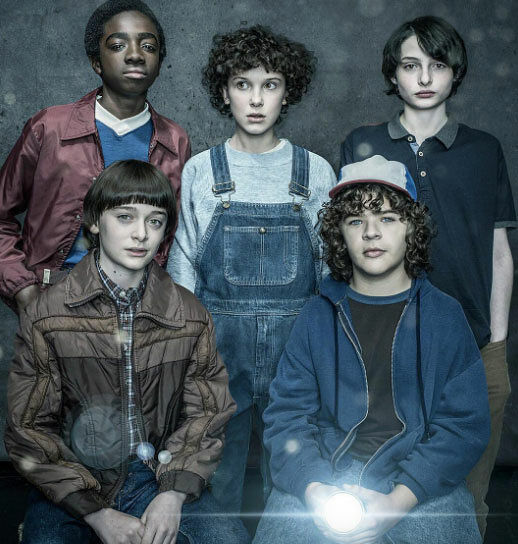 For season 2 Stranger Things the whole gang (Eleven, Mike, Will, Lucas, Dustin, Nancy, Steve and Jonathan) will all be back, along with Will's mom Joyce and Sheriff Hopper, but the cast of Stranger Things is set to change too.
They'll be new characters which will include two new students at Hawkins Middle School. These will be brother and sister Billy and Max, played by Dacre Montgomery and Sadie Sink.
New Cast member: Sean Astin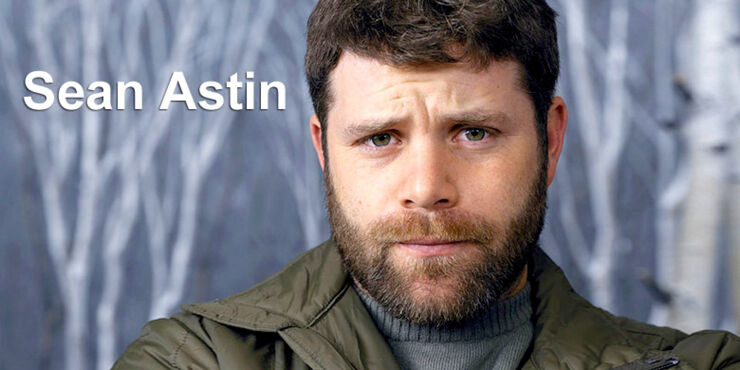 Other new cast members include The Goonies and Samwise Gamgee in The Lord of the Rings trilogy actor Sean Astin who will play a character called Bob Newby. He's going out with Will's mom Joyce and is described as a "kindhearted former nerd who went to high school with Joyce (Winona Ryder) and Hopper (David Harbour) and now manages the local Hawkins RadioShack."
New Cast member: Linnea Berthelsen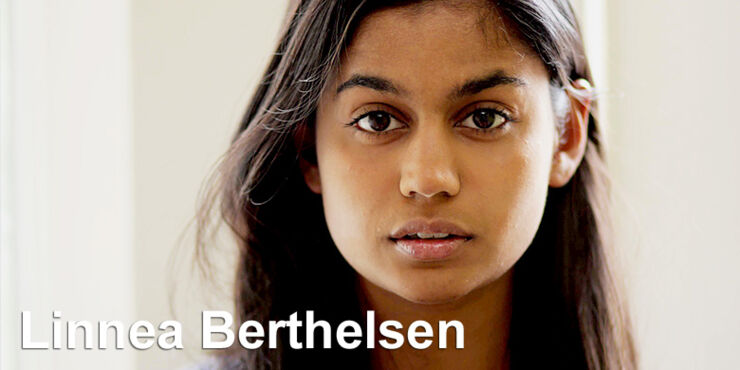 Also Danish actress Linnea Berthelsen will play a woman called Roman and is described by Netflix as "an emotionally damaged, magnetic young woman who suffered a great loss as a child. Although she does not live in Hawkins, she is mysteriously connected to the supernatural events at the lab…"
Spent my time with the best team! This Fall will be crazy. #actorslife #teamplay #actress #newproject
New Cast member: Paul Reiser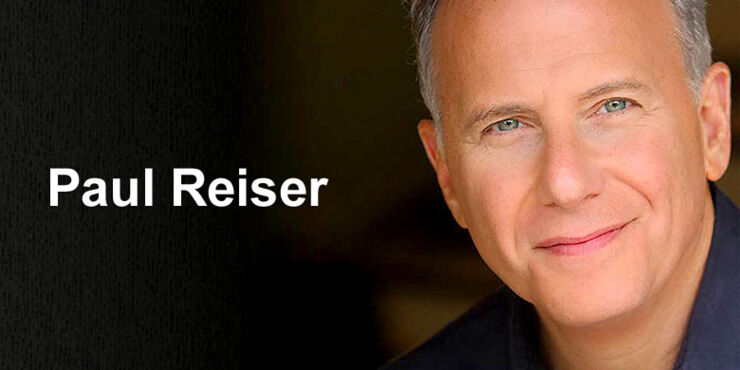 There's also Paul Reiser, who starred in Aliens, starring as Dr. Owen who is described according to EW, as "a high-ranking member within the Department of Energy on a 'clean-up' assignment, tasked with containing the events of last year."
New Cast member: Brett Gelman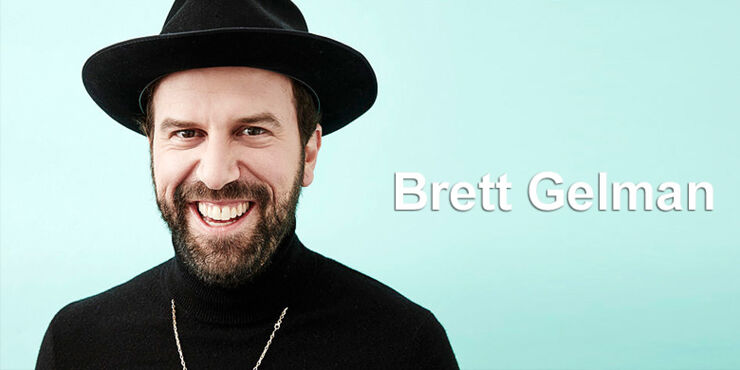 Lastly there's actor Brett Gelman of Adult Swim fame who will play a new character called Murray Bauman "a disgraced journalist-turned-conspiracy theorist who is investigating a cold case in the small Indiana town."
"There's definitely a handful of really compelling new characters this season, but absolutely servicing the core group first and foremost," the show's executive producer Shawn Levy previously told The Hollywood Reporter. "Like the show itself, it's multigenerational new characters and really, really intriguing ones."
Cast member David Harbour On Winona Ryder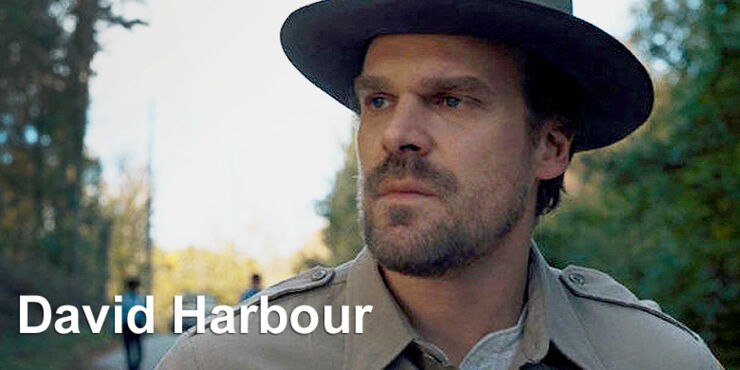 Cast member David Harbour who plays Police Chief Jim Hopper also made an announcement on Instagram recently regarding Winona Ryder's Stranger Things character, Joyce Byers. "Bittersweet season 2 spoiler." Harbour wrote. "Joyce has been recast for season 2."
And recast as a...Pomeranian? Yes, but of course he was joking—after all who could replace Winona? Although, there's no denying that dog is cute.
Bittersweet season 2 spoiler. Joyce has been recast for season2. ??
Stranger Things Barb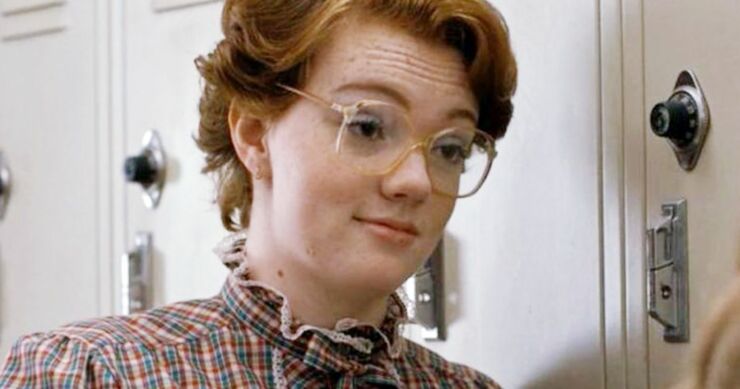 Maybe it was her perfectly styled 1980s look or maybe it was that she was so brutally taken from us all so early in the series. And also, damn, that last harrowing shot of her in the Upside Down. Whatever it was Barb, played by 19-year-old Shannon Purser, captured the hearts and minds of Stranger Things fans.
But the series didn't end well for her, so what's going to happen in Season 2 with regards to the Barbster? Well, Millie Bobby Brown who plays Eleven has already confirmed that—spoiler!—Barb most definitely died in that swimming pool. "No, she's not alive!" Brown said.
However, actress Purser has spoken about what fans can expect from a Barbless season 2. Talking to Elite Daily the actress said, "I honestly do not know anything… I know the vague statement that there will be justice for her, but besides that, no one will tell me anything, so I'm in the dark." continuing, "From what I've heard, if we thought season one was intense, season two [will be] even more… It's gonna be a crazy ride from start to finish."
Which sounds very promising, indeed.
Purser also spoke with Elite Daily about that Upside Down scene where we see Barb caught in the gooey nastiness of the Demogorgon.
"It was crazy… my makeup artist would come and squirt gross baby food into my mouth before every take because I had to cough it up." she explains. "It was pretty gross… it was like banana I think… they put slime and everything so that was a long day. I did most of my stunts too, so I definitely had some bruises after, but it was the coolest thing. I stepped back and followed the cameras and everyone around there working so hard just to make sure everything went smoothly… it's so crazy."
Stranger Things 2 Episodes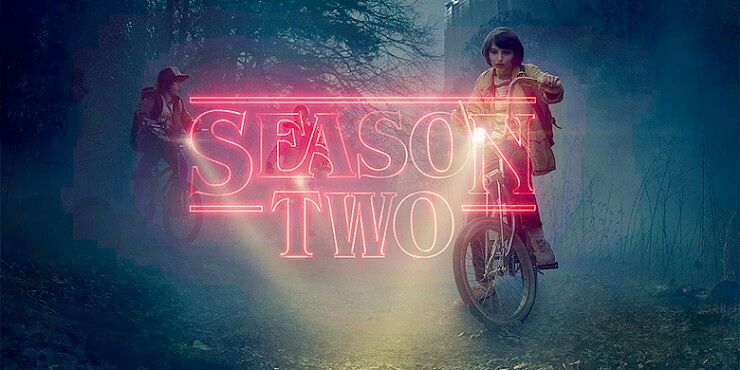 Netflix Stranger Things season 2 will contain nine episodes and they will have the following titles:
1 - 'Madmax'
2 - 'The Boy Who Came Back to Life'
3 - 'The Pumpkin Patch'
4 - 'The Palace'
5 - 'The Storm'
6 - 'The Pollywog'
7 - 'The Secret Cabin'
8 - 'The Brain'
9 - 'The Lost Brother'
As for what's going to be in them, well of course there are plenty of Stranger Things theories flying around the internet but there have been some details, along with images (see below) released by Netflix relating to the first episode "Madmax." The title itself refers to one of the new characters, 13-year-old girl Max played by Sadie Sink. After moving to Hawkins, Indiana from California with her brother Billy (Dacre Montgomery) (who it appears is going to be somewhat villainous), she befriends the boys and, according to Entertainment Weekly, Lucas (Caleb McLaughlin) and Dustin (Gaten Matarazzo) take a fancy to her.
The Duffer brothers, Matt and Russ, the show's creators also revealed some other details about Stranger Things season 2 to Entertainment Weekly They are:
- Stranger Things season 2 will take place in 1984, a year after the events of season 1 and the series will begin at Halloween. The boys' Halloween costumes are Ghostbusters outfits, which they're seen wearing in the trailer.
- The portal to the Upside Down is still open and so is the lab, which is now being run by another scientist—it's ambiguous as to what's happened to Dr. Brenner (Matthew Modine)—new cast member Dr. Owens (Paul Reiser). According to the Duffer Brothers Reiser's character is a direct nod to his disloyal, untrustworthy Burke from Aliens. "We want people to have those debates like, 'Do you trust that guy or is he Burke?'" Ross Duffer says. "Paul was saying the reason James Cameron cast him is because he thought people would inherently trust him and it would be a twist."
- Dustin gets to bond with a weird pet he acquires, a creature that is "not from this planet or this dimension." The episode The Pollywog will probably deal with this, the pet likely being a tadpole-like form.
- Will (Noah Schnapp) is still suffering the effects of being in the Upside Down. According to Matt Duffer he's seeing things from the Upside Down, but he doesn't know if they're real or just merely imagined. "It seems like he's having some sort of post-traumatic stress disorder." he says.
- Joyce Byers, Will's mom, is still pretty harrowed, her main concern is protecting Will and his bro Jonathan (Charlie Heaton). She's found a new beau in the form of aforementioned old high school bud, Bob (Sean Astin).
- Will is also set to be a central character in the new season after missing out a lot of the first. Executive producer Shawn Levy told Mashable, "Will Byers is very much at the center of Season 2. Noah [Schnapp] steps up in the most staggering way. The Duffers and I, depending on who's directing when, we keep sending texts to each other going, 'Holy shit, Noah is crushing it' and we knew he had it in him, and it's really now to get in that moment, and put him firmly in the thick of story."
- Hopper (David Harbour) is trying to keep a lid on the happenings of last season to help Joyce and protect Will, which means covering up Barb's (Shannon Purser) disappearance. "He's struggling with the compromise that takes him to, having to lie and cover things up." say the Duffers. While Nancy (Natalia Dyer) and Mike (Finn Wolfhard) are little more brooding in Stranger Things season 2, and are mourning the loss of Barb and Eleven (Millie Bobby Brown) and so are a bit messed up because of it.
- So what of Eleven? Well, she's definitely going to feature in Stranger Things season 2 and be a big part. "I want people to know that she's back and she's a major part of the season and not know how or why," co-creator Matt Duffer told Entertainment Weekly. "We do get into her story and backstory. We learn about where she came from and how she came into the world and the program that resulted in her." While actor Brown who plays Eleven said that she has a storyline this season and it involves an "emotional transition."
- As for the monsters, we did see in the trailer a multi-legged spider-like creature appearing in the sky, but that could just be one of Will's visions. The Duffer brothers themselves have been coy about what monsters to expect, but have said Stranger Things season 2 will offer up "different kinds of horror." With Matt saying it's going to be a "little darker, and a little weirder" and producer Levy has talked about it being "next-level, some crazy stuff." It's thought the plot will feature plenty of nods to the cinema releases of 1984, which include Indiana Jones and the Temple of Doom, The Terminator, Ghostbusters of course, Gremlins (no doubt Dustin's pet is a reference to this), The Karate Kid, The Last Starfighter, and A Nightmare on Elm Street.
On Set Photos From Stranger Things Season 2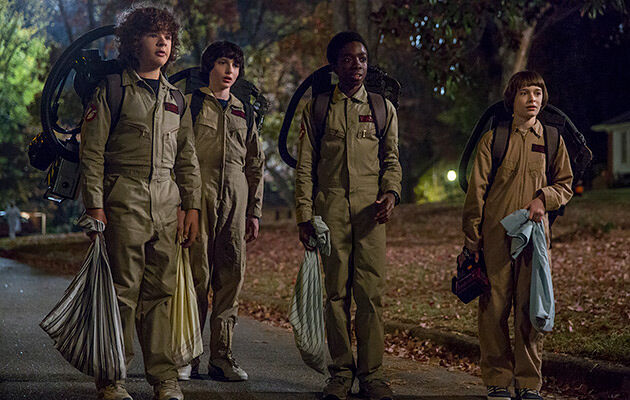 Ghostbusters outfits. Image courtesy of Netflix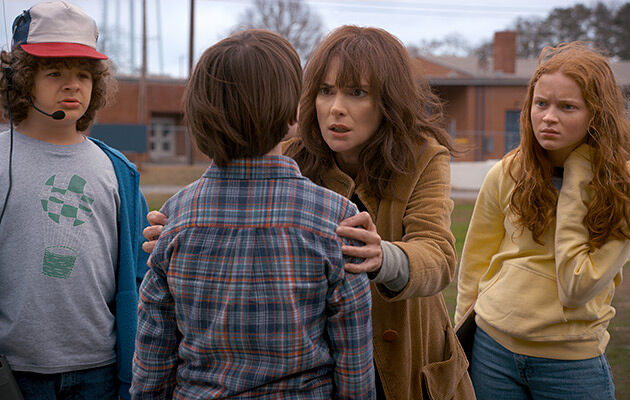 Will's return to school. Image courtesy of Netflix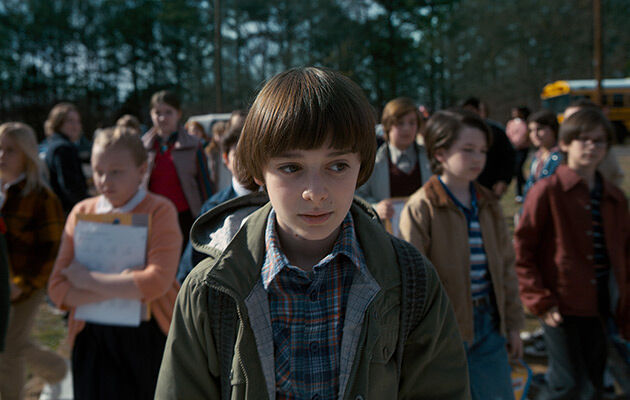 He doesn't look too happy to be there. Image courtesy of Netflix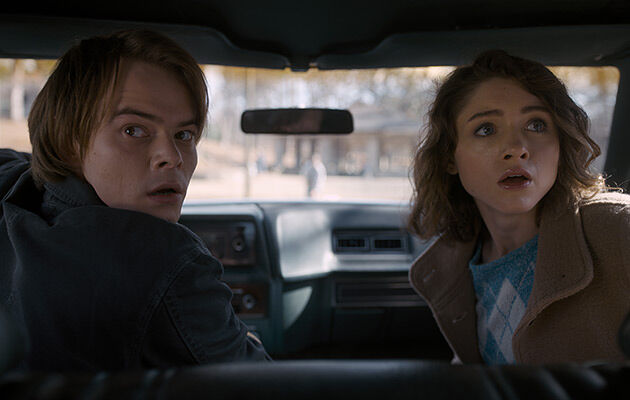 Nancy and Steve discover something shocking. Image courtesy of Netflix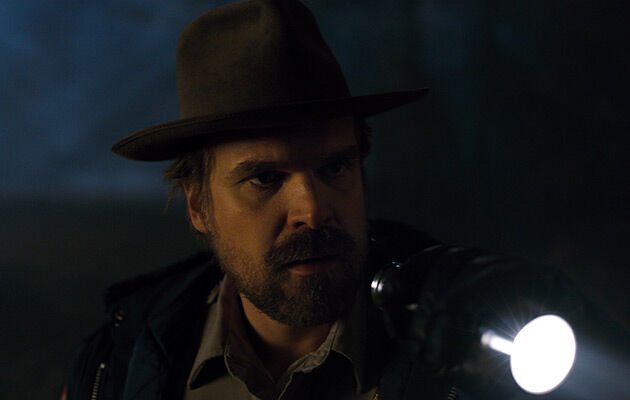 Hopper is back on the case. Image courtesy of Netflix
Stranger Things Poster
Netflix have recently released a poster for Season 2, it shows that weird multi-limbed monster we saw way back in the teaser earlier in the year appearing in the sky with the boy on their bikes.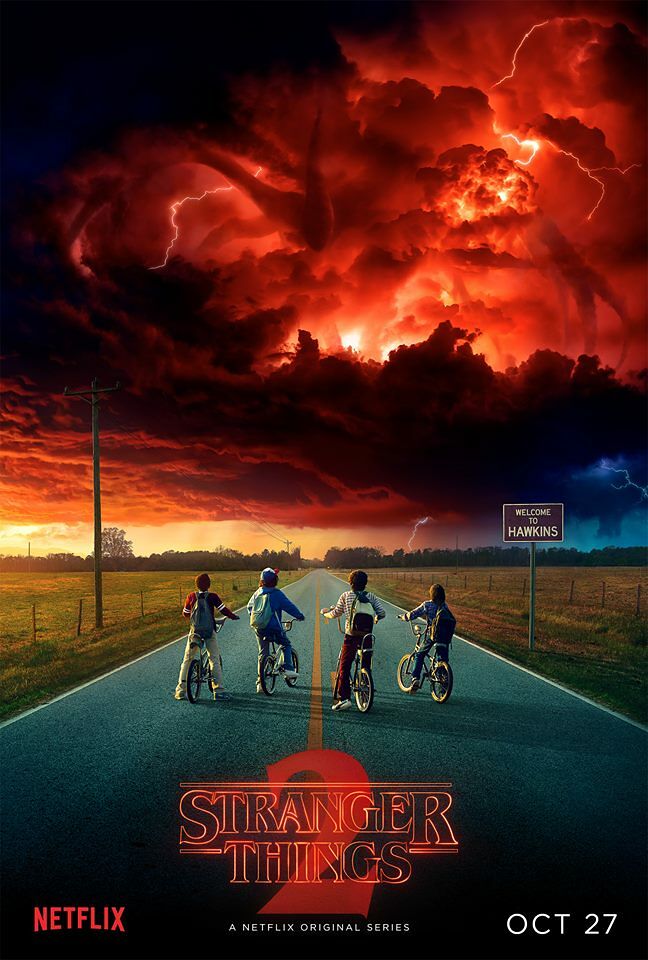 Stranger Things 2 And Beyond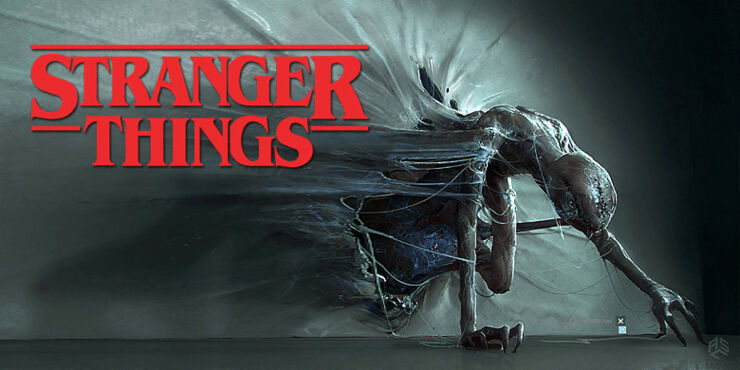 Stranger Things Season 2 - Coming to a screen near you not nearly quick enough.
As for the future, well the Stranger Things Netflix phenomenon will hopefully continue for a few more seasons yet. According to Entertainment Weekly (again) who seem to have all the scoops when it comes to the show, they say:
Right now, the Duffers are envisioning Things will last four or five seasons but that can all change.

"Everything changes as we move forward so we'll see," says Ross Duffer. Adds Matt Duffer, "I want it to have a really finite ending. I don't want it to be one of those shows that runs out of gas and they lose it because they're losing interest. You wanna end when you're on top."

Much like season 1, the Duffers are aiming for Stranger Things 2 to feel like one long movie. Says Ross Duffer, "Hopefully you'll come to the end of Stranger Things season 2 and feel fully satisfied and want more but you'll feel like it has come to a conclusion. But also we've laid the ground work for further seasons."
Fan Reactions To Season 2 Announcement
Here's the original tweet (below) from the Stranger Things Twitter page that started it all off:
As you can imagine it wasn't long before some of the fans reacted accordingly to the news:
Related
Stranger Things – SNL Hilariously Tackles One Of The Enduring Mysteries Of The Hit Netflix Show
'Lego Stranger Things'—Netflix's Hit Gets The Toy Brick Treatment In This Stop Motion Vid
'Stranger Things' Netflix TV Show Supercut Reveals The Various Cinematic Influences & References