Peter Serafinowicz's Sassy Trump Memes Makes The President's Speeches Much More Listenable
Donald trump and Peter Serafinowicz are old friends, Serafinowicz has been making his Sassy Trump videos since before the 45th president was elected. As far back as February 2016 the British comedian has been redubbing the president's speeches and giving him a much more campy voice - and the results are hilarious.
Serafinowicz is careful to point out that for his Sassy Trump he doesn't change any of the words of the speech either, just the tone—but by doing so he's able to create hilariously mocking content, which is made all the funnier by using the president's own words to satirise him. it's this technique that makes them feel almost 'real'.
Although he's become well known for these parodies, Peter Serafinowicz is also an actor along with being a comedian. He's due to star as the Tick in the Amazon Prime series based on the comic book (he was also the voice of Darth Maul too). Sassy Trump is something he does additionally to his acting, as an ongoing project.
Recent Sassy Trump videos have included the president's speech in Alabama where he called NFL players who protest by bending the knee during the national anthem "sons of bitches." And also his recent press conferences on the hurricanes that have struck Florida and Puerto Rico. For the latter Serafinowicz has also created the brilliant Archive Trump, turning Trump's speech in Puerto Rico into an old school newscast. It's very, very funny (watch it above).
Peter Serafinowicz Talks About 'Sassy Trump'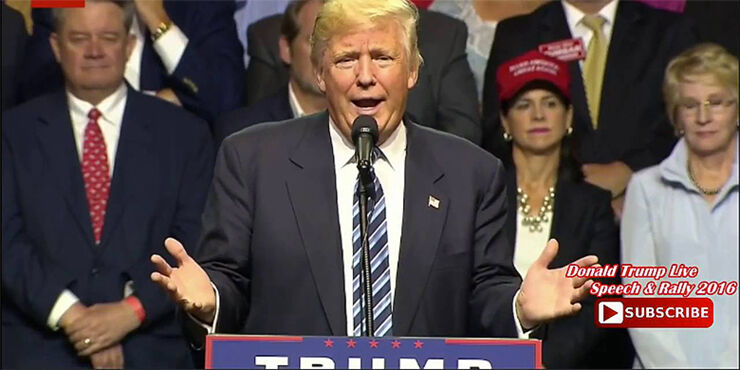 Sassy Trump. Screenshot: YouTube / Peter Serafinowicz.
Speaking about the Sassy Trump character Serafinowicz has said that, he does it not just for humor's sake but also to stop people becoming inured to what Trump says.
"The point is to stop it becoming normal." Serafinowicz told the Guardian. "Most people would agree he appears to be a tough guy, an alpha male, when in fact he has this daintiness, this exaggerated femininity, that is somehow disguised by this tidal wave of bullshit. Listen to what he actually says and you realise he's like some mean, bitchy, failed Broadway choreographer. If Liberace were alive, he would call him up and say, 'Donald, you've got to tone it down! It's embarrassing!' Adding this silky voice removes the layer of bullshit and reveals more clearly what he's actually saying. It's easy to ignore when we're bombarded every day with it."
See below for some of Serafinowicz's recent Sassy Trump speeches, which includes one where Melania Trump is turned into a "hee-hee-ing" Michael Jackson. See more at Peter Serafinowicz's YouTube page.
Sassy Trump To Visit Puerto Rico
Sassy Loses His F#cking Mind In Alabama
Sassy Trump & Michael Jackson on Hurricane Irma
Hurricane Sassy
Sassy Trump on Neo-Nazi Infrastructure
Sassy Trump: 'Fire and Fury'