Police Use Violent Force Against Protesters In Ferguson, Anonymous Declare 'Day of Rage'
Anonymous released the above video on Sunday, following the police shooting of unarmed 18-year-old Michael Brown on 9 August in Ferguson, Missouri which has provoked outrage, anger and protests in the local community.
In the video Anonymous state their support for the protesters and go so far as to say: "Anonymous demands that the Congressional Representatives and Senators from Missouri introduce legislation entitled "Mike Brown's Law" that will set strict national standards for police conduct and misbehaviour in the USA." Which was followed by:
To the good people of Ferguson, take heart - and take your streets. You are not alone, we will support you in every way possible. Occupy every square inch of your city. Demand justice, staying silent today could result in the death of your kid tomorrow.
And, as can be seen all over social media, protesters had taken to the streets—and were greeted by militarized police in riot gear using tear gas and rubber bullets against them.
This is not the Middle East, this is not a war zone. This is happening in OUR country. Pay attention. #Ferguson
The Civil Rights Act is 50 years old. These two pictures were taken 50 years apart. Behold our progress. #Ferguson
Last night was the fourth night of unrest, and the worst night for violence against the protesters by the police. Below is an archived livestream of people being attacked with tear gas, some directly into their yards.
As America and the world watches on in disbelief, even journalists were being attacked and arrested—both Huff Post (@ryanjreilly) and Washington Post (@WesleyLowery) reporters were detained, but have since been released. Lowery has written up this account.
The situation was so bad last night, Palestinians have been tweeting the protesters on how to deal with the gas.
Palestinians tweeting advice on how to deal with tear gas to people in #Ferguson. (Quds News Network)
The governor of Missouri has sent a couple of tweets about the situation.
Situation in Ferguson does not represent who we are. Must keep the peace, while safeguarding rights of citizens and the press
As Governor, I'm committed to ensuring pain of last weekend's tragedy does not continue to be compounded by this ongoing crisis. #Ferguson
But those words sound pretty hollow when police have been pointing sniper rifles at protesters.
Snipers point guns at protesters & journalists in America. Who can deny the police state now? #Ferguson
Military-style police in overwhelming show of force: 3 APCs, ~100 officers, high-powered rifles #Ferguson
The situation looks likes something out of a dystopian nightmare, and everyone's watching.
So when is the United States of America going to invade the United States of America to restore democracy and freedom? #Ferguson
Anonymous are still watching.
In their video Anonymous stated: "If you abuse, harass - or harm in any way the protesters in Ferguson we will take every web based asset of your departments and governments off line. That is not a threat, it is a promise." And they kind of lived up to that promise a few days ago by hacking the city of Ferguson's website.
?☕️ RT : Confirmed: #Anonymous group hacked City of #Ferguson website last night. ALL city emails are down
They also released the dispatch tapes from the day of the shooting and have said they'll announce the name of the officer who shot Michael Brown as soon as they have it. And now they've called for a National Day Of Rage to take place this evening in cities across the country. Screenshot of their press release below.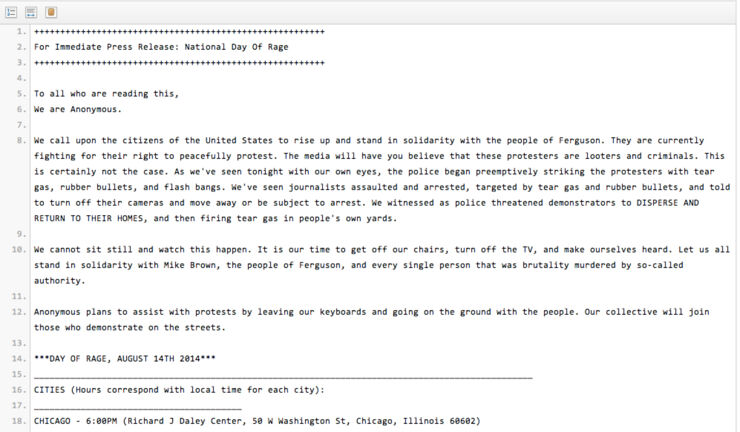 While it's quiet at the moment in Ferguson, as the footage and images are digested from last night and the town awakes to the aftermath, it's only going to further fuel people's anger, not just in Ferguson but across the country. Obama will be briefed on the situation later today.