Burn It Down: On A Rare Occasion, You See A Video That Makes You Stop -- This Is That Occasion
James Kelly is one crazy dude, if you ever meet him in person make sure you tell him that, because someone needs to. Respected (and feared) by his peers James (Born in Petaluma, CA) grew up riding with some of downhill's most influential skaters.
For years, he's been showing that there's no road that can't be conquered. James manages to get up to some crazy speeds as he flies down the straight roads which, makes for an entirely mesmerizing video and a trivial thing like a bail at 60mph doesn't seem to phase him at all, if you ever wanted to witness hardcore in action then this is the video for you.
As well as speeding along the straights, he's also a total boss when it comes to navigating the insane hairpin bends. Oh, and oncoming vehicles, no problem. WOW, pretty much sums it up.
He has perfected his abilities to skate anything at speed, while building the discipline required to keep calm when the consequences are high.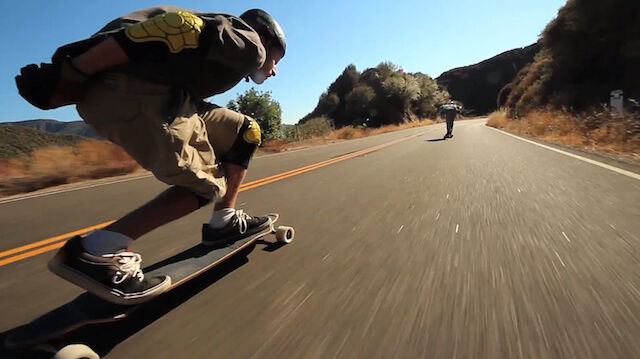 James is no stranger to the racecourse and podium, yet he's most at home on the hills surrounding his family cabin in the Western Sierras, where this video was filmed.
And if the vido above has left you hungry for mere then watch James skate the Vugenhausen (below) at 50 mph through hairpin turns while making the most technical stand up slides look easy.
He continues to prove why he is a total force in freeride skating.
About Arbor: The Arbor Collective was founded in 1995 and remains a family rooted in the experience and fueled by collaboration with athletes and artists who share a vision for forward thinking design. For more information on the Arbor Collective visit: arborcollective.com