Robocop Is Real: A Robot Cop Joins Dubai Police Force, Starts Patrolling Local Mall
Did you ever imagine a robot cop in your lifetime? In might not be a crime-ridden Detroit but the world has got its first real-life Robocop, thanks to the Dubai police force. This robot cop is the first of it's kind and totally automated and has duties that involve patrolling the vast Dubai Malls in it's quest to 'protect and serve.'
The idea is that this is just the beginning of their robot cop initiative. The city, in the UAE, wants to eventually have many more robots as police officers. According to Gulf News, Brigadier Abdullah Bin Sultan, Director of the Future Shaping Centre of Dubai Police, said: "We are looking to have more robots in future to handle policing. By 2030, we are keen to make robots around 25 per cent of the total police force."
And it alls starts with this one real-life Robocop who along with the mall also spent some time at the Gulf Information Security Expo and Conference. It was built by Pal Robotics who are based in Barcelona and is known as a REEM, a full-sized humanoid service robot.
So What Does The Dubai Robot Cop Actually Do?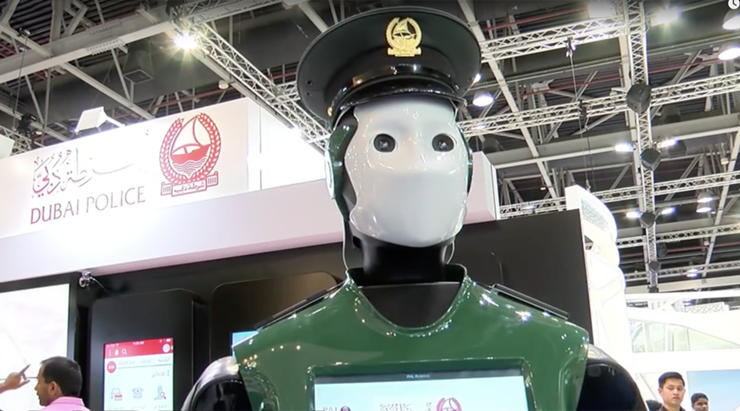 The robot cop has a touchscreen so it can interact with shoppers, who can use it so they can report crimes and pay fines. It also has a camera as one of its eyes to send info back to a command center. It's also able to give directions, greet people, and give a salute. Fortunately it doesn't have a gun or issue commands like "Dead or alive you're coming with me."
The robot cop appears to be just the beginning for Dubai's step into the future of policing though. Which does seem to have a slightly dystopian edge to it all. Or at least has the potential to turn into some kind of sci-fi prophesied robot uprising/disaster.
Speaking at the 11 Best Police Practices Forum Brigadier Abdullah Bin Sultan said, according to Gulf News, "We planned for a security system for the future of the city to tackle future crimes. By 2025, Dubai will be one of the best five cities in the world on security level. By 2030, there will be no mysterious or unknown crimes in Dubai and the police will have the biggest DNA data bank in the country."
Speaking with Gulf News Brigadier Khalid Nasser Al Razouqi, General Director of the Smart Services Department at Dubai Police, pitched in with. "We are looking to make everything smart in Dubai Police. By 2030, we will have the first smart police station which won't require human employees. We are aiming to implement many smart police mechanisms, including the smart police station and robots, and adopt artificial intelligence."
Dubai Robocop Prepares To Go On Duty