Angela Nikolau Is A Crazy Roofing Daredevil Whose High Rise Selfies Will Make You Dizzy
Russian model, adventurer and roofer Angela Nikolau doesn't use typical locations when she does her fashion and selfie photoshoots. As we've noted before, she loves to climb ridiculously tall skyscrapers and high-rise buildings and then pose precariously at the top. This is an activity i would definitely recommend not to try.
Her relaxed poses give you the impression that it's 'no big deal really', but it definitely is. More commonly recognized by those in the know as a daredevil practice known as "roofing", Russian-born 23-year-old Angela, along with her boyfriend Ivan, are complete devotees of it. Her deadly roofing selfies are testament to this.
But it's not for the faint-hearted.
If you're afraid of heights then taking a quick look over her Instagram page will leave you reeling, as it's full of photos of Angela being balletic atop a high-rise. Or shots of her feet standing at the very edge of a precipice.
Does Angela Nikolau Wear Safety Equipment?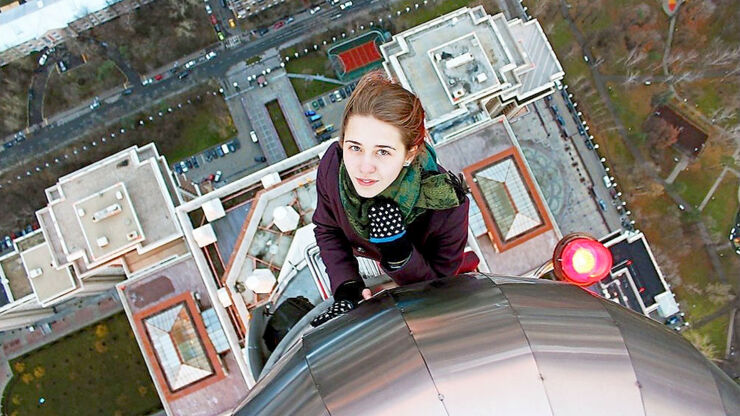 Angela Nikolau and her boyfriend wear no safety equipment whatsoever either, so it's insanely dangerous to climb these buildings. But despite that Angela and Ivan travel the world taking on some of the world's tallest buildings and structures, like the Goldin Finance 117 skyscraper currently under construction in China.
Not only does Angela simply scale them either, but once at the top she then performs acrobatics just to show off. "No limit, no control." is her Instagram motto and dictum by which she seemingly lives by.
It's certainly reckless behavior but it does result in undeniably well executed and impressive images. The question is, is it worth the insane risk? Moscow-based photographer Angela Nikolau thinks that it is.
You can check out her exploits in the video compilation above. And check out some of Angela's photos below to see how brave/stupid/insane she and her boyfriend are. Follow her on Instagram for more.
Why Angela Nikolau Is A Roofing Daredevil