San Francisco Restaurant Asks Customers To Leave One-Star Yelp Reviews To Stick It To The Company
If you live in the Bay Area in San Francisco you may know a restaurant called Botto Italian Bistro. You may've eaten there and you may've even written a review on Yelp. Let's hope you wrote a really bad, crappy, hateful review because that's what the restaurant would've wanted.
Yep, Botto Italian Bistro is fed up with being held hostage, so to speak, by Yelp and their review system and the Yelp cronies. With reports that Yelp have been offering to hide negative reviews for the right price and other dubious business practices, they decided to fight back.
The way they decided to do that was by encouraging their customers to leave one-star reviews so they could get the accolade of being: Worst. Restaurant. Ever. And give a big, giant middle finger to Yelp. They even offered discounts to people to encourage the negative comments.
Here's a few of the reviews: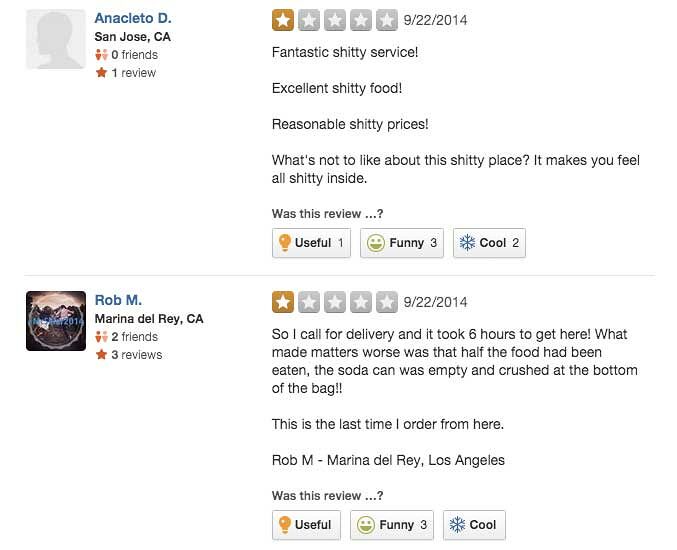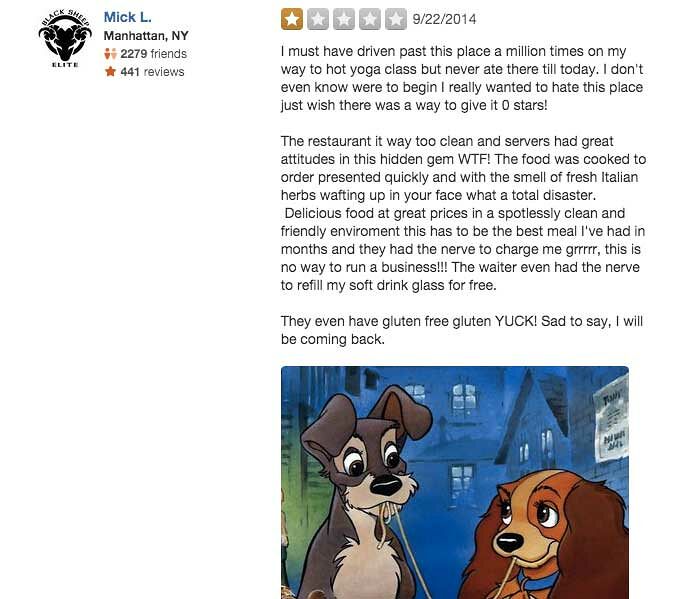 And it worked. Head to their Yelp page and after receiving 1044 reviews their star rating is 1.0. Here's what the restaurant posted to their website:
We made it! It's official, Botto Bistro is the worst restaurant on Yelp and in Yelp's world. We are the only One star restaurant on Yelp! It takes great chefs, great talent and great experience to get a Michelin star, but to get one star score on Yelp it takes way more.

You need balls, bad attitude (Italian if possible), the media and the support of the public. In other words, you need a revolution. That is exactly what we had, a revolution. Thousands of responses, e-mails and, most importantly, over 1,500 one stars reviews written with sarcasm by Botto supporters from all over the country and also overseas.

We promised to our loyal customers that we were going to be the worst restaurant on Yelp, and here you have it. We never doubted for a moment that the American public would give us such important support.

In fact this amazing reward is the result of what people can do together. This Yelp One star is all yours dear friends. Thank you to all the thousands of fans who wrote these incredibly funny reviews - we really hope they won't be lost in a useless Yelp file of "removed reviews", they were too funny.
The restaurant also published a threatening letter they received from Yelp from a guy called Marvin and have stated they've now opted out of the Yelp listing. "Now we are completely free from this insane world of stupidity, loneliness, superficiality and anger that is the online review world." they say.
So, yeah, screw you Yelp. Let's chalk this one up as a victory for the little man and woman: David 1 Goliath 0.
via Inside Scoop SF