Short Film 'Blood Machines' Taps Into 1980s Horror And Sci-fi For A Live-Action Space Opera Epic
If you're a child of the 80s, or just a fan of the genre movies made in those heady days, then you might like to get behind the Kickstarter campaign for a new sci-fi short called Blood Machines. The film will be directed by Seth Ickerman and is currently seeking funding (although it ends very soon).
The official synopsis is this: "Two space hunters are tracking down a machine trying to free itself. After taking it down, they witness a mystical phenomenon: the ghost of a young woman pulls itself out of the machine, as if the spaceship had a soul. Trying to understand the nature of this entity, they start chasing the woman through the galaxy."
Ickerman has previously made a music video for musician Carpenter Brut's "Turbo Killer" which itself was a nod to the neon styles of the 80s with John Carpenter-esque touches.
This new short is an expansion of that universe, still paying homage to retro 80s horror and sci-fi, but Ickerman says it will be a more cinematic narrative centered around musical sections. Carpenter Brut will be doing the soundtrack too. The filmmakers are hoping to keep it as indie as possible so are trying to raise as much funds as they can. If they get enough, like way more than their goal, they'll make a feature film.
The idea is that while the film will be a throw back stylistically and sonically to the synths and flair of the 1980s, it will explore contemporary themes, like the question of artificial intelligence.
"As we experience the ever-growing interdependence between man and machine, our connection to machines is increasingly filled with emotions." explains Ickerman. "With the development of artificial intelligence, machines can now have complex behavior. Some people imagine that machines have a conscience and the more spiritual will believe they have a soul. Blood Machines will deal with this universal theme. Even though these questions have been treated many times before, they are now more relevant than ever. At the time of his death, Roy Batty, the replicant from Blade Runner, lets a dove fly away. As a symbol of his soul, the bird takes off to the sky. This poetic moment perfectly illustrates the beginning of our film. In a metaphoric way, Blood Machines begins where Blade Runner leaves off. Determined to follow the dove, our heroes will start a journey through the skies, which quickly fall into darkness, tormented by the devilish music from Carpenter Brut!"
Also involved in the project is another retro enthusiast, Swedish filmmaker David Sandberg director of Kung Fury who is executive producer of Blood Machines. You can give money to the project on its Kickstarter page here.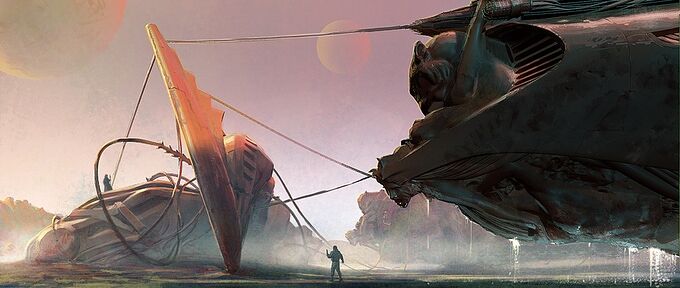 Concept Art by Mathieu Vavril & Seth Ickerman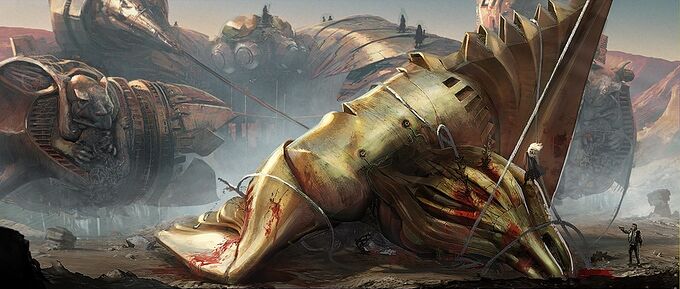 Concept Art by Mathieu Vavril & Seth Ickerman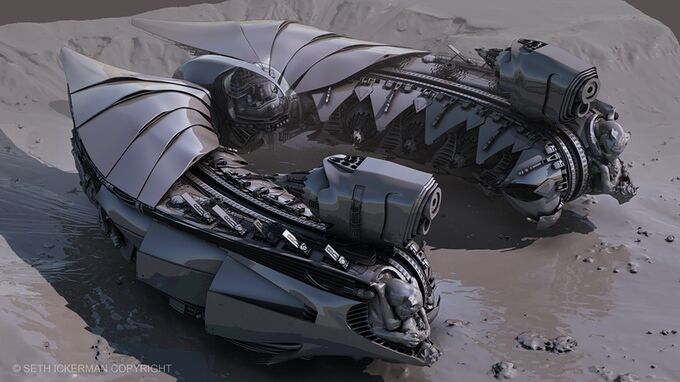 Concept Art by Mathieu Vavril & Seth Ickerman