The Muppets And Sean Spicer Are Together At Last In This Hilarious 'Mahna Mahna' Mashup
Sean Spicer might be a puppet of Donald Trump's presidency, but in this very funny mashup the White House press secretary is also an honorary Muppet. The latest comedic assault on Spicer, who was previously ridiculed on SNL with Melissa McCarthy's great impression, comes from Stephen Colbert. And it's totally hilarious.
The Late Show with Stephen Colbert twinned Sean Spicer saying his favorite word, "phenomenal," while he gives press conferences with the perfect video. And that video was The Muppets singing the earworm of a song that is "Mahna Mahna." You know the one, just reading those words should no doubt cause you to start humming or singing the song. Perhaps you'll even start doing a little dance. It's like some kind of Pavlov's Dog involuntary conditioning.
And now it has found new life Spiced spliced with Sean Spicer saying "phenomenal"—we even get the furry pink Muppets called Snowths, the backup singers on the "Mahna Mahna" song who do the "do doo do doo doo" vocals. While Spicer obviously provides the rest. it's a match made in heaven.
And it's a word the press secretary seems to adore saying. In fact he can't stop saying it. He pulls it out again and again, whether he's describing what a phenomenal job the president is doing. Or whether he's describing the phenomenal relationship the US has with Mexico. It's all just so phenomenal. "Mahna Mahna"
Sean Spicer Tweets About His Muppet Performance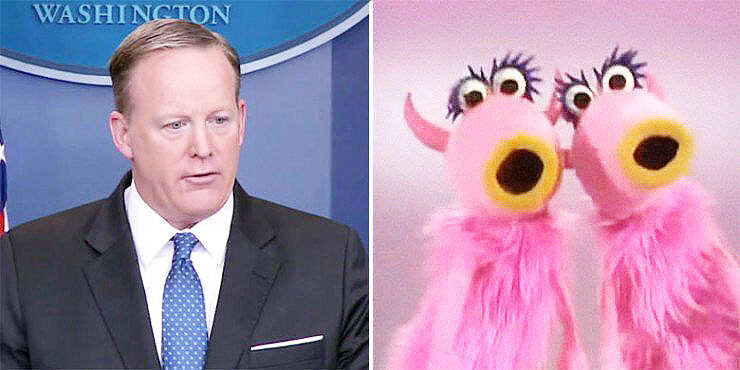 It hasn't gone unnoticed by Spicer himself either, much like McCarthy's impression didn't. Because the press secretary took to twitter to let Colbert know that he wasn't the first to notice Spicer's love of the word.
It turns out that credit goes to Politico writer Matthew Nussbaum.
So Colbert went ahead and thanked Nussbaum, because he's nice like that.