Top Gun 2 Is Happening And Tom Cruise Confirms That it Has A New Title - 'Top Gun: Maverick'
It's happening! Top Gun 2 is official and that comes from no less an authority than Tom Cruise himself. We can now collectively say aloud "I feel the need ..." Cruise revealed the news while on a promotional tour for his new movie The Mummy while on Australian morning TV show Sunrise. WOW! "Take me to bed or lose me forever."
"Top Gun 2, please say it's true." asked one of the hosts. "It's true. It's true," replied the star of the 1986 original. "I'm going to start filming it probably in the next year. I know. It's happening. It is definitely happening ... you're the first people that I've said this to." All we can say is "Maverick, you just did an incredibly brave thing."
Rumors had been circulating about a sequel for some time. And last January they ramped up when producer Jerry Bruckheimer tweeted a photo of him and Cruise stating, "Just got back from a weekend in New Orleans to see my old friend Tom Cruise and discuss a little Top Gun 2."
In a later appearance on BBC's The Graham Norton Show Cruise said that they were trying to figure it out. While Val Kilmer, who played Iceman in the original, a rival pilot to Cruise's Maverick, had indicated that a sequel might be in the works in a Reddit AMA. A Redditor asked about whether he would be interested in doing a Top Gun 2 and Kilmer replied, "Hell yes and what a hoot it will be." As Iceman would say "You can be my wingman any time."
Top Gun 2 Title Is A Bit Of A Mouthful
The film now has an official title and, no, it's not Top Gun 2. It is instead Top Gun: Maverick as Tom Cruise confirmed on Access Hollywood during an interview promoting his film The Mummy. And it's obviously a reference to Cruise's call sign in the 1986 original, where he played the US Naval Aviator Lt. Pete 'Maverick' Mitchell.
Speaking about Top Gun 2 (I mean, Top Gun: Maverick) Cruise teased some more details. "We're gonna have the same tone that we had from the first one." Cruise said "Stylistically it's gonna be the same. We're gonna have the same score from Harold Faltermeyer, I can tell you that. Aviators are back. The need for speed, we're gonna have big, fast machines. It's going to be a competition film like the first one, and it's going to be in the same vein and the same tone as the first one, but a progression for Maverick."
You might find the title a little clumsy, but Cruise also said in the interview. "I didn't want a number. You don't need a number."
He also dropped the bombshell. "There's going to be aircraft carriers. There's gonna be jets." It's thought that it might involve the last of the dogfighting pilots and jets versus the new school of drone pilots.
BREAKING! #TomCruise confirms to that the #TopGun sequel will be called "TOP GUN: MAVERICK!" Will film within a year!
Top Gun 2 Release Date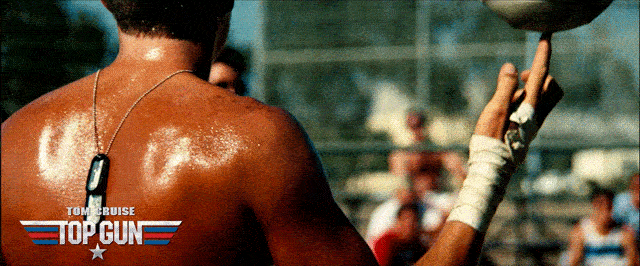 The sequel has only just been officially announced, and now it has been given an official release date too. Paramount has given the Top Gun sequel a release date of 12 July 2019.
Top Gun 2 Cast - Who's Going to Be Returning?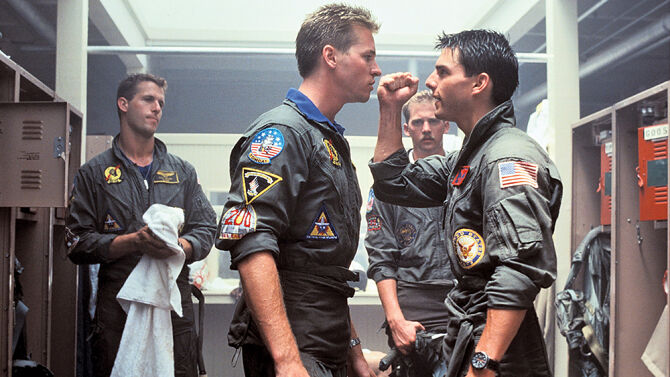 Iceman and Maverick fronting each other in a scene from the 1986 Top Gun
Obviously Tom Cruise is going to be in it (he's also set to play Narcos drug smuggler and pilot Barry Seal in an upcoming movie), returning as Maverick no doubt. And it looks like Val Kilmer will be back too. No news on whether Kelly McGillis will return though. And very unlikely that Goose will be flying again.
Variety are reporting that speculation is rife that Joseph Kosinski is a frontrunner as director. He previously directed Cruise in Oblivion. And the reboot Jungle Book writer Justin Marks is on script duties along with, according to IMDB, Peter Craig, Ashley Miller, and Zack Stentz.
David Ellison and Jerry Bruckheimer, who both produced the original, are going to be producers of the sequel along with Cruise. When it comes to sequels, "Remember, boys, no points for second place."
Top Gun 2 Trailer - Have they made One Yet?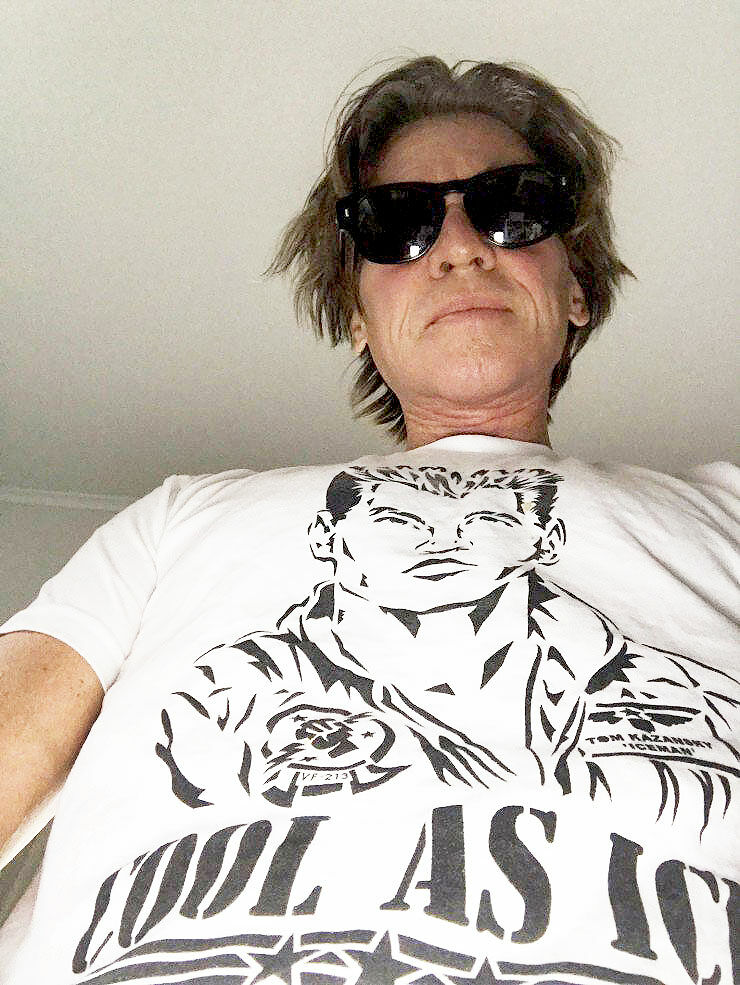 No trailer just yet, of course. All we have is Val Kilmer getting hyped on Twitter posting pictures of himself (above) with his Iceman tee on. "friends said it's official - #TOPGUN2 was announced today. I'm ready Tom- still got my top gun plaque! Still got the moves! Still got it!" he wrote.
friends said it's official - #TOPGUN2 was announced today. I'm ready Tom- still got my top gun plaque! Still got the moves! Still got it!
Top Gun 2 Plot - What To Expect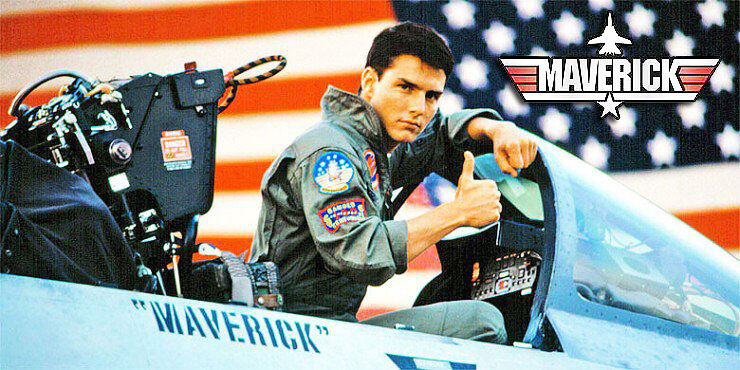 Cruise in the original Top Gun movie.
News is sketchy on what exactly the plot of the long-awaited sequel will be. But it's thought it will look at the modern era of airborne military might, dealing with drone technology and fifth generation fighter jets and pilots. It will also look at how the era of dogfighting is coming to an end, a part of the original which they used to thrilling effect. Maybe we'll see Maverick as a flight instructor at the elite school he himself trained at?
In the original Cruise is sent to the Top Gun Naval Fighter Weapons School which trains the best of the very best. Cruise's character is a hotshot fighter pilot who comes into conflict with Kilmer's Iceman, and also has a romance with flight instructor, Charlotte Blackwood (Kelly McGillis). It was a winning 80s mix of action, romance, and homoerotic volleyball.
Still, while plot details of the sequel remain pretty vague—although here's hoping it follows comedian Rich Hall's hilarious Tom Cruise movie formula—Twitter was only too happy to step up and suggest some possible plot lines and narratives. As maverick would say, "This is what I call a target-rich environment."
Take a look below.
Twitter Suggests Some Hilarious Plot Ideas
Top Gun 2 is two hours of Maverick behind a desk doing squadron support duties and periodically leafing through a Delta hiring brochure.
Top Gun 2… Donald Trump sends fighter jets to attack the Russians as a diversion to election influence. Louise Mench saves the world.
Top Gun 2 mainly just takes place in the Pentagon trying to figure out why the F-35 is so behind schedule
Top Gun 2 is officially happening. Premise: Tom Cruise battles rude United Airlines flight attendants on a cross country flight.
Top Gun 2: Tom Cruise is now a teacher at Top Gun school and all the students are drones. he's the only actor in the movie