Old School VW Golf Mk1 Vs. Yamaha R1 Superbike Drag Racing - Who Will Win?
Drag racing is serious business and anyone who knows anything about automobiles and motorcycles will be putting their hard earned cash on a bike to win when it comes to a drag race. But add to the mix the fact that one of the vehicles first rolled off the production line in 1974, had a top speed of only 110mph, 0-60 in 9 seconds and just 112hp under the hood–and the other vehicle just happens to be a full-on modern-day superbike, then you might ust be a bit biased about the outcome and eager to lay down a wager. After all, it's a 'sure thing', right?
So take a look at the drag racing contenders and witness the might of a classic Volkswagen Golf Mk1 (not even a GTI) as it bravely faces it's opponent, the Yamaha R1, producing at the pinnacle of its power with a 4-cylinder engine a massive 182 hp. Already you can probably see how this race is going to play out. Easy money, right?
How wrong you would be. As any good horse racing gambler would tell you it's always wise to check out the 'form' of the horses in the race, and in this case it's also wise to check out just how many 'horses' we are talking about.
Drag Racing Is All About Performance, Right?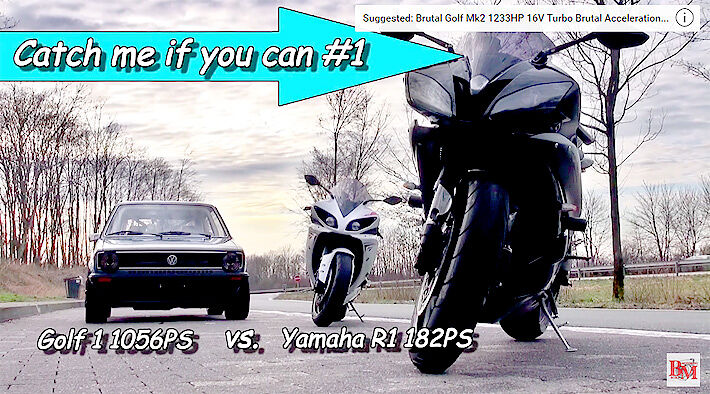 For starters, it looks like the drag racing Golf Mk1 is on some serious steroids, due to German motor tuning company Boba Motoring who have swapped out the original engine for a an insanely modified 2.0-liter Garrett GTX4202R turbocharged four-cylinder engine that produces a Bugatti Veyron-rivaling 1,150PS (1,113HP) and 1,034Nm (762 lb-ft) of torque at 58psi and E85 fuel (thanks to carscoops.com for providing the tech data)
It can now accelerate from 0-60mph in under 2.6 seconds, achieve 60-125 mph in an incredible 3.6 seconds and hit a top speed of 186 mph. It also has some sweet drag racing 17-inch Porsche wheels to help it along.
The two vehicles go full throttle down a highway at various points one is in front of the other. But this just seems to be just for show, because when the Golf steps it up it speeds off seemingly without much effort at all.
The Yamaha R1 is left trailing in its wake as the VW flies through fourth gear in about two seconds and eats up the road before it. The Yamaha's a fine machine so it's very sad to see it humiliated by such brutal drag racing.
It's undoubtedly an impressive display but one that you certainly wouldn't want to try at home. Or maybe you would, in which case you're insane. And if you bet on the superbike to win you'd be ripping up your betting slip.