Walmart Rockstars Clay Shelburn & Zac Stokes Absolutely Slay It On A Cheap $22 Disney Guitar
Meet the Walmart Rockstars, Clay Shelburn and Zac Stokes, two great musicians that are the undisputed kings of the Walmart discount department store. There are certain music venues that, once played, a musician knows they've made it. Places like Madison Square Garden, the Hollywood Bowl, Glastonbury, or your local Walmart.
OK so that last one might not be on every rock superstar's gig list, but that doesn't mean to say you can't be a rockstar at a discount department store. And not just any discount department store, but a Walmart discount department store. The biggest venue there is that a budding Walmart Rockstar could ever hope to play.
Just ask Clay Shelburn and Zac Stokes who, as a mark of their awesomeness, trundled on down to their local Walmart at 3AM to rock out a pretty epic rendition of Stevie Ray Vaughan's "Pride and Joy" on a cheap toy guitar.
You can almost hear and feel the $22 acoustic Disney guitar, aimed at 4 year olds, strain as Shelburn gives it some pretty serious blues fingerstyle, but it holds out. There surely must be no greater sign of your talent than being able to produce such a great sounding song on such a cheap instrument.
The Walmart Rockstars $22 Disney Guitar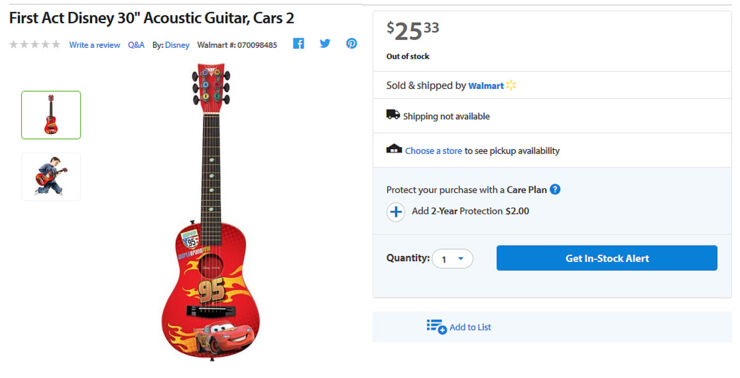 Shelburn and Stokes add some wonderful harmonious vocals to the guitar melody and try their hardest to keep straight faces as they perform and amazing rendition of Pride and Joy in this hallowed venue. It's an epic, one-off, one-song gig, the likes of which we will probably never witness again. Well, at least in a Walmart.
In years to come you can lie and tell your grandchildren you were one of the lucky ones who were there.
If you were looking to purchase Shelbourn's stringed instrument in the hope of replicating his acoustic skill, the limited edition $22 Disney Guitar (see above) is available to buy online, but it looks like, due to obvious high demand, the price has risen dramatically to $25.33. No doubt there was a rush after this video was uploaded.
Clay Shelburn Tells The Walmart Rockstars Story
And if you wanted to know how the Walmart Rockstars gig happened and this all came about then check out this Youtube upload from Clay where he explains how this impromptu gig happened. It's a complete blast.
The Walmart Rockstars Perform At Walmart AMP
This story just keeps getting better and better, it's the stuff of legend. Walmart actually flew the Walmart Rockstars (Clay Shelburn and Zac Stokes) out to recreate the video in front of 1500-2000 Walmart managers from across the nation! It was a blast and they were treated like the Walmart rock legends they are. Shelburn recalls "Walmart AMP is an awesome amphitheater that was built last year. Cool to get to play there! This little guitar made a big splash for Zac and I. Haha thanks for watching."